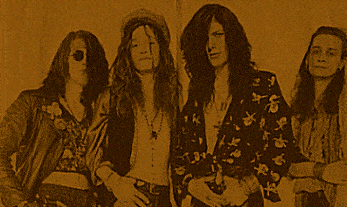 A
native of Lanigan, Saskatchewan, bassist John Kerns (also ex of The Wicked Infants and Infants) realized Tremor was going nowhere. So in 1989 he moved to Calgary and hooked up with brother Todd on vocals and guitars, who'd also spent time in The Infants.
They recruited the Dahle brothers – Ryan on guitars and Kurt on drums, and as Electric, began working some original material into their sets while beating down the same path as their previous outings, playing mostly covers of LA's glam metal heyday. They set up their own indie label called God's Teeth Ethel Records, and the merch tables at their shows soon included an independent five-song cassette that was highlighted by "Aphrodisiac Smile," for which the band had also cut an indie video.
Future famed producer Bob Rock took an interest in the band and helped out on their first full album, THE LATEST PLAGUE in 1991. Along with a reworked version of "Aphrodisiac Smile," "Rapid City" was also dusted off from the EP, and things at first looked promising as they expanded their live territory into BC and Ontario. But when no major labels bit, the band trudged on until they had enough money to record and release the follow-up EP, UGLY, in '93. The title track was released as a single and also spawned a video, and things looked back on the right track when they were taken in by New York-based Invasion Group Management.
One more self-produced and self-released untitled album the following spring was quickly pulled from the shelves when they were noticed at Vancouver's Music West Festival by reps at Mercury. It was repackaged as a self-titled album in '95, and although the single "Enya" didn't receive much support from label brass, it fared better when the video made its rounds on MuchMusic.
Everyone was taking a break and doing their own things, which led to the Dahle brothers' Limblifter project, good for one album through Universal in '96. They reunited with the Kerns boys for MAKE A PEST the following summer, which sported the hit "Remote Control," which peaked at #9 on the singles chart at home. The song also earned them a spot on MuchMusic's compilation, BIG SHINY TUNES 2.
"I Don't Mind" and "Don't Wreck It" followed into the top ten, but although they were enjoying their biggest success thus far and coming off a Canada-wide tour with Our Lady Peace, the proverbial 'musical differences' cut the power and they broke up.
The Kerns brothers went on to form Static in Stereo, which featured their younger brother Ryan for awhile. Kurt Dahle went on to work with The New Pornographers, while Todd Kerns meanwhile moved to Las Vegas and formed Sin City Sinners.
The band was getting nominations for various awards across the country, including a mention for Best New Group at the 1998 Juno Awards. Although a brief resurgance in the summer of '99 was highlighted by opening for Our Lady Peace again across Canada, the band again drifted apart in the early '00s.

LATEST PLAGUE (1991)
Satellite
Pray For You
Damned
Dues Payin' Blues
Throwaway
Aphrodisiac Smile
Sex Drive
Rapid City

UGLY (1993)
Ugly
Untitled
Rainbow Tongue
Pin Cushion
Spraybomb

AGE OF ELECTRIC (1995)
Motor
Belly Up
Untitled
Getaway
Enya
Epitaph
Or Whatever
Ugly
Hypocrite
Decamputate
Quality Girl
Testosterone Buildup

MAKE A PEST A PET (1997)
Remote Control
I Don't Mind
Nothing Happens
Unity Or Grenadine
You Complain
Scare Myself
Blow Up
Don't Wreck It
Cranky
Real Stumper
Mad At The World
My Mistake
Exist To Resist