A
gharta was formed in 1978 by keyboardist Jacques Mignault and Pierre Veniot on brass and woodwinds. They'd previously played together in Main Street Funk at the very first Montreal International Jazz Festival, and soon added drummer Normand Cataford and bassist Normand Trudel.
They began playing the coffee clubs throughout Montreal, mixing a jazz element into a predominantly psychadelic rock cocktail, Mignault formed JAM Records, and he produced their only album, self-titled, in 1980. Michel Seguin (ex of Toubabou) came in on percussion during the recordings, and containing all instrumentals, all the songs were written with Mignault as the core. With the flute-driven lead-off "Esperanto," the smooth piano stylings of "Femme et Enfant," and the soulful sax in "6ieme Avenue," the album was an eclectic blend of influences.
They did some tours around central Canada over the next few years, with bassist Sylvain Gagnon and drummer Michel Grenier came on board in the latter stages of the band's history. But by '84, Mignault drifted off to do his own projects, and the band dissolved.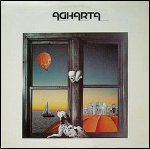 AGHARTA (1980)
Esperanto
6ieme Avenue
Chant Des Iles
Femme Et Enfant
Soy
Big Sur
Le Train
Daucile