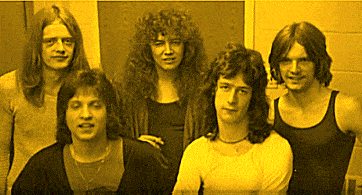 T
he brainchild of vocalist Myles Hunter and bassist Manfred Leidecker, they'd bounced around in different Ottawa bands for a couple of years and in 1976 were putting together a new band. They recruited guitarist friend Bob Deeks, who suggested adding Robert Holtz to handle drums. They were writing some material going somewhere in the new age progressive rock direction (a la Genesis, early Styx,
Rush
,
Saga
,
Zon
, etc), and eventually added a second guitarist, John Fenton.
Deeks eventually left to join Octavian, and Fenton formed punk bands The Action, then Exit 18. With replacements Tullio Granata and Brian Sim, they continued touring from the Ottawa Valley down to southern Ontario for the better part of a year. It was then they were scored a deal with London Records.
With Fraser Kaufman producing, their debut album VOICE OF LIFE was released in the summer of '77, then again shortly after with a different jacket. Hunter handled the bulk of the writing, and not necessarily for everyone, three singles were released in less than a year – "Celebration Day" with its vocal harmonies, the Beatlesesque "Lady of My Dreams," and "Say You're Sorry." Overall, the critics liked the production and musicianship, but in reality the ten-minute opus "Marantha" and the title track's pomp keyboard intro didn't make it particularly radio-friendly.
Lord of the Rings was all the rage at the time ("Misty Mountain Hop," Rush's "Rivendell" and oddly enough Spock's "Bilbo Baggins" are the FIRST to pop to mind), so they jumped on the bandwagon with "Land of Mordor." Although nothing set the world on fire, enough buzz was generated that they ended up touring with Sweeney Todd and hitched a ride on the Ontario leg of Styx's Canadian tour.
They worked on some new material, but after two years of almost non-stop touring, the band was burned out and decided to call it a day, with everyone going on to other projects. Hunter would go on to work with Refuee, Michael Fury, and release the solo album, NORTHERN UNION in 1990. He continued working with other artists for a few years, but as he grew up in a religious home and had thoughts of diving deep into religion much younger in life, he got out of the business all together and became an ordained minister. After Octavian ran its course, Deeks went on to session and production work, and also taught Digital Recording at Algonquin College in Ottawa for a time. Leidecker opened Distortion Studios in Aylmer, Quebec, and over the years worked with Charlie Major, Eight Seconds, and Exciter, among dozens of others. Sim formed Crucial Moments, then got into session work, and eventually formed LS Productions with Leidecker.
In 1990, some old Avalon material that never made it off the cutting room floor resurfaced. With Leidecker producing, AVALON II was released – six tracks that were in the same vein as the original album, including three ten-minute opuses, and Granata handling lead vocals on "From The Maji."
In '95, Pacemaker tweaked the debut album's second jacket, and re-released the album on CD, complete with a pair of additional tracks – "Love Has Come" and "Silver Bullets" two songs that made the singles' b-sides in '77.
With notes from Charlotte Dillon, Don Edwards, Manfred Leidecker, Jaimie Vernon


VOICE OF LIFE (1977)
Celebration Day
Mother Russia
Lady Of My Dreams
Say You're Sorry
Voice Of Life
Land Of Mordor
Smoke And Fire
Shadowcaster
Maranatha

VOICE OF LIFE (1977)
Celebration Day
Mother Russia
Lady Of My Dreams
Say You're Sorry
Voice Of Life
Land Of Mordor
Smoke And Fire
Shadowcaster
Maranatha

AVALON II (1990)
All You People
From the Maji
Angelique
Your Forever
Same as Me
The Ride to St. Petersburg

VOICE OF LIFE (1995)
Celebration Day
Mother Russia
Lady Of My Dreams
Say You're Sorry
Voice Of Life
Land Of Mordor
Smoke And Fire
Shadowcaster
Maranatha
Love Has Come
Silver Bullets