T
he story of Big Sugar dates back to the mid 1980s, when guitarist/vocalist Gordie Johnson, bassist Terry Wilkins, and drummer Al Cross backed Molly Johnson's live jazz performances. But when she returned to rock music by forming
Infidels
, they were left doing informal jams with the Bourbon Tabernacle Choir while they re-assessed their careers.
Johnson was instrumental in getting them an audience in '89 in the form of manager/producer Tom Treumuth, whose resume included the likes of Darkroom, Helix, Honeymoon Suite, and Spoons, to name a few. He signed them to his upstart Hypnotic Records, and produced their self-titled debut album in 1991 – which was 12 tracks picked from 50 that were recorded, but only contained three original tunes, all penned by Johnson. Instead, they relied on covers and songs written for them like Colin Linden's "Nowhere To Go," Skip James' "Devil Got My Woman," and even Hogey Carmichael's "Stardust." "Sleep In Late" was the only single released, which failed to chart.
Undeterred, the band continued on the Ontario circuit until getting ready to record their follow-up album. But in '93, Wilkins left the band, leaving them to rely on an array of guest musicians for 1993's FIVE HUNDRED POUNDS, including harmonica and steel guitar player Kelly Hoppe, who'd become a full fledged member a year later. The record continued on an old school R&B influence, producing four singles. Although "Ride Like Hell," "I'm a Ram," "It's All Over Now," and "Wild Ox Moan" all again failed to make much of an impression on the charts, the album's raw, off the floor recording and minimal studio trickery, combined with their growing reputation as one of the most energetic live shows out there, pushed the album gold without any real publicity or radio support.
Touring in support of the album was minimal, as around the same time Johnson was busy doing other projects, including an album called DON'T TALK – DANCE with Chris Brown of the Bourbon Tabernacle Choir and Tyler Stewart of Barenaked Ladies. Stewart also helped out on another of Johnson's projects that year. Big Sugar was serving as the house band at Toronto's El Seven Nite Club, and along with Lee Aaron, Molly Johnson, Rebecca Jenkins, and The Bitch Diva, he was one of the many artists to sit in on some sessions that were recorded, with the proceeds going to several different AIDS charities.
In 1994, Cross left the band and was replaced behind the drumkit by Stich Wynston, formerly of The Shuffle Demons. Shortly after, Jamaican-born Garry Lowe (ex-Culture Shock) became their full time bass player. Still in '94, they paid homage to Neil Young on a the tribute album BORROWED TUNES, performing "When You Dance I Can Really Love."
They released a pair of EPs a year later – DEAR M.F and RIDE LIKE HELL, both of which featured a cover of Traffic's "Dear Mr Fantasy." But as they were getting ready to hit the road in the spring of '96, Wynston quit and the band was left looking for a new drummer again. Although they replaced him with Walter "Crash" Morgan, more setbacks were on their way, when he suffered a heart attack and collapsed, and ultimately died during a show in Boise, Iowa. After cancelling several shows, they finished the tour with longtime friend Raffa Dean.
Former Odds member Paul Brennan stepped in behind the drumkit in time for recording their next album, HEMI-VISION. The first single "Opem Up Baby" climbed to #16 on the charts, so they decided to cater to the Quebec audience as well, recording a French version, "Ouvres-Toi Bebe." On the English side of the country, three more singles hit the charts while pushing the album platinum (100,000 units in Canada) – "If I Had My Way," "Gone For Good," and the rocker "Diggin' A Hole," their first single to hit the top 10.
Their second straight platinum album came in 1998 in the form of HEATED, producing four more singles – "Better Get Used to It," "Turn the Lights On," the top 10 "Girl Watcher," and their first #1, "The Scene." And since the subsequent touring schedule was minimal, Johnson and Hoppe sidelined to keep busy by performing several acoustic shows across the country as a duo, under the pseudonyms Little Sugar and Two Fools on Stools. The response to their foray into the Quebec market with the last record that they recorded a French version for each single, which were all bundled up into the 1999 EP entitled CHAUFFE A BLOC. The record also included a French-only cover of Gilles Valiquette's 1973 hit "Je suis cool".
That same year, the band welcomed Cross back behind the drum kit, and also added a new rhythm guitarist, Mojah in time for July's performance at Woodstock 1999. In 2000, they released EXTRA LONG LIFE, under the alias of Alkaline. Produced by Johnson and released on Universal Records, it featured a collaboration with reggae singer Whitey Don doing .
For their next album, 2001's BROTHERS AND SISTERS, ARE YOU READY?, they recorded the entire album in both English and French, simultaneously releasing both versions as separate albums. The French recording was titled Brothers and Sisters, Êtes Vous Ready? with translation assistance on the lyrics provided by the Quebec rock band The Respectables. Three singles hit the English charts, but neither "Red Rover," "All Hell for a Basement," or a rock version of "O Canada" (which wasn't included in the international releases) set the world on fire.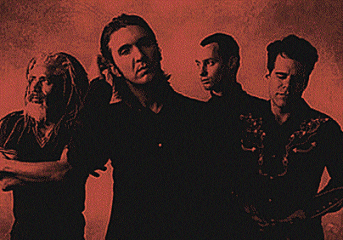 Still, the album was certified gold and earned the band a mention at the 2002 Juno Awards for Best Rock Album, tho they didn't win. By this point, Cross once again used the revolving door and left the band for good, opting out to return to New York to study music, and was replaced by Eric "Speedstick" Paul who'd finished out the tour.
They released a double album compilation HIT AND RUN in '03, which featured their greatest hits as well as a live concert performance. But with members looking towards outside projects, the band called it quits when they ended the subsequent tour on New Year's Eve in Edmonton.
Johnson wasn't on the unemployment line for long though, as he moved to Austin, Texas and formed Grady with Whitey Don – a redneck/metal group that featured members of Stevie Ray Vaughn's former band and released a pair of albums. Hoppe meanwhile joined Mr Chill & The Witnesses, a roots music group, and Mojah and Lowe went on to form the reggae-based Truth and Rights Revue, releasing one album.
In addition to his time fronting Big Sugar and Grady, Gordie Johnson has also become an acclaimed producer over the years, working with the likes Taj Mahal, Wide Mouth Mason, The Trews, and The Respectables, among many others. He's also been a successful studio musician, helping out Default, Ashley MacIsaac, Molly Johnson, and Tim Chaisson, to name a few.
Big Sugar reunited in April 2010 when they played the Telus World Ski & Snowboard Festival in Whistler, BC. Reaction was so positive that they quickly booked some time at Phase One Studios in Toronto following several summer dates that year. They released REVOLUTION PER MINUTE in June 2011 on Johnson's Bread & Water Records label. The album peaked at #34 on the Canadian chart while their die-hard fans hungrily ate up tracks like the raucous singles "Roads Ahead" and "Little Bit All Right," and a pair of tracks available only thru iTunes.
Although Big Sugar wasn't actually put on hold, 2011also marked Johnson's departure to join longtime friends Wide Mouth Mason as bassist and producer in time for their album NO BAD DAYS. Tour dates for both bands were announced for '12, including Johnson double billing.