B
orn in 1954, stories are that while he still in diapers, Bill Bourne was sleeping behind the piano in the community halls while his parents Alfred and Iris played the jamborees around their Penhold, Alberta homestead.
Mixing old-time roots, country, gospel, and the blues gave him his foundation, and although he tried his hand at the clarinet, after a year or so he decided it wasn't cool enough, so it came as no surprise he'd pick up the guitar. His early influences also included everything he soaked in from Oscar Brand's TV show "Let's Sing Out!," and from there he branched out to listening to the likes of Dylan, the Guthries, Simon & Garfunkel, and Mississippi John Hurt, among others while growing up.
Seeking his fame and fortune, he quit school and moved to Toronto at the age of 16. The only problem was he didn't like playing Top 40 and didn't like using a drum machine, popular at the time. So he had to find his own sound and invent his own way of getting his music heard. The answer was to move back to Alberta a few years later, and work on his sound while paying the bills any way he could.
In '78 he and his second cousin Jim Morison formed Sweetgrass (a Montana border crossing town), which lasted for a year or so. After working the circuit, he recorded a self-titled album with Tom Dolin and George Koller at CBC's Edmonton studios in '82- a mix of his songs like "Saskatoon Pie," "Green Trees," and "There's A Girl In My Heart," as well as a few covers.
He moved to the UK, eventually joining The Tannahill Weavers in the early '80s. They released the album PASSAGE in '83, with Bourne's fiddle, bass pedals, and bouzouki. He also wrote the track "Drink Another Round." This opened the door for more tours for the band throughout Europe and the UK, and North America.
He left the group a year later and moved back to Alberta. Soon, after losing interest in pursuing a short-lived art career, fellow ex-Weaver Alan Macleod moved to Canada, and Bourne and Macloed was formed. fter the album was re-released a year later with a pair of added tracks, he and Alan Macleod had left the group.
With Bourne on guitars and fiddle and handling the bulk of the vocals and songwriting, and Macleod on bagpipes, they came up with a blend of traditional music straight from the Highlands, mixed with skittle, and roots sensibility. They worked their way from the parks of Sundrie, Alberta to become staples of the major folk music festivals.
They released their first album – DANCE & CELEBRATE in 1990. The title track, "Ole Buffalo," and "The House" earned them a Juno Award for Best Roots Recording, leading to a deal with Attic. They recorded 1992's MOONLIGHT DANCERS with producer Brian Allen (Rose, Toronto). With the title track and the single, "Ship of Fortune," it's mix of roots and Celtic blends were again critically received and earned a Juno for best roots album. 1990 also saw them appear on a CBC compilation album with Kate & Anna McGarrigle.
After Macleod got homesick, Bourne found himself looking for something to do. His next project was the collaboration with Edmonton's Shannon Johnson. They recorded a pair of albums – starting with DEAR MADONNA in '92, which featured the lead off "Dance the Night Away" and the title track. They received his third, and her first, Juno nomination for VICTORY TRAIN two years later.
He hooked up with guitarist Andreas Schuld and vocalist Hans Stamer for NO SPECIAL RIDER in '96, featuring tracks like "Alberta Let Your Hair Hang Low," "Ol' Hannah," and "Bollweevil." A year later he'd returned to a solo career, with FARMER, PHILANTHROPIST, AND MUSICIAN, and SALLY'S DREAM in the spring of '98.
HIs longest on-again-off-again team-ups has been with Lester Quitzau and Madagascar Slim.
Tri Continental won the 2000 Juno for Best Roots Album. Critics revelled at the musical textures of the roots/blues blend, particularly in Europe, where the band did two separate tours.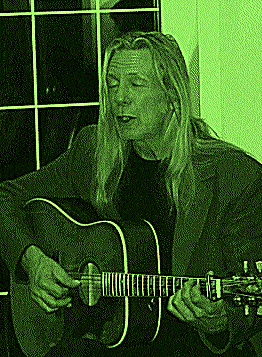 It formed an on-again, off-again partnership that led to four more albums over the next two decades, including the self-titled live album a year later. A collection of the three artists' combined and solo works, it also debuted the title track of Bourne's next solo venture a year later, VOODOO KING.
A year later he teamed up with old pal Alan Macleod again for the BOOTLEG album. Along with some new material and some dusted off unrecorded stuff, it also featured a remake of their old hit, "Moonlight Dancers.".
In between his solo and
Tri Continental works, he kept himself throughout the decade also collaborating with other artists, including Eivar Palsdottir. Performing on and producing the Danish star's self-titled third solo album, it earned them a pair of doorstops at the 2006 Danish Music Awards
The new decade saw Bourne release another string of critically-praised albums – BOONTANGE in 2007, 2012's SONGS FROM A GYPSY CARAVAN, and AMOEBA COLLECTION a year later. Always relishing the opportunity, he also formed the Free Radio Band with his son Pat, Pa Joe, Moses Gregg, and Miguel Ferrer. It led to the straight-out Delta blues, but with a twist album in 2011 that earned a Juno nomination, BLUESLAND.
Bourne kept busy throughout the decade, releasing an eclectic album of acoustic, World music with Edmonton-based Trancescapes in 2015, which prompted a few dates around Canada. Along with everything from opening for Dwight Yoakam to appearing at most major festivals here, in Europe and in the UK, he signed on to the 'Home Routes' tour for a year.
Bourne said it's playing those intimate shows at the coffee houses and B&Bs that helps put his career in perspective. "It also gives you a chance to try out new material before the big crowds of 30," he joked. After releasing his solo album, HUMMINGBIRD in late 2016, he again started collaborating with the guys from
Tri Continental again.
With notes from Bill Bourne
>