The Origins of the Canadian Sound | Canadian 60's In Full Swing | Classic Canadian 70's Rock
Canada's Entry into the 80's  | Canada in the 90's | The Canadian Scene Today
Despite the early 'Teen Idols' …
By 1956, Paul Anka had solidified himself as Canada's first teen idol. The Ottawa native had already conquered Toronto and spent nearly two years in New York, working with others as well as establishing his own name. He was enjoying the success of his first single, "Diana," a song he wrote after having a crush on his younger brother and sister's babysitter, which was released in 1957 and topped Billboard's Top 100. The very next year he made his acting debut in the musical, LET'S ROCK. Some of his other early singles to become pop classics included "I'm Just A Lonely Boy" and "Put Your Head On My Shoulder". Anka also earned a name for himself penning major hits for others, including "It Doesn't Matter Anymore", Buddy Holly's last single before dying tragically in a plane crash in 1959, "My Way", which became Frank Sinatra's signature song in '66, and the original theme for 'The Tonite Show With Johnny Carson'. Partially drifting out of the limelight, Anka wouldn't reach number one again until 1974, with the Odia Coates duet, "You're Having My Baby." Despite its success, the song wasn't without controversy with feminist and social groups, who claimed it promoted unmarried sex and immoral society. Although semi-retiring by the end of the 70s, he remained active behind the scenes, producing and writing for others, as well as other outside projects. An active man in the community, he also bought into the NHL's Ottawa Senators and remains a minor shareholder in the team today. Paul Anka was inducted into the Canadian Music Hall Of Fame in 1980, and was Canada's first entry into the US music charts, making him synonymous with the era.

Another Ontario native to be marked a teen heartthrob was Bobby Curtola, from what's now Thunder Bay. Like Anka, Curtola's 'boy next door look' was a hit with the girls on the Toronto scene in the late 50s and had already appeared on a number of local TV 'hit parade' programs. His first single was released in 1960, "Hand In Hand With You". He would go on to crack Billboard's Top 100 a number of more times in the '60s with gold hits such as "Hitch Hiker", "Alladin", "3 Rows Over" and his biggest chart-topper "Fortune Teller". Curtola would go on to enjoy 25 gold singles. Now making Edmonton his home, Curtola today is widely sought after for product endorsements and is one of the top draws around the lounge and club circuit. He also hosted the Edmonton region portion of Alberta's Centennial celebrations in 2005, broadcast across the province.

Born in Massachusetts, Robert Goulet moved to Edmonton – where he lived next door to my Mom, attended Mount Caramel Catholic School and reportedly was a little hell-raiser. He overcame his mischievousness through acting in several school plays, then graduating to local productions throughout the city. After appearing in a CBC feature of Edmonton's drama community, he moved to Toronto to become a prime player in the CBC's lineup in the late 50s. But after only 3 seasons, he ventured south in 1960 to meet his international fame on stage and screen, including the role of Lancelot in the hit musical CAMELOT, which debuted in 1960 in Toronto. Some of his more recent works have included playing Frank Drebin's nemesis Quentin Hapsburg in NAKED GUN 2 1/2 – – and was kidnapped by Nelson Muntz and forced to play to a standing-room-only crowd in Bart's treehouse. … HAA! HAA! Robert Goulet was immortalized on Canada's Walk of Fame in 2006. He died of pulmonary fibrosis in 2007.
---
The early 50's also saw the rise of 3 Canadian groups, all from the Toronto area, leaving an indelible mark on the music scene during the 'doo wop' era.
The 4 Lads, originally known as The Otnorots, then The Jordannaires and The 4 Dukes, met while singing in the St. Michael's Choir School, then began playing small clubs in the greater Toronto area in 1950. By the time they were discovered in New York in 1950, the founding members were Connie Codarini, Bernie Toorish, Jimmy Arnold, and Frank Busseri. The quartet's first vinyl appearances were backing up Johnnie Ray on the singles "Cry" and "The Little White Cloud That Cried" in 1952. That same year, they were signed to their own deal and hit the charts with "Mocking Bird". Their first gold record was "Istanbul" a year later. Other hits of the day included "Who Needs You", "No Not Much," "It's So Easy To Forget", "Standin' on the Corner" from the Broadway musical "The Most Happy Fella," and "Moments To Remember", which peaked at #5 on Billboard in 1955. They rose from doing college campuses and supper clubs to concert halls, appeared in early TV commercials and appeared on countless teen dance shows, to selling out concert halls across the globe, and went on to sell 50 million records. Today, Brusseri is the only founder remaining in the group. They continue their musical history bringing golden performances to receptive audiences on cruises, at conventions, nightclubs, dinner theatres, concert halls and Nevada's hotel casinos. They've taken their show to Tokyo, from The Copacabana to Glasgow's Empress Theatre, to Las Vegas, Honolulu, Manilla, and just about all other corners of the globe.

Originally known as The Four Tones, The Crew Cuts consisted of brothers John and Ray Perkins, Rudi Maugeri, and Pat Barrett. Like The 4 Lads, they met while singing in the St. Michael's Choir School. In fact, Maugeri and John Perkins were with that band in its infancy but left to finish high school. In 1952, Maugeri, the Perkins brothers, and Barrett for they changed their name to The Canadaires while doing a local Toronto weekly radio show. Once they were getting some exposure, all four of the members quit their Government of Ontario jobs to pursue their musical interests full time. They worked clubs in the Niagara Falls, Ontario, and Niagara Falls, NY area, saved up their money and drove to New York City so they could appear on Arthur Godfrey's television and radio program, Talent Scouts, where they came in second to a comedian. They recorded "Chip Chip Sing A Song Little Sparrow" for Thrillwood Records, but soon returned to Toronto. There, they landed the opening slot in Gisele MacKenzie's show at the Casino Theatre. They were playing in a Sudbury, nightclub when they were invited to appear on a Cleveland television music program. They drove 600 miles in cold Canadian weather to appear on the "Gene Carroll Show," where they remained for three appearances. It was there they met local disk jockey Bill Randle. On his show, he coined the name that would from that point on belong to the group, the first recognized link between rock & roll and fashion. In addition, Randle arranged for them to audition with Mercury Records, who liked them enough to sign the quartet to a contract. Although their first hit, "Crazy 'Bout You, Baby," was written by Maugeri and Barrett themselves, they quickly became specialists in cover recordings of originally R&B songs. Their first cover, "Sh-Boom" originally an R&B song recorded by The Chords, topped Billboard's chart in 1954, where it remained for seven weeks. That version of that song is argued by many as the first true rock and roll song, despite its big-band influence, but pre-dating Bill Haley's "Rock Around The Clock," our friends to the south's pick for that honour. A number of other hits followed including "Earth Angel" which rose to the number 2 spot on the charts and had great success in England and in Australia. Interestingly, many of their non-cover songs became hits in Canada, and were unknown Stateside, while it was only their covers that had any real success in the United States. In '55, they covered the Penguins' "Earth Angel," which peaked on Billboard at #3. The group moved from Mercury to RCA Records in 1958 and eventually broke up in 1964, but they all scattered throughout the US over the years, reuniting in Nashville, Tennessee, in 1977 for a one-off performance. In the 1990s they were inducted into the Juno Hall of Fame. In recent years, the three remaining members have appeared on a PBS special filmed in Atlantic City's Trump's Taj Mahal. The program "Magic Moments – The Best of '50s Pop" continues to air as part of the fundraising efforts for PBS. A remix of their song "Sh'Boom" was featured in the credits of the video game Destroy All Humans!

The Diamonds consisted of Dave Somerville, Ted Kowalski, Phil Levitt, and Bill Reed. In 1953, Somerville was working as a sound engineer for the CBC in Toronto, when he noticed four men practicing in the hallway for "Pick The Stars", a local talent show. After exchanging amenities, he offered to be their manager. This group was composed of Stan Fisher, Ted Kowalski, Phil Levitt, and Bill Reed. They agreed and for the next several months, Somerville provided tutoring and got practice time in unoccupied studios at the CBC. That Christmas, the group was to sing at a party at a local church. That date conflicted with studies for a law exam of Stan Fisher, the lead singer and Fisher decided he needed the study time. Since Somerville knew all the songs, he took his place. The audience reaction was so tremendous, that the group that night decided to turn professional. Fisher meanwhile decided to stay in law school and not continue with the group. Somerville became the permanent lead, and that was the night The Diamonds were born. By 1955, all members of the group had left college, and/or real jobs, to sing full time. Professional musician Nat Goodman became their manager, and Goodman got the Diamonds onto Arthur Godfrey's Talent Scouts on American television. The result of the contest was a stalemate between the Diamonds and another contestant, the prize of being a guest artist for a week on Godfrey's show. This helped them land a  recording contract with Coral Records, releasing four songs, the most notable being "Black Denim Trousers & Motorcycle Boots", a cover of a recording originally by The Cheers. The Diamonds' version sold a few thousand copies, which was only enough to get them a little local recognition. The next big step was an audition with Cleveland radio DJ Bill Randle, who'd helped The Crew Cuts early on. Randle was impressed with the Diamonds and introduced them to Mercury Records, who signed the group to a recording contract. At this time, black artists were not played on white radio stations. Mercury Records, as well as other major record companies, were designating white artists to cover the recordings of black artists for the purpose of expanding their listening audience. The Diamonds' first recording for Mercury was "Why Do Fools Fall in Love," in '56, a cover of Frankie Lymon and The Teenagers' version. They also covered songs by such black groups as The Clovers, The Willows and The Heartbeats. The Diamonds biggest hits were 1957's "Little Darlin'" (originally recorded by the Gladiolas) and 1958's "The Stroll", which was not a cover, but actually, an original song written for the group by Brook Benton, from an idea by Dick Clark. Although they were signed to do rock & roll, Mercury also paired them with Pete Rugolo in one of his "Meet" series. The album entitled "The Diamonds Meet Pete Rugolo" allowed The Diamonds to return to their roots and do some established standards. "Little Darlin" peaked at #2 on the charts, was followed by "The Stroll," which hit #5 and prompted a dance craze of the same name. "Little Darlin'," as well as "Where Mary Go" was featured in the movie, "The Big Beat." They also performed the theme song for"Kathy-O" and had many television appearances, including Steve Allen, Perry Como, Vic Damone, Tony Bennett, Eddy Arnold and Paul Winchell. They also appeared on American Bandstand. By 1961, all original members had left the group and were replaced. With the ever-changing style of rock & roll and their Mercury contract expired, the Diamonds continued touring the country. At one time, there were at least two groups performing under the Diamonds' name, one led by Glenn Stetson. Stetson's Diamonds worked prolifically in the 1970's and 1980's and were instrumental in the '50's music revival. Stetson founded a nightclub called Little Darlin's Rock-n-Roll Palace, in Kissimmee, Florida. It featured a number of artists from the '50s and early '60s era. This created an issue that was ultimately settled in court. The ruling determined who legally owned the Diamonds' name, and allowed the original four to use the name a few times each year. The Diamonds received national attention once again in 2000, when the original members were invited to sing in PBS TV's production of "Do-Wop 51", and again in the PBS production entitled "Magic Moments-The Best Of '50s Pop" in 2004. Somerville claims to be a direct descendant of Charlemagne. In the year 1100, another relative, Gualter Somerville, is credited with killing the last dragon in Scotland. The Diamonds, along with The Crewcuts and 4 Lads were inducted into the Canadian Music Hall of Fame in 1984 in recognition for their outstanding influence on shaping Canadian pop music, and are considered classics of 'doo wop' .

---
Rockabilly
Born in 1935 in Huntsville, Arkansas, Ronnie Hawkins formed his first band, The Hawks while at the University of Arkansas studying phys ed. They toured throughout Arkansas, Oklahoma and Missouri. Hawkins soon opened his own nightclub, The Rockwood Club in Fayetteville, where some of Rock music's earliest pioneers came to play, including Jerry Lee Lewis, Carl Perkins, Roy Orbison and Conway Twitty. Hawkins first came to Canada in 1958, where, on Twitty's advice, he played a series of shows at the Brass Rail Tavern in London, ON. He became an overnight success, much to the point that he decided to move to Canada permanently, as did his drummer, Levon Helm. Eventually, all of the Hawks, except for Helm, were replaced with local artists – Robbie Robertson, Rick Danko, Richard Manuel and Garth Hudson. Over the years he'd score with several rockabilly/country-tinged hits, including "40 Days," "Mary Lou" and "Bo Diddley." Following their branching off to do their own thing as The Band in the mid-60s, other musicians to hone their chops while working for Hawkins included Pat Travers, Lawrence Gowan, and Domenic Troiano. In 1975 Bob Dylan cast Hawkins as 'Bob Dylan' in the movie, Renaldo and Clara. The following year he was a featured performer at the Band's Thanksgiving Day farewell concert, which was documented in the 1978 film The Last Waltz. His 1984 LP, 'MAKING IT AGAIN', garnered him a Juno Award as Canada's best Country Male Vocalist. In addition to his music, he has also become an accomplished actor, hosting his own television show Honky Tonk in the early 1980s and appearing in such films as Heaven's Gate with his friend Kris Kristofferson and Hello Mary Lou: Prom Night II. October 4, 2002, was declared "Ronnie Hawkins Day" in Toronto to celebrate his induction into Canada's Walk of Fame for his lifetime contribution to music, as well as his generous support of the Schizophrenia Society of Ontario and other charitable organizations. Hawkins was inducted into the Canadian Music Industry Hall of Fame at the Canadian Music Industry Awards on March 4, 2004. His pioneering contribution to the genre has also been recognized by the Rockabilly Hall of Fame. In recent years, Hawkins battled pancreatic cancer. His recovery, attributed to everything from psychic healers to native herbal medicine, is featured in the film, Ronnie Hawkins: Still Alive and Kicking. In 2005, he was awarded an honorary degree from Laurentian University. Also Hawkins recently reissued most of his albums on CD through Unidisc Music Inc.  Ronnie passed away, May 29, 2022, when cancer returned.

---
Many of today's artists also owe a debt to Canada's early folk scene. Southern Ontario in the late 50's saw the rise of one of North America's musical hotbeds. Local coffeehouses and beat houses served as the backdrop for countless artists developing their styles while pioneering the new sound.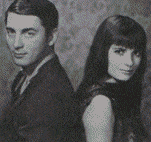 Born in Victoria, BC in 1933, Ian Tyson was a rodeo rider as a teen when he picked up the guitar while recovering from an injury he sustained in a fall. He made his singing debut at Vancouver's Heidelberg Café in 1956, then later played with a rock 'n' roll band called The Sensational Stripes. After graduating from the Vancouver School of Art in 1958, Tyson moved to Toronto, where he commenced a job as a commercial artist. There he performed in local clubs and in 1959 began to sing on occasion with Sylvia Fricker. By early 1959 Tyson and Fricker were performing part-time at the Village Corner under the name of Ian and Sylvia. The pair became a full-time folk musical act in 1961 and were married a few years later. In '63 they released what was chosen in 2005 by CBC listeners as the greatest Canadian song ever written, "Four Strong Winds." That song still traditionally closes out the Edmonton Music Festival each year. In 1969 they started performing as The Great Speckled Bird, a soon In the mid-'70s they hosted a CBC variety show after Hockey Night In Canada called Nashville North. When the couple split up in '76, the show was renamed The Ian Tyson Show. But soon after, Tyson moved to southern Alberta and became a rancher. He returned to music in 1983 with a country approach, focusing on detailed songs about the life of the working cowboy. In 1989 he was inducted into the Canadian Country Music Hall of Fame. A TRIBUTE TO IAN TYSON – THE GIFT was released in 2007, featuring an array of performers covering classic Tyson standards. He and Sylvia were jointly inducted into the Canadian Music Hall of Fame in 1991.

Perhaps our best-known folk star, Gordon Lightfoot was born in Orillia, ON, and won his first talent contest while only 13. As a teenager, he began his career playing drums in local jazz bands before moving to LA where he studied music at Westlake College. He returned home in 1959 and was a member of the chorus on CBC's Country Hoedown. He also worked with The Gini Silvi Singers, before recording three records from '61 – '63 as one-half of The 2 Tones. It was during this time that he also had his first single as a solo artist, 1962's "Remember Me". Lightfoot's name was already established on a worldwide scale, landing him a job hosting a 'c&w' variety show in England the next year. Throughout his illustrious career, his songs have been covered by artists as diverse as Elvis, Dylan, Nana Mouskouri and Barbra Streisand. Inducted into the Canadian Music Hall of Fame in 1986, other Lightfoot classics over the years include '74's "Sundown", "Alberta Bound", "Don Quixote", and the classic "Canadian Railroad Tragedy" and the timeless "The Wreck Of The Edmund Fitzgerald" in 1976.