By the 70's, pop music was going through its first real evolution. The clean-cut 'boy next door' image of the 50's had faded out and an array of influences was beginning the true moulding of the Canadian music mainstream. Heavier beats and pounding rhythms served as the backdrop for a number of new artists. Changing times filtered into the lyrical content of the music while political controversies led to social unrest. Amidst an era of self-indulgence and personal freedoms … the psychedelic era was born.
It was also in 1971 regulations came into effect for Canadian radio, requiring stations to play at least 30- homegrown material. The Canadian music industry got its own awards on February 23 1970. The RPM Gold Leaf was renamed The Juno Awards the next year. Ronnie King of The Stampeders reflected in 2004, "I remember the very first one. God it was something! somebody's wife was backstage serving us all sandwiches. Talk about low budget, but it was fun," he laughed.
The Toronto area was busy as well, churning out its own naturally mainstream material while Montreal gained a reputation as one of the true 'artistic centres' of North America.
One of the first psychedelic groups to hail from Canada, the origins of Montreal's Mashmakhan began in 1960. But it wasn't until a decade later after several line-ups and name change that Pierre Senecal's group finally got a record deal. Coincidentally, their biggest hit was their first "As The Years Go By". Though they only recorded two albums, they left their mark on Canada's musical legacy, spawning several watered-down knock-offs during the 70s.
They would also become noted for their association with other future Canadian superstars, including Jerry Mercer and Brian Greenway both joining April Wine.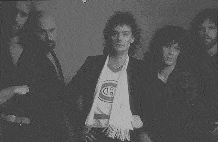 Originally from the Maritimes, April Wine moved to Montreal in late 1969. With Myles Goodwyn at the helm, the band would gain critical and commercial success, as well as a fan base around the world rivalled by few that carry on to the present day. With ties to other Canadian heavy-hitters such as BTO, Mashmakhan and The Dudes, their masterful technique of blending soulful ballads such as "I Wouldn't Want To Lose Your Love" and "Just Between You and Me" is rivalled by no one.
Along with the harder-edged riffs in killers like "I Like To Rock" and "Weeping Widow", April Wine has made themselves one of Canada's most endearing rock bands of all time.

Another Montreal group around the same time was Mahogany Rush. Led by guitarist extraordinaire Frank Marino, they blended psychedelic early metal with Marino's passion for the blues, developing a cult following rivalled by few. Their penchant for putting their own mark on covers in the '70s was most evident in numbers like "Bumblebee Blues", "Purple Haze", "Norweigan Wood" and "All Along The Watchtower".
In the '80s the trend continued with a cover of "Roadhouse Blues". Still mystifying audiences today solo, Marino is widely considered a metal pioneer and one of the country's most influential guitarists.

---
Toronto heavy rock
Though formed in Toronto in 1969, it wasn't until '74 that Rush saw their self-titled debut released independently. They would eventually evolve into one of the world's greatest rock groups, penning the hits "2112", and "Closer To The Heart" in 1977, and hit their peak during the '80s with the classics "Tom Sawyer", "Spirit Of The Radio" and "New World Man". Widely regarded as one of the finest groups of musicians rock has ever known.
They received the Order Of Canada in 1997 and were inducted into the Canadian Music Hall Of Fame in 1994.

Another outfit to emerge from Ontario at that time was Triumph. Consisting of Rik Emmett, Gil Moore and Mike Levine and perhaps improperly tagged as 'hard rock', from their debut in 1976 they masterfully blended the heaviest of riffs with Emmett's classical and Spanish-influenced guitar impresarios. With classics such as "Blinding Light Show", the 1977 cover of Joe Walsh's "Rocky Mountain Way", and the smash hit from '79 "Lay It On The Line", they dominated the airwaves.
The trio would record more classics during the 80's and become one of the greatest FM groups in Canadian music history. Emmett would embark on a solo career in 1989 and has become one of the world's most respected guitarists, mastering every style of playing the guitar has to offer.

Max Webster, formed by a group of Toronto-area musicians in '75 and led by Kim Mitchell & Terry Watkinson, quickly developed a cult following centred around the band's eccentric appearance and electric performances. Along with Pye Dubois as the main lyricist and several line-ups, they cut four studio records during the '70s, spawning the hits "A Million Vacations", "Night Flights" and "Paradise Skies". Although they seemed on the verge of superstardom, it was after they split up in 1982, following their biggest seller UNIVERSAL JUVENILES that would see Mitchell achieve his greatest success as a successful solo artist.

Red Rider, formed in Toronto in '76, was always the critics' fave. From their debut the next year, the creative team of Ken Greer and Tom Cochrane churned out a multitude of well-written pop songs with a strong sense of thought-provoking lyrics. With such classics as "Napolean Sheds His Skin", "Cowboys In Hong Kong", "White Hot" and "Lunatic Fringe, they have widely considered one of Canada's top draws of the mid '70s thru to the '80s and one of the country's most 'artistically integral groups'. Cochrane would maintain his success as a solo artist in the '90s, scoring several Top 40 hits.

---
The prairies were an integral part of the formations of Canadian rock as we know it today. The turn of the decade still posed geographical isolation. Though away from the mainstream, artists still had access to what was going on in the mega-centers of North America, but found roots in everything from British influences to folk and country, shaping the landscape for today's artists to build on today.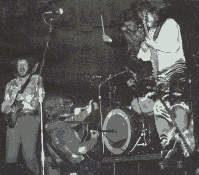 After leaving The Guess Who in 1970, Randy Bachman experimented with a country/rock fusion called Brave Belt. Tho the group only lasted two albums, the second incarnation of the group, Bachman w/ his brothers Tim on guitars and Robbie on Drums and CF Turner on bass and vocals would reincarnate as Bachman Turner Overdrive in 1973. BTO would quickly become one of the country's biggest chart-toppers and concert draws thru the seventies, with the classics "Hey You", "Takin' Care Of Business", "Four Wheel Drive", "Let It Ride" and "You Ain't Seen Nothin' Yet". Randy Bachman would drift in and out of the band, but brother Robbie, Turner, Blair Thorton and Randy Murray have kept the group going today.

The success by The Stampeders paved the way for other Alberta groups throughout the Seventies. One Horse Blue evolved from a Drayton Valley group of friends called Stonehenge. Their debut in '79 came after several years on the road, where they'd built a steady following across the prairies.
They would go on to evolve into a country/rock hybrid around various lineups throughout the 80s, and made an appearance in a Canadian movie whose title I can't think of, that also starred Hoyt Axton and Lisa Brokop.

The prairies would also produce one of the country's top concert draws of the seventies and early eighties in Streetheart. From their debut in '78, Kenny Shields and company all but owned the airwaves, with hits like "Action", "Look At Me", "Pressure" and covers of "Under My Thumb" and "Here Comes The Night". Following the departure of Paul Dean and Matt Frennette in '79 to form Loverboy, Streetheart's good fortunes continued – charting several other hits, including "What Kind Of Love Is This", "Dancing With Danger", "Look In Your Eyes" and "Snow White".

---
The west coast had by this time fully developed a rock sound all its own and would become some of Canada's biggest exports across the globe.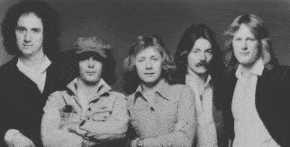 Another group from Vancouver to achieve superstardom during the '70s was Trooper. With mainstays Ra McGuire and Brian Smith, they hold the distinction of being the country's first group to have record-certified quadruple platinum, selling over 400,000 copies with '79's HOT SHOTS. The 'best of' collection contained some of Canadian radio's favourite tracks, including "Boys In The Bright White Sports Car", "Pretty Lady" and "Raise A Little Hell".
The band would continue to record throughout the 80's, and remain one of Canadian rock's hardest working, and heaviest touring groups today.

Sweeney Todd, possibly Canadian rock's greatest 'almost story', was formed in 1975 in Vancouver. Their smash hit "Roxy Roller" cracked Billboard three different times, originally with Nick Gilder, then just a few months later with new vocalist Perry Clark, and finally months later again with a 16-year-old Bryan Adams, who appeared on stage with the band to accept the 1977 Juno for New Group of The Year. They would disband a year later.
Gilder would go on in '78 to top the charts with "Hot Child In The City" that year and a very successful career both as a solo artist, as well as writing hits for several other artists. Same can be said for Adams.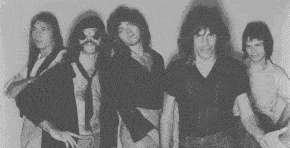 Chilliwack, formed from the ashes of Vancouver's The Collectors in the late '60s, was BC's most successful act from that period. Led by Bill Henderson, they would dominate the airwaves for the better part of a decade, cranking out some of Canadian radio's most-played tunes, including "There's Something I Like About That", "Fly At Night", "Arms Of Mary" and "Communication Breakdown". Tho guitar-great Brian MacLeod and bassist Ab Bryant would also spend time on their side project, The Headpins, Chilliwack's force would not dissipate, recording some of their most successful material during the '80s, including "My Girl" and "Whatcha Gonna Do When I'm Gone?". Henderson has also gone one to become one of Canada's most sought-after producers/engineers, working with some of the country's top acts (often with the late Brian MacLeod), including Shari Ulrich, The Headpins, Junior Gone Wild, Toronto and The Irish Rovers.