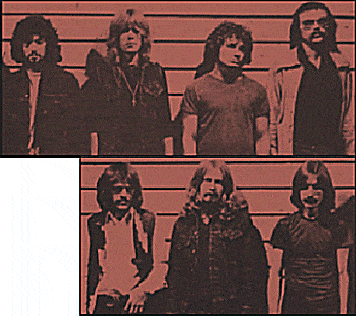 B
y the end of 1971
Rhinoceros
had run its course after a trio of well-received albums, and everyone came back to Canada after trying to make a go of it in Hollywood. But on the encouragement of Epic executive Barry Friedman (going by the name Frazier Mohawk), the band basically re-invented itself as The Blackstone Rangers only a few months later.
With frontman John Finlay and Michael Fonfara on keyboards (both also formerly of Jon Lee & The Checkmates), guitarists Danny Weis (also ex of Iron Butterfly) and Larry Leishman, bassist Peter Hodgson, they added and new drummer Richard Steinberg and Frank Sheppard (ex of McKenna Mendelson Mainline) on harmonica and vocals.
They played a few dates around their base camp of Toronto, then expanded, but soon had to shorten their name to simply Blackstone (not to be confused with several other groups of the same name, including one that featured future Conan O'Brien drummer Max Weinberg only two years earlier). The name change followed some death threats by Chicago's Black Panthers gang for using their nickname. Later that year, they had a deal signed with GRT Records, and they convinced Paul Rothchild, who'd essentially created Rhinoceros and produced their albums to come on board.
ON THE LINE was released in early '73, but contained no singles. The music was a conglomerate of tripped-out blues and rock numbers, with Sheppard taking over on lead vocals for several of the tracks. The album featured several covers, including Dr John's "Qualified" and "Oo-Poo-Pa-Doo," Sam Cooke's "Change Is Gonna Come," and their five-minute version of Willie Dixon's "Back Door Man." Among the other tracks, most noteable was "Ain't Nobody's Business," which Sheppard brought to the table as a discard from his McKenna Mendelson Mainline days, and Fonfara and Finlay's "Ain't Gonna Let It Go."
But while the band still toured in support of the album, sales were as bad as the reviews, and shortly after the album was in the stores, Finlay left and was replaced by Mike Stull. Prakash John then replaced Hodgson on bass, and then Penti "Whitey" Glan came in as the new drummer when Steinberg left.
This version of the group carried on for a few months, but eventually fell apart while they were trying to make a success out of a California tour. Everyone ventured off to do their own things, including Fonfara and Weis becoming studio musicians for some of the industry's top artists. John and Glan went on to join Lou Reed's touring band before hooking up with Alice Cooper. Steinberg and Sheppard both passed away in the early 2000s.