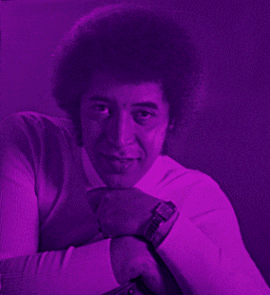 B
orn in Winnipeg in 1943, Bobby G Griffith and his family moved to Dryden, Ontario when he was a teen, and began singing in nightclubs after moving to Toronto while in his twenties.
He joined The New Movement, a funk/soul garage band, and they released one single in '67 on the independent Stone Records label – "Yes It's Me," b/w "Tough Guy." Unable to mount any sort of marketing campaign, the label folded soon after the 45's release, and the band found itself on another indie label, AM-Can Records, shortly after. Another poorly-received single came in the form of their cover of Betty Amos' "Cheater Cheater," b/w "You're Married Now Jack" in 1968. But that label also folded not long after, and the band eventually called it quits within a year.
Regrouping and deciding to go it solo, Griffith adopted more of an adult contemporary style. Eventually signing a deal with MTCCC Records, it resulted in the 1970 single, "Living On A Wishbone," b/w "Simplicity." But shortly after its release, that label too went bankrupt, and the 45 disappeared into obscurity, although it was also licensed out to Buddha Records a couple of years later.
His breakthrough came in the form of a deal with Canadian Talent Library in 1970, which essentially was designed to promote Canadian artists. His self-titled album was in the stores and in selected radio stations later that year, which featured covers of Jim Croce's "Bad Bad Leroy Brown," Ray Price's "The Most Beautiful Girl," Lloyd Price's "Personality," and Stevie Wonder's "You Are The Sunshine of My Life," none of which were released as singles.
A year later, he found himself on the doors of Polydor's New York office, who released the double sided single, "In Her Loving Way," followed by a second, "709" later that year, co-produced by Doug Riley. But like all his other releases to that point, he found it hard to get any airplay, and again drifted around the lounge b-circuit for the next couple of years.
In 1972 Griffith's friend and record executive Percy Curtis put him in touch with Dean Kay, VP of Lawrence Welk's music publishing operations. He was signed to Welk's label, Ranwood Records, and began re-releasing his material as singles. First up were a pair of self-written tracks from the album – "The Badger's Song" (a Disney-like singalong tune that just happened to not be on an animated movie soundtrack) and "The Sound of Peace" (covered a few years later by quasi-folk duo Peters & Lee), b/w the previously unreleased "My Love My Love." Both singles did fairly well on the adult contemporary chart, which were helped by Griffith's appearances on Welk's syndicated TV program, which in turn helped fuel some concert dates over the next couple of years.
He formed his own Badger Records in '75, and went into the studios with producers Paul Zaza and Jerry Toth. With distribution from Quality, he released the LOVE AND LAUGHTER album that year, which contained the #4 singles hit, "Give My Love To Lady Canada." More television appearances continued, including showing up on Welk's program again, and "No Money Blues" and "Keep An Eye On Your Friends" were released as singles, but failed to capitalize on any momentum that was potentially building.
He continued playing the smaller clubs throughout North America for the next few years, until releasing the album STILL TOGETHER in 1982 on Quality. No push from the label meant no singles were released, and the record came and went without anyone noticing. He carried on playing to smaller crowds in an ever-shrinking audience that now consisted mostly of western Canada dates. Touring members had come and gone over the years, and it continued to be that way, and the line-up included guitarist Valentine Bent, Jimmy Carver and Keith Retson-Miller on piano/keyboards, bassist Lou Fortin, and drummers George Dearling and Sheldon Miller, among over a dozen other musicians over the years.
Miller went on to play with Stevie Wonder, Paul Shaffer, and Bruce Palmer before moving to the Seattle area. Carver moved to Colorado Springs and formed VinTrin Productions. Retson-Spalding Griffith's final days, where they played top 40 hits the first set, and Griffith came out for the second and third. Retson-Spalding eventually formed and fronted Click, one of Edmonton's most popular bar bands that played Canada throughout the '80s, then became an A/V tech, and then formed Joint Chiefs.
In the final stage of his career, Griffiths toured mostly remote locations and played the show club circuit, where the band would perform top 40 hits of the day, with himself coming on stage for the second and third acts. Griffith passed away in the mid '80s from liver and kidney problems.
With notes from Jason Gogal, Keith Retson-Spalding


BOBBY G GRIFFITH (1972)
The Badger's Song
Bad Bad Leroy Brown
I Am A Loser
The Sound Of Peace
The Most Beautiful Girl
Cinderella, Cinderella
You Can't Get It All
Take Up The Hammer Of Hope
I Take It On Home
Personality
You Are The Sunshine Of My Life
Something Ugly Came Over Me

LOVE & LAUGHTER (1975)
No Money Blues
I'm Really In Love
Give My Love To Lady Canada
Somebody Else's Garden
Keep An Eye On Your Friends
How Far Is Mars?

STILL TOGETHER (1982)