A
pioneer of Canadian folk music, Bonnie Dobson was born in Toronto in 1940, and watched her older sister get involved in music as part of the group The Travellers. By the age of 11 she was taking guitar lessons, and as a teenager was often entertained by the likes of Pete Seeger and Leon Bibb who gave weekend concerts while she attended summer camp in Quebec and Ontario.
She began playing the local coffee houses while pursuing an English degree at the University of Toronto, but deciding to take a break from her studies for a semester, she continued on her musical path and worked her way up to the still developing Yorkville scene by 1959. Marty Brockner, a concert promoter and friend, introduced her to Detroit promoter Paul Endicot. He booked her in a club in Denver in May 1960, which turned into her first actual tour that took her to Los Angeles along with Brownie McGee and Sonny Terry.
Her stay in California lasted through that summer, playing at the annual arts festival at the University of California in Idlewild, where she also began teaching other artists Canadian folk songs. She ended up staying California, where she was noticed by a rep from Prestige International while playing at the Ashe Grove nightclub, who signed her to a contract.
She was teamed up with staff producer Kenn Goldstein to record a pair of albums in 1960 – SHE'S LIKE A SWALLOW in the spring, followed by DEAR COMPANION that fall. Both records were done with little studio work, mostly with just Dobson and her acoustic guitar and occasional accompaniment. Both albums also were filled with the bread and butter of the folk scene at the time – traditional American deep south songs like "Girl of Constant Sorrow" and "Across the Blue Mountain," as well as some from the Maritimes and Quebec like "The Bonnie Lass of Kenmore" and "Evoyons De L'Avant," showcasing not only her subtle vocal dexterity, but also her range of influences.
She continued finding coffee houses across the US to play for the next couple of years, while also becoming a sporadic fixture on the Greenwich Village Scene and crossing the border back home on occasion. She also made appearances at most of the major folk festivals across the continent, including the Mariposa Folk Festival in Toronto. While doing a three-night stand in the spring of '62 at Gerdie's Folk City, one of New York's hot spots, she recorded what would become the AT FOLK CITY album a few months later.
Along with other material not on her previous recordings, it featured the anti-war protest "Two Carols For A Nuclear Age," which was actually a pair of Pierre Berton narratives set to a Christmas beat), as well as two songs she'd penned herself – "Bonnie's Blues" and "Morning Dew." Other than some poetry she'd written as a teenager, it was the first song she'd ever written, and later covered by over two dozen other artists – everyone from The Grateful Dead and Lulu to Nazareth and Devo. Years later, legal wranglings began when Tim Rose made a couple of minor changes to the song and claimed it as his own, though the issue was eventually settled. AT FOLK CITY was re-released in the fall of '62 with the same tracklisting, but in a different order under the title of HOOTENANNY WITH BONNIE DOBSON.
She continued playing the major stages and made the Philadelphia Folk Festival's compilation album that year after releasing A MERRY-GO-ROUND OF CHILDREN'S SONGS. Her switch to Bear Family Records included distribution from Mercury, and she returned to the studios in the spring of '64 for her critically acclaimed FOR THE LOVE OF HIM album. With new producer Bobby Scott, it showed more focus on personal relationships than her previous works, featuring the title track and "Lovin' Johnny," but still stayed true to her roots with her rendition of "Un Canadian Errant" and "Peggy Gordon."
But she found herself without a deal when the label went bankrupt a year later. After moving back to Toronto, she continued touring and in 1968 agreed to participate in the soundtrack for the independent documentary from Harold Mayer called "Movin' On," singing several songs about the history of the American railroad.
She released a self-titled album on Jack Richardson's Nimbus 9 label in '69 that produced her first singles "I Got Stung," which got good response in several pockets across the US and in the UK, but less so at home. "Everybody's Talking" followed that summer, but failed to chart. The album saw a shift in her choices of covers, opting instead to record five of her own songs – including "Morning Dew" (complete with full orchestra), "I Got Stung," and its b-side "I'm Your Woman." The non-lp single "Oh What A Beautiful City" (a cover of Joan Baez's Gospel song) followed later that year.
Audiences in the American deep south had always been good to her performances, as it was to most artists of the folk genre, and so after moving to England, she recorded some sessions at Nashville Sound Studios for RCA in 1970. GOOD MORNING RAIN naturally took on more of a country flavour and with a more rounded production, with the title track, "Light Of Love," and a cover of Jackson Frank's "Milk & Honey," as well as more traditional folk inspired songs like "Streets of London" and "Factory Girl."
She signed a new deal with Decca, and her homeland was the primary focus with her self-titled album in 1972, with songs like "Farewell To Nova Scotia," "Poor Little Girls of Ontario," a cover of Ian Tyson's "Four Strong Winds," and "Vive La Canadienne." Though living overseas and the concerts were fewer and further between in the wake of a changing musical landscape, she continued touring North America in between road trips across the UK, Germany, Ireland, and Greece, where she was still enjoying a huge fan base.
1976 saw Dobson record her final studio album, MORNING DEW, with French producer Richard Bellevue de Sylva. Along with a new version of the title track (her third), "Sweet Somerset," and "You Don't Know," it contained mostly covers, including Ken Tobias' "My Songs Are Sleeping" and Carole King's "Will You Still Love Me Tomorrow," marking a shift to a pop-oriented sound. The only single, "Bye B'Bye" was released and found success in pockets throughout Europe, but went all but unnoticed in North America.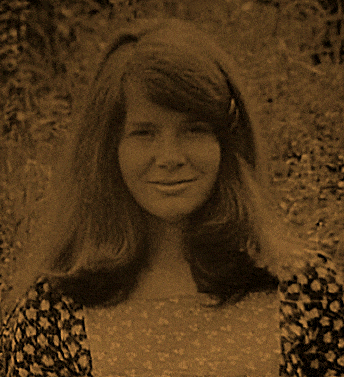 As the decade wore on, she remained on the road during a period of folk revival, appearing on several compilation albums from different labels around the world. She also recorded new tracks for compilation albums, like Shay Healey's dreamy "Absence of Romance" b/w "Come on Dancing," which was released as a single, but failed to chart other than making the top 100 On the UK list in 1983. A year later she released a stand-alone single, the traditional "The Water Is Wide" b/w her own song, "Squadron Leader," to similar results.
Now settling into a life outside of music, she earned a degree in philosophy in the late '80s, then took the job of head administrator for the Philosophy Department at Berwick College of the University of London, and has performed rarely since then. In 1989, she made a trip to Chicago for a solo show at the Canadian Club of Chicago, then made a mini-tour out of it, playing some shows in and around Toronto.
In '97, she contributed to Freidemann Witecka's (one of Germany's biggest folk/pop stars) album ON A PERSONAL NOTE, doing three duets with him. She then recorded "Take Me For A Walk" for a Broadside Magazine (an American publication dedicated to folk music) compilation album in 2000.
In 2002, German label Biber Records released LOOKING BACK, compiling her biggest hits over her career, including covers of Dolly Parton's "Times To Get Better," Ian Tyson's "Someday Soon," and Gwynne Brooke's "Going Solo" and "Come Any Closer." VIVE LA CANADIENNE, which was comprised of the FOR THE LOVE OF HIM and her self-titled '72 album, followed in 2010 on another German label, Bear Family Records.
With notes from Randy Jackson, Stefan Wirz