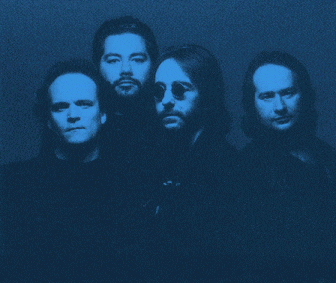 B
y the time the '90s were underway,
Ian Thomas
had released eight albums and struck gold countless times during that run. But now he was looking for new challenges, and while contemplating the follow-up to his 1987 album, LEVITY, he hooked up with some friends, also established in the business and looking for something to do. He'd worked with guitarist Bill Dillon (Daniel Lanois,
Ronnie Hawkins
,
Joni Mitchell
), drummer Rick Gratton (
Rough Trade
) and bassist Peter Cardinali, (Rick James,
Oscar Peterson
), but never collaberatively. And The Boomers were born.
They were recording material in Thomas' home studio, when he informed Alma Records and WEA reps it wasn't turning into an actual solo record. Grudgingly, they released WHAT WE DO in 1991, while figuring out how to market a bunch of over the hill rockers who still had chops. The record was slow out of the gate, but eventually caught in first in Germany, after a Munich record store's promotion resulted in thousands of special orders, and WEA's German arm to release it there.
Meanwhile, thanks in part to some videos, they began catching on at hom as well. The lead single "Love You Too Much" made it as high as #32 on the Canadian charts. "One Little Word" and "Wishes" b/w the unreleased "The One" followed it up the charts into the top 30 on the AC charts. That exposure helped eventually push the album gold while they were overseas, playing select overseas dates to enthusiastic audiences everywhere. It was a tour Dillon couldn't make due to studio commitments to Robbie Robertson. In his place were guitarist Neil Champman and Tim Tickner on keys.
They sort of drifted off to do their own things, but returned with THE ART OF LIVING in 1993. Like its predecessor, it was another power pop/alternative album, where the songs were sleek and production sophisticated. With the first single, "You've Got To Know" making it into the top 20 at home, with the video getting decent rotation, as well. And like their debut, the new record's success was rather unconventional. They were still having a hard go at cracking the American market, until a Phoenix radio station programmer got ahold of the disc, before long there were 80 stations across the US playing the album.
However, WEA didn't want to release it Stateside, so it was eventually released on Wildcat/MCA. The band meanwhile played Florida, California, Arizona and Colorado for the first time, and a stretched out tour took them overseas again. Three more singles followed over the next year and a half – the title track, which peaked at #41, "Good Again," and "You've Got To Know" which both stalled before making the top 40 on either side of the border.
Their third album, 25,000 DAYS was next in '96, and featured two singles – the lead-off "I Feel A Change Coming" and "Saving Face." They took their turns in the top 20 Canadian AC chart, and along with the title track and the smoothness of "Giving In" and light-hearted "Balloons," rounded out another critic's fave. But somewhat preoccupied with outside projects, the band toured less than previously, but still managed to make some dates throughout North America.
Their next album wasn't until 2002, when MIDWAY was released that fall. Like its predecessors, it was recorded in and around Toronto, but this time with a decidedly more toned down approach, and critics and fans both raved the music's growth. With the lead-off single, "I Want To Believe in Something," the album showed a more complex side of the band, older and more wise. An infectious guitar hook kicked off "I Remember," and "Greedy Man" and "I Don't Feel Particularly Old" were songs of bright eyes and young love replaced with ripened with experience.
Following a few North American shows, the band kind of drifted off without ever really breaking up to go and do their own things. Thomas started a new project in 2004 called Lunch At Allen's, releasing three albums before the end of the decade.

WHAT WE DO (1991)
The Matter With Me
Love You Too Much
One Little Word
I'm Alright
Never Going To Let It Go
Wishes
When You're In Love
Rise Above It
Dirty Love

ART OF LIVING (1993)
Art Of Living
You've Got To Know
Things I Didn't Say
The Way You Feel
Good Again
Modern Man
Still In This Thing
When I Get Like This
Lie To Me
What Love Can Do
To Comfort You

25,000 DAYS (1996)
Feel A Change Coming
Giving In
Balloons
Saving Face
While I'm Learning You
The Way Of Things
The Truth
Stuck In Between
25,000 Days
Old Diamond Ring

MIDWAY (2002)
I Want To Believe In Something
Greedy Man
I Don't Feel Particularly Old
Life Goes On
Can I Love You Now
Imaginary Lines
Expectations
I Remember
Objectify Me
Politically Correct