B
orn in Ottawa in 1945, Bruce Douglas Cockburn spent a couple of his earliest years on a farm outside Pembroke, Ontario, but moved back to the nation's capital before he was in school. While growing up, he was inspired by poetic verse from the likes of John Lennon and Bob Dylan, as much as by the music of Elvis, Chuck Berry, and the rest of the evolving rock and roll scene at the time. He was playing instruments before he was a teen, and switched from playing the trumpet and clarinet to guitar, after he found one in his aunt's attic.
He got involved in several high school bands, which meant playing whatever was on the radio at the time in garages. But he was already trying to expand his musical horizons, and began absorbing the experimental folk scene at the time. After graduation and wanting to see the world, he travelled to Paris where he became a street musician, and even spent a night in jail for performing without a license.
Once back in Canada, he was accepted to Boston's Berklee School of Music, where he studied composition and arrangement. He dropped out after three semesters after he realized spending more time watching local jazz performers and jamming with others than he did on his studies wasn't going to work. He returned home where he joined The Children, led by poet/singer Bill Hawkins. That gig led him to join the final lineup of The Esquires, and released the single, "Love's Made a Fool of You," b/w "Summertime" on CBS Records in 1965.
His interests were leaning towards folk music, but he was still with The Esquires in 1967 when four of his poems were published in a small Kitchener-based magazine called "Weed." The same year, he made his first appearance at the Mariposa Folk Festival while with the band. But by the end of the year he was with The Flying Circus, who recorded some material, but never had it see the light of day. They changed their name to Olivus (all of us… get it?) the following spring, and spent a month opening for Hendrix and Cream. When the band broke up only a few months later, Cockburn wound up in another group, 3's A Crowd, which didn't last until the end of the year.
In the summer of '69 he bumped into musician friend Eugene Martynec, who'd just left Kensington Market, and was looking to get into production. Intrigued with Cockburn's desire to release a solo record, he wanted to produce it, and introduced him to manager Bernie Finklestein. He had just opened the doors to True North Records and felt Cockburn could be one of his major signings. It was a relationship that would last to this day. He was again invited to play at the Mariposa Folk Festival in 1969, and ended up headlining after Neil Young backed out so he could play at Woodstock instead.
The first of a long line of albums he'd record at Toronto's Thunder Sound Studios, Cockburn's eponymous debut was on the shelves by the summer of 1970, and was instantly creating a buzz with critics. Initially supposed to be under a world distribution deal with CBS Records, it ended up being a Canadian release only, and the singles "Going to the Country" and "Musical Friends" both found their way on to the adult contemporary chart, and earned him a Juno the next year for top folk singer. Before the year was over, Cockburn also contributed to the soundtrack for the film "Goin' Down The Road."
He followed it up with HIGH WINDS WHITE SKY in the summer of '71. The single "One Day I Walk," didn't fare as well as hoped, only making it to #64 on the Canadian singles chart, shortly before CBS released his debut album in the US under the new title, TRUE NORTH. Although he was raised as an agnostic, Cockburn by this point had become a devout Christian, and his beliefs and philosophies began trickling into his music through Biblical metaphors and slight religious remarks in the lyrics, in songs like "One Day I Walk," You Point To The Sky," and "Shining Mountain."
1972's SUNWHEEL DANCE saw "It's Going Down" (his first anti-war song) and "Up On The Hillside" released as singles, which peaked at #12 and #21 respectively. But Cockburn seemed to miss the mark on his next couple of albums. "Mama Just Wants to Barrelhouse All Night Long" was a rollicking upbeat folk single from 1973's NIGHT VISION. But neither that, or "All the Diamonds" from the SALT SUN AND TIME album a year later made a significant impact, both failing to break the top 40 at home or chart at all in the US. And yet he started out '73 capturing his third straight Juno Award for top folk singer.
"Burn," the only single from JOY WILL FIND A WAY also failed to chart on either side of the border. Still, Cockburn was touring Canada, despite his inability to break it out Stateside.
The next few years saw more relentless releases. IN THE FALLING DARK was on the shelves in the summer of '76, and radio stations jumped on three singles over the next year and a half, "Silver Wheels," "I'm Gonna Fly Some Day," and "Vagabondage." His tastes were always changing, and working their way into his own ever-evolving sound. All three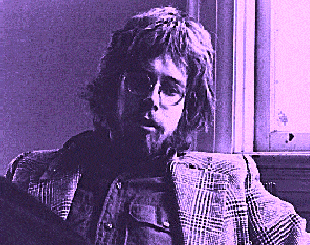 singles received respectable airplay, due in part to his crossing over to a more mainstream audience. Another sign of his expansion as a songwriter was "Little Seahorse," written about his unborn daughter Jenny.
But burning out, plus his new family life, meant he didn't even tour more than only sporadically when THE FURTHER ADVENTURES OF BRUCE COCKBURN was released later that year. One of the few exceptions was a Japan tour he did with True North label-mate Murray McLauchlan. The lack of charting singles from the record helped Cockburn make up his mind to take a step back and re-evaluate things.
After releasing his first live album, 1977's CIRCLE IN THE STREAM and the single that went nowhere "Free To Be," his American breakthrough came in the form of DANCING IN THE DRAGON'S JAWS, and the smash single, "Wondering Where The Lions Are," which peaked at #23 on the US charts, landing him a spot as musical guest on "Saturday Night Live" later that year. Although folk-oriented and centring around an acoustic theme, the record had a wider appeal than before, reaching #45 in the States and in the top 20 in Canada. His music was beginning to take on socially relevant subject matter at the time, and other noteable tracks included the lead-off "Hills Of Morning," "Northern Lights" and "After The Rain."
HUMANS was recorded in the summer of 1980 and released a few months later. Three singles were released over the next six months, but with the exception of "Fascist Architecture" which topped Canada's adult contemporary chart, the best showing he did in the US was "Rumours of Glory," which still didn't crack the top 100 south of the border, causing concern with American execs. A poor showing from his next album, 1981's INNER CITY FRONT and it's only single, "You Pay Your Money and You Take Your Chance," which made it to #21 in Canada, didn't help, forcing him to go back to the drawing board.
1981 saw three albums released – INNER CITY FRONT and the single "The Coldest Night Of The Year" (whose b-side was the previously unreleased "Murray McLauchlan Song") made it to #42 on the pop chart, and its successor, "You Pay Your Money and You Take Your Chance" reached #21, but neither made the American charts. MUMMY DUST, a 'best of' with three new tracks, and then the compilation RESUME took up space on the record shelves later that year.
After taking some much needed time off, THE TROUBLE WITH NORMAL was cut in the summer of '83. Without any singles, the record flopped, despite the critical acclaim given to songs like the title track, "Planet of the Clowns," and "Going Up Against Chaos."
In 1984 he composed and performed, with Hugh Marsh, the music for the National Film Board of Canada documentary feature "Waterwalker." By this point he was getting more involved in social and humanitarian organizations through participation, not only through song – and was working for Oxfam while pondering his next project. He reinvented his sound by first working with new producers, and for the first time, Eugene Martynec wasn't behind the controls. Instead in his place, John Goldsmith and Kerry Crawford helped create one of Cockburn's most successful albums. 1984's STEALING FIRE featured the hit singles "If I Had a Rocket Launcher" (which featured his first accompanying video), an angry political commentary on refugees under fire in war-torn Central America, which topped the Canadian charts and peaked at #88 in the US.
"Lovers in a Dangerous Time" contains some of Cockburn's most distinctive lyrics. The line "got to kick at the darkness till it bleeds daylight" would be picked up by U2's Bono, who made mention of it in their song "God Part II" from their RATTLE AND HUM album. At one point, U2 also attempted to cover "If I Had a Rocket Launcher" in rehearsal, but did not formally record the results, and never played it live. Three more singles were released in Canada, "Peggy's Kitchen Wall," "Making Contact," and "Nicarauga," all to decent reception. The album garnered engineer John Naslen a Juno Award for "Recording Engineer of the Year" for his work on this album. The record also received nominations in the male vocalist, best production, and best graphics categories.
He returned to Goldsmith and Crawford for his follow-up, 1986's WORLD OF WONDERS. "People See Through You" was the only single to make a dent on the American charts, peaking at #4, despite it, and "See How I Miss You" showing decent results at home. The album caused a furor in the US though, thanks to the Parents' Music Resource Center (Tipper Gore's pet peeve) objecting to the lyrics in "Call It Democracy." A warning sticker was placed on the album's first pressing and its offending lyrics were highlighted in yellow. Eventually, thanks to Cockburn and Finklestein's complaints, this was overturned. WORLD OF WONDERS ended up being Cockburn's only record to break the top 30 in Germany.
Normally a solo tourist, he assembled a full fledged backup band, and hit the road for the better part of a year and a half, with stops throughout North America, Australia, and Europe while the album sold in excess of a million copies worldwide.
After the double album greatest hits package WAITING FOR A MIRACLE was released in '87, and the title track climbed to #12 on the Canadian AC chart, he followed up with BIG CIRCUMSTANCE in 1989. The lead single "If A Tree Falls" is considered by many to be Bruce Cockburn at his political best, commenting on the destruction of the world's rain forests and ecological concerns in general. The song became his highest charting single ever, reaching #8 in Canada, cracking the top 20 in the US, and the top 30 in Australia and in Germany. "Shipwrecked At The Stable Door" with two different b-sides, and "Don't Feel Your Touch" followed to lesser results. Other noteable cuts included some of his most stinging political statements in "Tibetan Side of Town" and "Where The Death Squad Lives."
Still touring, but to a much lesser schedule than in previous years, he set out on a three-month world tour that included two weeks in the US. The shows were taped and the result was the appropriately titled BRUCE COCKBURN LIVE was released in 1990. Nicely summing up one of Canada's most prolific musical poets, he also had a chance to show the lighter side of himself, and included his version of Monty Python's "Always Look On The Bright Side of Life." Later that year the Australia-only greatest hits compilation IF A TREE FALLS was released.
Some of Canada's biggest names in pop and folk music paid homage to Cockburn in 1991 with Intrepid Records' release of KICK AT THE DARKNESS – THE SONGS OF BRUCE COCKBURN. Included was The Barenaked Ladies' cover of "Lovers In A Dangerous Time" (their first commercial success), Jane Siberry, The Skydiggers, Five Guys Named Moe, Chris Bottomley, and Rebecca Jenkins, among others.
After nearly a two year hiatus, NOTHING BUT A BURNING LIGHT turned a new page in Cockburn's recording practice, marking the first time he'd recorded outside the confines of Toronto's studios. He spent four months in Los Angeles with new producer T Bone Burnett, and the end result was one of pop/folk's most highly anticipated albums in years. The lead-off "A Dream Like Mine" was inspired by M.T. Kelly's book of the same name, and was the first of four singles, charting on both the pop and adult contemporary charts. "Great Big Love," which reached as high as #12 followed, as did "Mighty Trucks of Midnight." By the spring of '92, "Somebody Touched Me" entered the charts and peaked at #8. The record also featured "Indian Wars," inspired by Cockburn's friend and musical legend Jackson Browne, who guested on the stripped down guitars/violin ballad, and his struggle to help in Native American people's fight for rights.
Cockburn's activism continued throughout the '90s, and was named honourary chair of Friends of The Earth. After performing at the Earth Day Show at The Hollywood Bowl with Paul McCartney, and then the presidential inauguration ball for Bill Clinton in '93, he produced his CHRISTMAS album that year himself. It featured his take on a variety of Yuletide favourites and Gospel classics, and guest appearances by Sam Phillips and Vivienne Williams. The project was decades in the making, and culminated over the last two years while he'd presented a Christmas special radio broadcast in North America and Europe.
Other than that offering, he'd stayed out of the limelight for the next couple of years, until releasing DART TO THE HEART in the summer of '94. He again enlisted the production services of T Bone Burnett, and for the first time did the tapings in New York, as well as a trip back to LA. Three singles kept him on the airwaves until the following spring, with "Listen For The Laugh" leading the charge and reaching #9 in Canada. "Scanning These Crowds" and "Someone I Used To Love" also fared well, making it to the top 30 on the AC chart. The song "Closer To The Light" was in honour of Cockburn and Burnett's mutual songwriter friend Mark Heard, who'd passed away a year earlier.
Cockburn called on Colin Linden to help him produce THE CHARITY OF NIGHT, releaed in mid 1996. Straying away from the rootsy approach of the last few albums, songs like the single "Night Train," which made it #10 in Canada, and the top 40 in pockets throughout Europe, showed hints of Cockburn's jazz infusion techniques. Lyrically, the album was mostly introspective about relationships, with a couple of actual love songs thrown in, with the exception of The Mines Of Mozambique," referencing an African nation infested with land mines.
1997 saw the seven track intimate live EP, YOU PAY YOUR MONEY YOU TAKE CHANCE hit the stores, the same year he received the Order of Canada for his years of selfless charity work around the world. Always looking for something different to add to his resume, he also wrote the theme song for the children's cartoon series, "Franklin." That August, he joined former bandmates in 3's A Crowd and The Children on stage for a special reunion concert during the Ottawa Folk Festival.
The next year, he travelled to Mali, West Africa, where he jammed with Grammy Award-winning blues musician Ali Farka Toure and kora master Toumani Diabate. The one-month journey culminated in the award-winning documentary from Robert Lang, called "River of Sand."
For his next project, BREAKFAST IN NEW ORLEANS… DINNER IN TIMBUKTU, released in September of '99, Cockburn again relied on help from Colin Linden in production, and "Last Night Of The World" quickly shot up the charts to #28. The record was a thorwback to his blues roots. Along with his take on the Fats Domino classic "Blueberry Hill," featuring a duet with Cowboy Junkies' Margo Timmins, it included the instrumental "Down To The Delta," and the lead-off "When You Give It Away."
After being inducted into the Canadian Music Hall of Fame in 2001, he concentrated on other projects for the next couple of years. Meanwhile, True North released the compilation ANYTHING, ANYTIME, ANYWHERE: SINGLES 1972-2002. Despite the title, the record included a few remixes, as well as the previously unreleased title track, which was initially intended for the DART TO THE HEART album in 1994. As a special promotion, if you bought the disc at Borders Books, you also received a limited edition live CD that featured performances,
out-takes, and chit chat. About the same time as the new compilation hit the market, so did album re-releases from years gone by, each with a couple of bonus tracks tossed in for good measure to ensure sales.
In '02, the Canadian Association of Broadcasters (CAB) inducted Cockburn into the Canadian Broadcast Hall of Fame. The ceremony was held in Vancouver as part of the Gold Ribbon Awards Gala at the organization's 76th annual convention.
For his next album, 2003's YOU'VE NEVER SEEN EVERYTHING, Cockburn again enlisted the services of Linden. But unlike anytime previous, he utilized several studios – in Toronto, Montreal, LA, and Nashville, over a three month recording process with the help of the likes of Emmylou Harris, Shawne Jackson, Sarah Harmer, and Sam Phillips. With songs like "All Our Dark Tomorrows," "Postcards From Cambodia," and "Celestial Horses," the record at times had a moody feel to it, where Cockburn slipped in his trademark philosophy without being preachy.
He was among the performers at the Live 8 benefit concert in Barrie, Ont in July, 2005. At that point, SPEECHLESS had already been released. It was a project Cockburn had stated he'd always wanted to do – an all-instrumental record. It included some of his personal favourites over the years as well as the new recordings, "Elegy," "King Kong Goes To Tallahassee," "The End of All Rivers," and "Rise and Fall," which was previously only released on the Japanese edition of BREAKFAST IN NEW ORLEANS… DINNER IN TIMBUKTU. The album was instantly a critic's dream, mixing the artist's blues, jazz, pop, and folk roots in one package. The Canadian Folk Music Award for Best Instrumentalist awaited him for his effort at the end of the year.
Cockburn started off 2006 by accepting the Allan Waters Humanitarian Award at that year's Juno Awards ceremony, his 11th award (and 31st nomination). LIFE SHORT CALL NOW was in the stores shortly thereafter, and reunited him with Jonathan Goldsmith, producer of the 1984 masterpiece STEALING FIRE. As with their last teaming, the record again served as Cockburn's political voice and social commentary. "Different When It Comes To You" was put out as the first single, which only cracked the top "This Is Baghdad" is a clear shot at George W Bush and the Iraq war, while "Tell The Universe" is an introspective look at society in general. The record also featured his trademark stripped down instrumentals, including "Jerusalem Poker" and "Nude Descending A Staircase." The title track was only one of several to make use of horns and orchestration.
After the double live SLICE O LIFE was released in 2009, Cockburn joined the long list of Canadian musicians to travel to Afghanistan to play for the troops. It was also a good excuse to visit his brother, Capt. John Cockburn.
His next album was SMALL SOURCE OF COMFORT, released in the spring of 2011 and produced again by Colin Linden. With tracks like "Call Me Rose" – a sort of 'what if' scenario of Richard Nixon reincrnated as a mother living in the projects and raising her two kids, the record showed off his wit, while "Bohemian 3-Step" highlights some of his instrumental best work in years. "Called Me Back" is the recounting of the hussle and bussle of everyday life, while "The Comets of Kandahar" played to his familiar anti-war theme.
In addition to his many other awards, Cockburn has also received five honorary doctorates – from Queens University in Kingston, Ont, the Memorial University of Newfoundland, York University in Toronto, Berklee College of Music, and from St. Thomas University in New Brunswick.