B
orn in Kingston, Ontario on Nov 5, 1959, Bryan Adams was already a veteran of the rock scene while still a teen. He toured as a back up singer for
Nancy Nash
for awhile and then fronted a band called Shock. But it was when he was hired as the third vocalist for
Sweeney Todd
, and recorded the third version of "Roxy Roller" that things took off. In fact, it was Adams who stood on stage with the band when they accepted the 1977 Juno Award for 'Best New Group'. The band recorded IF WISHES WERE HORSES before year's end, but within only a few months Adams was on his own.
He'd worked as a live background singer for Nancy Nash for the better part of a year, when a chance meeting with Jim Vallance (who was sidelining under the pseudonym Rodney Higgs in Prism) marked the beginning of one of Canada's most prolific songwriting partnerships. He landed a now-legendary deal with A&M Records in 1978 for $1. His first release was a 12″ dance single called "Let Me Take You Dancing" in 1979, selling over 100,000 copies. The 'b' side was a song called "Don't Turn Me Away", the first song Adams & Vallance collaberated on. It would appear as a single's flip side again a couple years later – but was never included on any album.
His actual album debut came less than a year later, when his self-titled record came out the next spring. Though not released in the US, it was produced with Vallance, spawning two singles, "Give Me Your Love" and "Hidin' From Love", each receiving substantial airplay at home. "Hidin' From Love" was released as a single later that year in the US. He put together a touring band which included Paul Iverson and Darryl Kromm, friends who'd team up to form Strange Advance a few years later.
Following a successful four-month tour, YOU WANT IT YOU GOT IT was recorded in New York City and was originally intended to be called BRYAN ADAMS HASN'T HEARD OF YOU EITHER, though A&M execs nixed the idea. Released in 1981 and featuring cameos by the likes of Jeff "Skunk" Baxter of The Doobie Brothers and G E Smith – then working with Hall & Oates and later becoming the musical director for 'Saturday Night Live'. Produced by Bob Clearmountain, the grittier album gave early indications of his range. He assembled a new touring band which included John Hannah, who'd later work with Harlequin and Streetheart.
Six months in the US backing up The Kinks and Foreigner gave Adams the exposure needed and the album broke Billboard's Top 100 in 13 weeks. The first single, "Lonely Nights" was released and quickly shot up the charts, & was recorded by Uriah Heep a couple years later.
"Coming Home" hit the charts as the second single, a few months later, followed by "FIts Ya Good", cementing the album in gold. The third single "Fits Ya Good" cemented the album in gold. Other noteable tracks included "Jealousy" – covered by Prism, the title-track and "No One Makes It Right". Before the year was over Adams found himself on a world tour with Loverboy.
Returning to Vancouver he and Vallance began work on the next album. CUTS LIKE A KNIFE was released in January of '83. His tour with Foreigner the year before resulted in Lou Gramm guesting on several songs. "Straight Through The Heart", covered by Bonnie Tyler a year later, was the first of four singles, followed by "This Time", the title track and "The Best Was Yet To Come", garnering him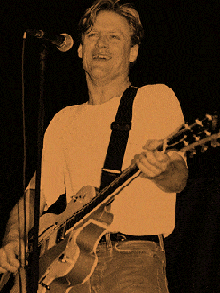 his first platinum record. After another world tour supporting the likes of Journey and Foreigner again was mixed with other dates in which Adams headlined. By now he and Vallance had firmly entrenched themselves as highly sought-after songwriters, co-writing a pair of tracks for KISS as well as ex-Fleetwood Mac'er Bob Welch and Canadians Loverboy and Dalbello.
His non-stop work ethic had him back in the studios practically the day after ending the tour – and RECKLESS hit the shelves on his birthday in 1984. Backed by the monster single "Run To You", which preceeded the album, it helped established Adams as one of rock's true superstars. "Somebody", the tender #1 hit "Heaven" (whose 'b' side was a live version), "Summer of '69", the lead-off "One Night Love Affair", and the duet with Tina Turner on "It's Only Love" all followed into the Top 20. The raucous "Kids Wanna Rock", "Long Gone" and "She's Only Happy When She's Dancing" all helped propel Adams into the stratosphere.
The 8 million worlwide copies sold remained the most ever sold by a Canadian artist until someone named Shania showed up. But '84 was also the year the world's attention turned to the Ethiopian famine, and it was Adams & Vallance who penned Canada's relief-song, "Tears Are Not Enough" – which featured practically every Canadian musician who was 'anyone', followed by his appearance at Live Aid in '85. His charity work continued the next year when he joined the likes of Sting & U2 on the Amnesty International world tour. Adams also earned his first two Grammy nominations through RECKLESS, 'Best Male Rock Performance' for the album and 'Best Rock Performance' by a Duo or Group for "It's Only Love".
He took some much deserved time off following nearly 2 straight years on the road before going back into the studios. The result was INTO THE FIRE, released in 1987. Bob Clearmountain was now making his fourth straight appearance as producer. Adams' seemingly never-ending social and charity work were reflected in the new album. Growing as a person as well as a musician, INTO THE FIRE seemed out of reach for his legions of fans who were expecting less social conscience from him – and in turn they seemed out of touch with Bryan Adams – 'the artist'.
Backed by the lead-off track "Heat Of The Night", his fifth US Top Ten single, and "Hearts On Fire", "Victim Of Love" and "Only The Strong Survive" it eventually went on to sell 3 million copies. Another world tour ensued for the next year, including accompanying Tina Turner in Japan. Despite his predominant fanbase from North America – and relative success overseas, it was this tour that firmly entrenched him in the Orient and Europe as well. One of the final shows in Werchter, Belgium was filmed for a TV special, "Bryan Adams" Live in Belgium", broadcast at home the following year.
His live on-stage energy had always been one of Adams' strongest points, so LIVE LIVE LIVE, the album version of the TV special, was released in '88 while he worked on his next studio project. Though originally only released in Japan, it didn't take record execs long to let the rest of the world in on it, and LIVE LIVE LIVE soon became a critic's favourite among live albums. Along with an assortment of his biggest hits, the album also featured live versions of Patsy Cline's "Walkin' After Midnight" and Bobby Fuller Four's "I Fought The Law".
Adams was back on the road with ZZ Top in the summer of '91, the same time "Everything I Do" appeared as the closing credits to Kevin Costner's 'Robin Hood – Prince of Thieves'. Though people still wonder how someone without an English accent could be cast as Robin Hood, the song topped the US charts for 7 weeks, the longest any song had done so in 8 years. Its international success was even greater, spending 16 weeks at the top in the U.K., making it the longest-running chart topper in the history of the British charts.
Adams & Vallance recruited Daniel Lanois for the next project. But while convolescing in England, Adams teamed up with Mutt Lange (Def Leppard, AC/DC and future hubby to Shania) for 're-takes' and what resulted was Adams' biggest-seller to date at 10 million copies worldwide. WAKING UP THE NEIGHBOURS was released in September of '91, almost a full 3 years in the making. It produced 7 singles, including a re-release of
"Everything I Do", earning Adams another Grammy nomination and his first Academy Award nomination.
"Please Forgive Me" was the only new song on Adams' first 'best of' collection called SO FAR … SO GOOD, released in '93. Although he kept a low profile during Other projects in the hiatus of solo records included working with others – ranging from Barbara Streisand to Bonnie Raitt … to Pavarotti.
Mutt Lange was again brought in as producer for his next solo project. 18 'TIL I DIE hit the shelves in 1996 and instantly went gold, due in part to the flamenco flavoured chart topper "Have You Ever Really Loved A Woman?" from the film Don Juan DeMarco featuring Johnny Depp and Marlon Brando. The song also earned him a Grammy nomination, as well as his second Oscar nomination.
A world tour ensued for the next year and a half, during which the album was certified platinum. Other singles included "Let's Make A Night To Remember" and "The Only Thing That Looks Good On Me Is You". The song did well on a world basis, but didn't dent the US charts, due in part to A&M's American branch transferring his contract in the middle of the release to independent rap label, Interscope Records. Adams' next venture was to do one of MTV's Unplugged sessions, released in time for Christmas of 1997. In an effort to bolster sales south of the border, "Back To You" and "I'm Ready" were released as singles and managed to push the album gold in the US – gaining heavy airplay overseas as well in North America. His overall re-working of his classics as well as some of his more obscure tracks has generally been considered as one of, if not THE best of MTV's Unplugged series.
ON A DAY LIKE TODAY was released less than a year later. Though still going gold in North America a pair of singles were released. "When You're Gone", the duet with Melanie C of The Spice Girls made #3 in the UK and spent 10 weeks in the Top 10. Also cracking the Top 10 was the dance remix of "Cloud Number Nine". The album also peaked # 3 in Canada. He spent the next while regrouping while working with others again while THE BEST OF ME, a double greatest hits collection in '99, though the US arm of A&M didn't release it. The album featured a total of 21 studio and 3 live tracks. Included was the title track, a new song which cracked the Top 20. His vast resume was expanded even more in 2002, when he collaberated with Hans Zimmer to write the filmscore to the animated 'Spirit – Stallion Of The Cimarron'. The end result was a Top 40 entry (rare for a filmscore) and a Golden Globe nomination.
Aside from doing the theme song for TSN's hockey program, he laid low until the fall of 2004. When ROOM SERVICE, his 14th solo album, was finally released it was greeted with a #1 slot on Billboard's European chart. Hailed by critics as Adams' most stripped-down and honest works in years, ROOM SERVICE is a mix of the classic ballads such as "Flying" and "Why Do You Have To Be So Hard To Love" that he's become known for, as well as the all-out rockers in the lead-off "East Side Story" and "Nowhere Fast" that are his roots.
Over the course of his career, Adams has received an incredible 16 Juno Awards out of 24 nominations, 13 Grammy nominations, winning 3 times – including 'best film love song' … or whatever the hell that was "Everything I Do For You" was nominated for, as well as countless others for MTV and MuchMusic, and was inducted into the Canadian Rock & Roll Hall of Fame in 2006.
---
Concert review – – submitted by Jim Mills

Bryan Adams played to a sold out concert at the Kitchener Auditorium on February 13, 2001. Fans, young and old were kept standing as Brian belted out all his hits, from "Cuts Like A Knife" to "Run To You".

Bryan and his band were dressed in white offset by a brightly-lit stage with white backdrop, topped off by large, white Marshall stacks. Bryan showed his humor when he turned around and his pants said BAD, but his guitarist Keith Scott said BADDER. Keith showed off his splendid guitar work and was the real talent in the band, Bryan said. Although he also told us a new CD is coming out, Bryan did not play any new material tonight.

One of the highlights of the show was when Bryan picked 16 year old Julia Hagerman to play the part of Sporty Spice to sing "When You're Gone. The fans didn't want Bryan to go and after the band's encore, Bryan came back out by himself and sang one last song, "Please Forgive Me". This was a great show. I recommend this as an enjoyable night for everyone! Bryan's fans have forgiven him and are glad to see him back home!

Special thanks to April from Next Presentations Canada Ltd.