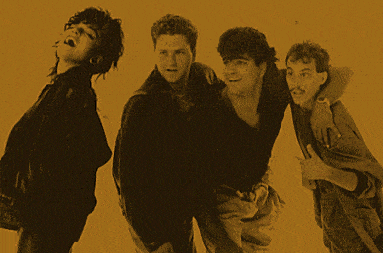 T
oronto native Candita Pennella began her music career as a teen, often singing at weddings, cultural festivals, and store openings. Always a pop music fan, at the age of 19 she formed a band that consisted of Nino Milazzo on bass, percussionist Paul Russo, and Rich Imbrogno on keyboards.
They began playing the local area clubs and dances, when they were noticed by IRS Records execs. Signing them to a contract, they released their self-titled album in 1988 after encouraging them to bill themselves simply as Candi. Combining modern pop dance music with international rhythms, they were likened to a cross between Madonna and The Miami Sound Machine, and several extended dance mixes of the singles "Dancing Under A Latin Moon," "Under Your Spell," "Love Makes No Promises," and "Missing You" flooded the night clubs. The album soon went platinum in Canada (100,000 units), and "Dancing Under A Latin Moon" made #68 on Billboard's list in the US.
She was a nominee for a Juno Award in 1990 for Female Vocalist of the Year, but lost out to Rita MacNeil. "Under Your Spell" was also nominated for Single of the Year. But like "Under Your Spell and Missing," both nominated for Best Dance Recording, lost out.
Now as Candi & The Backbeat, they returned in the summer of 1990 with THE WORLD KEEPS ON TURNING, which eventually was certified gold. More singles followed, beginning with the title track, and followed by "Friends Forever" and "Good Together," and again more variations of the songs appeared on dance remixes in the clubs throughout North America, Europe, and Latin America. The title track was nominated for Best Dance Recording the following year at the Juno Awards, but she again failed to bring home the doorstop.
With outside interests weighing in her decision, she disbanded the group following a North American tour in 1991, and everyone went on to other projects. Pennella and Russo ultimately got married, settled into a nomral life in Toronto where he worked as a session musician, and she went to University, got her Bachelor of Arts, and became a high school teacher in the Toronto area.

CANDI (1988)
Under Your Spell
Missing You
Shine On
Independent
Love Makes No Promises
Dancing Under A Latin Moon
Dance With Me
Lucky Night
Pleasure Island
Closer Than Ever

THE WORLD KEEPS ON TURNING (1990)
The World Just Keeps On Turning
Friends Forever
What's In A Love
Dream Train
Good Together
Time For A New Life
Getting Closer
Someone Like You
Find Love (Don't You Wanna)
Saving All The Love