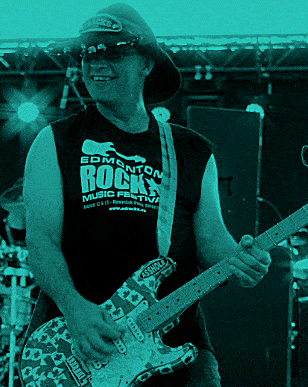 B
orn near Calgary in the bustling metropolis of Brownsfield, Carson Cole's road to rock and roll stardom is probably one of the most unusual, yet prolific in Alberta's history. And it's his versatility that's earned him the honour of being one of the country's toughest artists to label, as well as an influential studio man.
After being encouraged by his parents to drop the drum kit, he picked up the guitar instead and was mentored by a neighbouring farmer. By the time he was 15, he'd released his first album, CURE FOR THE WORLD, through Canadian gospel label Praise Records, the first of four Christian albums.
His musical influences varied wide, including Stevie Wonder, Led Zeppelin, The Police and "anything with a groove." He played around the Calgary bar scene for awhile, then set up his renovated barn/studio Brown Sound Music in his early 20s, helping other up and coming artists while at the same time developing his own influences and tastes. Along the way, he earned the tags of everything from new age to country, folk to funk to rock, and everything in between. "That's something that just happens when you're working with others. You're with other talented people, and some of those ideas rub off on you, which is very healthy because it keeps you fresh," he commented.
He released his first mainstream album, STOP IT I LIKE IT in '95. Tracks like "Oxford Hotel," "Red River" and "Few More Miles" all told road stories and tales of home with an often funky beat, while "World's Gone Crazy" and "Survival Of The Hippest" lent voice to what would become his penchant for writing sometimes not-so subtle social commentaries into the songs.
In '98 he released THERMOSTAT, which featured the title track, "Too Funky," and "Extra Cheese." He followed it up with NAKED in 2000, taped live with his band The Hippy Chicks during a New Year's Eve bash, it would become Cole's trademark storytelling was showcased, when he covered Bob Dylan's "Blowin' In The Wind" with a psychadelic ode to his hippie roots. As well The Stones' "Satisfaction," and the traditional "Amazing Grace," it also included the lead-off "Stormy Monday," "Ain't Nobody's Business," and a remake of "Green Black Jelly," originally on THERMOSTAT two years earlier.
In 2002, he released STICKY, fusing rock and traditional blues into an album that also had hints of dance and hip hop with lots of effects pedals. With songs like "Buttah," self-professed as a "de-fanged Rob Zombie with his batteries running dangerously low," and the upbeat "Dance with Me," it quickly became an underground and critics' fave.
In 2004, he toured the country and its summer festivals, including Alberta's Own outside Red Deer, Frontier Days in Lloydminster, and the Big A$$ Border Bash in Cold Lake. It was there he was introduced to members of The Frank, one of Red Deer's most promising young groups. In '08 he produced their near-breakout album, RETURN TO BLACKFALDS. which featured the critics' pick of the year, a cover of Neil Young's "Cinnamon Girl."
By 2010, his tours across Canada had reached over two dozen, in the process leading to lending an instrumental hand to Wide Mouth Mason, McQuaig, and Danni Tibbo.
In the late '00s, the next generation of Coles, Chris hit the road with Dad. Kody followed suit, but because the legal drinking age in Alberta is 18, and he wasn't, they came up with the innovation of having him play bass from the hotel room, sending the video downstairs to a big screen in the bar. The attention caused enough of a stir to garner national news coverage. He continues to be vocal about needing to give musicians that extra chance to develop as artists.
Since moving to Edmonton in the mid '00s, he's also been instrumental in several other initiatives to promote Canada's next generation of stars, including spear-heading "instrument for students" type of events and various other fundraisers, while still continuing to make treks across the country, having shared stages with the varied likes of Trooper, Colin James, Butterfinger, Loverboy, Bryan Adams, BTO, and Terri Clark.
In the early '10s, his outside interests included getting involved in Spring Fresh Developments, helping raise over $10M for a new vacation development in Korea.
With notes from Carson Cole