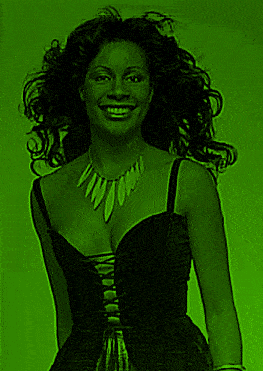 J
amaican-born Claudja Barry moved to Toronto with her family as a child. She began taking vocal lessons at age 15 and her gift of mixing dance rhythms into an intoxicating visual image landed her spots on various local tv shows while still in school, which in turn led to headlining various shows as well. After graduation, she left for New York, where she eventually landed a role in the hit musical 'Hair', then 'Catch My Soul'. The play toured Europe, where she eventually wound up in Germany in the spring of 1975.
She landed several jobs as a session vocalist and it was during this time that she met Frank Farina, who'd just scored a European hit with "Baby Do You Wanna Bump?" under the pseudonym "Boney M", the hero of an Australian TV series. Due to the success, there was a demand for live appearances so Barry, along with 3 other girls and 1 guy were hired. This line-up did only dancing, lip synching and press appearances. While on a brief European tour she met a young record producer named Jürgen Korduletsch. Following the tour, Barry was replaced by Liz Mitchell in 1976, and began working on her debut as a solo performer with Korduletsch, who was setting up Lollipop Records. With five tracks ready to go, "Sweet Dynamite" and "Love for the Sake of Love" soon became underground German club hits.
She returned part-time to Canada and after a distribution deal with Salsoul Records was set up, the five tracks were remixed and added to five new ones. SWEET DYNAMITE was released in the spring of 1977. A major hit in the European dance clubs, the album also showcased her range with the soulfully haunting "Love For The Sake Of Love". "Why Must A Girl Like Me" and the gritty title song were an expertly-woven mix of soul and funk with Euro-disco. The record also contained the infectious instrumental "Live A Little Bit", a sort of pseudo-African beat with a reggae twinge. Thanks to 12″ singles the title track and "Dance, Dance, Dance" were top ten club smashes and made the album an international hit. She was also featured on label-mate Ronnie Jones' debut that year, doing a duet called "It Takes Two".
Returning to Munich, Germany's Arco Studios, Barry and Korduletsch decided to broaden her appeal. The result was '78's album simply entitled CLAUDJA. Somewhat confusing to those who viewed her as strictly a disco-diva, it showcased her versatility, in such tracks as her remake of the Gladys Knight & the Pips classic "Every Beat Of My Heart" and the raucous Motown classic remade three years earlier by the Doobie Brothers – "Take Me In Your Arms". But it was the success of the club mixes of "Dancin' Fever" and "Johnny Johnny Please Come Home" that ensured Claudja her second straight gold record.
Korduletsch had now decided to release the next record on his own Lollipop label with a Canadian distribution deal, the end result being CLAUDJA BARRY later the same year. In what would turn out to be her commercially most-successful record, it was the 12″ version of "Boogie Woogie Dancin' Shoes" that would set the dance floor on fire, fast becoming an import hit when Chrysalis Records snatched up the U.S. rights, just in time to see it become an instant gold smash. The original also contained "I Just Wanna Be Loved By You", the infamous Marilyn Monroe hit. However when Chrysalis bought the rights they decided against including it, "Down By The Water" or "Love Of The Hurtin' Kind." Retitled BOOGIE WOOGIE DANCIN' SHOES, they did include another track from those sessions not on the original album, "Forget About You." Straying from her 'hard-core disco image', both versions also included a rendition of the Staple Singers' "Heavy Makes You Happy". 1978 also saw Claudja in the running for two Juno Awards, but lost most promising female vocalist to Lisa Dalbello, and was runner up for female vocalist, won by Patsy Gallant.
Next up was FEEL THE FIRE, hitting the shelves a year later. Disappointment rang throughout the offices at Chrysalis, as aside from the track "You Make Me Feel The Fire", nothing charted and nothing seemed to catch the attention of a now-changing dance club scene. Partly due to the interference and tampering of the big label, the album seemed to lack the spunk of some of her earlier works. "Stop, He's A Lover" and "One Night Queen" kept her Euro-disco sound alive, but things seemed to be becoming more mechanical, although "Love Seemed So Easy Without You" is a pleasant R&B/pop ballad, showing the range she was capable of. Polygram also released a greatest hits package that year. Again Claudja found her way to the ballot at that year's Junos, winning this time for most promising female vocalist.
By 1981 disco was on it's last leg and Claudja Barry was caught in the middle of the musical crossroads, having a tough time getting North American distribution. She released the 12″ single of "Radio Action" that year on the Canadian arm of the Polydor label, scoring a hit on the gay club circuit. MADE IN HONG KONG produced the title track hit as well as the more moderately tempoed "Love Control." However the lack of American distribution impeded it's potential success and it remained a hit in underground circles only.
That year she was again featured doing a duet with Lollipop-mate Ronnie Jones, "The Two Of Us", released Stateside on Handshake Records. '82 saw much of the same – Claudja Barry trying to shed the nearly-taboo by this time 'disco queen' image while not straying far from the sound that brought her to the dance. A dance version of the Harry Belafonte classic "Banana Boat (Day-O)" on a 12″ and Atlantic Records released "If I Do It To You", then "Up All Night". TSR Records stepped in that summer and and released "Work Me Over" backed with the remake of "I Will Follow Him", Peggy March's 1963 hit. Oddly though, a full album didn't follow.
1983 saw her form a short term alliance with Personal Records, releasing interesting remakes of The Yardbirds' "For Your Love", and The Cerrones' "Trippin' On The Moon" a year later, which featured a censored version of her German Playboy cover from '79. Two different 12″ singles of "Born To Love" also from 1984 were released, as was the 5-track mini-album NO LA DE DA – Part 2 which also featured Aldo Nova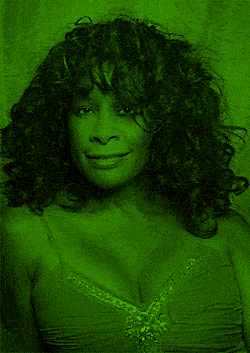 .
After appearing on Bobby 0's "Whisper To A Scream" in '85, she landed a small role in the Mario Van Peebles movie "Rappin'" that same year. 1987 saw Barry ink a deal with Epic Records, releasing a 12″ with two versions of "Down and Counting", a smash hit in the clubs. This made its way to the I, CLAUDJA album later that year. 3 other singles were cut, but "Secret Affair", "Hot To The Touch" and "Can You Feel My Heart Beat" failed to pack the same punch. "Dead Or Alive", spurred on by the pop group of the same name was also featured on the record.
1988 saw Hot Productions begin releasing her previous records, starting with CLAUDJA BARRY under the new title I WANNA BE LOVED BY YOU, as well as convincing her to collaberate with another of their signees, electronica-group S.I.N. in 1990 for "Good Time". A 1991 deal with RCA saw the release of "Love Is An Island", yet another 12″ club hit. "Summer of Love" and "Can We Dance" also made their way to vinyl the following year. CLAUDJA was remastered and issued on CD under the title THE GIRL MOST LIKELY.
In '94 she lent her talents to German rave artists General Base for "Poison". 1995 saw Claudja demonstrate her range at the utmost, releasing a Christmas album entitled DISCO ROUND THE CHRISTMAS TREE shortly after Lollipop and Hot Productions issued another 'best of' package called DISCO MIXES. She signed a deal with Critique Records the following year, releasing a 12″ single "Ain't Gonna Miss You". Korduletsch meanwhile was beginning to work with other artists as well, producing CALL ON GOD by gospel group The Brower Brothers in '97, of which Claudja was part of the choir.
Claudja Barry's status as one of Canada's greatest disco exports is undeniable, scoring more hits worldwide and selling more albums than any other performer of that genre or time frame. She still performs occassionally, but for the most part has retired from the entertainment business and lives in Germany with her husband/producer Jurgen Korduletsch.