B
orn in 1953 in Regina, Connie Kaldor was raised with music in her home, and began playing piano while still a child. Along with her siblings, she was also part of the local Luthern Church choir, which her father was the choirmaster.
She took up the guitar while in high school, and by then most of her pop influences were set – The Beatles, Patsy Cline, and Carole King, among others. By the time she graduated from Campbell Collegiate in 1972, she'd already become somewhat of a fixture at the fairs and festivals around the province. From there she attended the University of Alberta, and four years later graduated with a BFA degree in Theatre. After graduation, she moved to Toronto and worked with different theatre groups, including The Mummers, 25th Street House Theatre, and Theatre Passe Muraille, known for its development of new Canadian writing talent.
In '79, she gave it up and decided to pursue her music passion instead, performing throughout western Canada while perfecting her songwriting and live performances. Her timing couldn't have been better, and she became part of a 'new wave' of Canadian folk, often sharing the stage with the likes of Roy Forbes (aka Bim), Stan and Garnet Rogers and Shari Ulrich, among others.
She founded her own independent record label, Coyote Entertainment, and released her debut album, ONE OF THESE DAYS later that year. Folk influences from the likes of Joni Mitchell and Buffy Sainte-Marie, mixed with a pop sensibility ran through the record, such as with "Play Me Something Sentimental," the driving sax solo in "Strength Love & Laughter," and the tender motherhood lament "God Made Mamas To Cry."
Her follow-up was MOONLIGHT GROCERY in 1984. Named after a convenience store in Edmonton, the album carried on where its predecessor had left off. Strong melodies and lyrics of love, both lost and gained made it another critic's favourite. Backed by the single "Wanderlust" (later covered by covered by Cosy Sheridan) and songs like "Calais Main," the title track and the duet with Roy Forbes, "Love or Something," she earned a JUNO nomination a year later for Most Promising Female Vocalist.
Just in time for the 1985 Christmas rush, she collaberated with Forbes again for a yuletide album, featuring traditional and original songs, including a duet version of Forbes' "Mincemeat Pie." Taking some time off from the studio, she still maintained a fairly busy tour schedule for the next couple of years, including the 1986 Expo in Vancouver, and the "New Voices in Folk" concert in New York's Central Park in May, 1989.
That same year and now living in Montreal, Kaldor released her first children's album, with the duet with Carmen Campagne (her sister in-law), LULLABYE BERCEUSE. The album earned them their first JUNOs for Best Children's Album, as well as several parents' choice awards in Canada and the US. Before 1989 was over, she released GENTLE OF HEART, featuring "I Go Out Walking," "Love Letters," and the pop cross-over title track. By this point Kaldor had become a staple at North American folk festivals, sharing the stage with practically everyone who was anyone.
While finishing up recording on her next project, she joined an international tour in 1992. As a goodwill ambassador, she made stops throughout Europe, China, and India, where she helped dedicate the new Canadian Consulate. Her prairie roots were predominantly the subject of her next two albums.
1992's WOOD RIVER featured the title track, "Saskatoon Moon," a cover of Aaron Neville/Linda Ronstadt's "Bird on a Wing," and "Spring on the Prairies." She returned two years later with OUT OF THE BLUE, featuring "Bigger Than Anywhere Else" which has been adopted as an unofficial anthem for Saskatchewan, and the lead-off "Relax" had been a fan favourite at live shows for years, and its smooth jazz flavourings finally made it to disc.
Her personal life kept her out of the studios and she toured much less for the next few years, except at some of the larger folk fests. She returned in 2000 with her most commercially successful album, LOVE IS A TRUCK. Nominated for a JUNO for Best Roots & Traditional Album, the album was a collection of themes ranging from the power of love with the title track, to a return to her prairies memories with "Georgian Bay," and the upbeat "It's All About Love" pushed the album gold in Canada (50,000 units).
Kaldor had long been a proponent of many social issues and health concerns, and began dedicating more of her time to performing at these functions, including the "Music Alert" fundraiser for Friends of Medicare and headlining a benefit in Bedford, New Hampshire for the Karen's Climb Foundation, a cystic fibrosis treatment centre. In 2002, the 50th anniversary of Elizabeth II taking the thrown of England, Kaldor received the commemorative Golden Jubilee Award for her contributions to Canada in music, charity and community services including classes and workshops.
She released VINYL SONGBOOK in 2003, a compilation album of sorts, featuring remasterings of some of her more popular songs like "Wanderlust" and "Gentle of Heart," as well as some treasures she'd dug out of the attic, including some which had been live gems for years, but just hadn't made it to disc, including "Gone Are The Days" and "Out of the Blue."
She returned to writing children's books and music, releasing A DUCK IN NEW YORK CITY in 2004, and followed it with the sequel A POODLE IN PARIS in '05, both of which earned her a JUNO award. That same year, SKY WITH NOTHING TO GET IN YOUR WAY was on store shelves. Featuring the lead-off "Pieces of Your Heart," "Small Town Saturday Night," and the title track.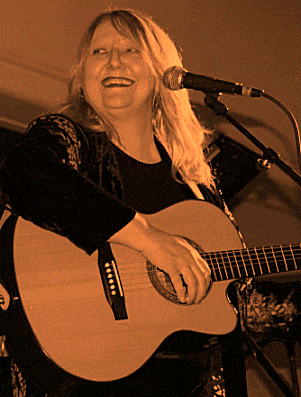 After becoming a Member of The Order of Canada in 2006, she released SMALL CAFE. Another side project she'd been working on was a theatre play based on her Saskatchewan roots called, "Dust and Dreams," and the wistful "Prairie Moon" and its accordian and piano medleys, and "I Don't Care" were used for that project. Other tracks like "Coyote's Call" and "Choppy Water." The play premiered in that summer as well, at the Station Arts Centre in Rosthern, Saskatchewan. Set in the 1930s, it's an inside portrayal of the lives of a traveling theater troupe and a farming community.
2009's POSTCARDS FROM THE ROAD was a collection of songs that had been accumulating over the years, that featured the lead-off "Maybe," the reflective "What Might Have Been," "Miner's Wife" and "Ride Gone Wrong."
In addition to her varied recording career, some of Kaldor's other projects have included a return to her love for theatre. As well as seeing "Dust & Dreams" hit the stage in '06, she also wrote the Toronto's Company of Sirens' production of "The Destruction of Eve" in '98. The show depicts four biblical women in contemporary guises, and how they've shaped women's modern view of herself and her surroundings, where even God is a woman! Aside from her music, theatre, and children's author backgrounds, some of Connie Kaldor's other projects have included writing music for animated TV's version of "For Better or For Worse," based on the comic strip, which debuted in 2000. She also produced and starred in Vision TV's special, "@t Wood River Hall," which featured performances by Bruce Cockburn, Roy Forbes and Sylvia Tyson, as well as The Duhks and The Wailin' Jennys.