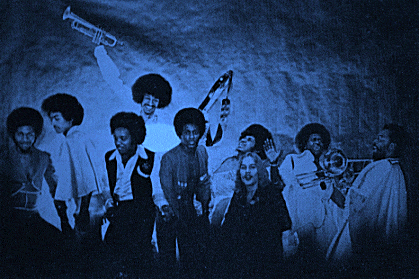 O
riginally from Jamaica, Crack of Dawn was formed by the brother/sister vocalist team of Jackie and Grant Gabriel, guitarist Rupert Harvey, and drummer Carl Otway. Before relocating to Toronto in the mid '70s, lineup shuffles were frequent.
But not long after arriving in Canada, the Gabriels moved back home, and the band eventually settled down with a still all-Jamaican cast – Otway, Smith, and Harvey, his guitarist brother Carl, vocalist Glen Ricketts, Jacek Sobotta on keyboards, and a horn section that consisted of Dwight Gabriel (trumpet), Trevor Daley (trombone), and Alvin Jones (sax and flute).
They soon became favourites on the Ontario bar circuit for their fusion of reggae with funk and rhythm & blues, and eventually caught the attention of reps from Columbia Records, then earned the distinction of being the first Canadian black group to ever sign a deal with a major label. Over the next several months they spent time in the studios with producer Bob Gallo, and in 1975 their first single was released, "The Key" b/w "Mind Wrecker," a track that didn't make the cut for their debut album the following spring.
Three more singles hit the airwaves in '76 while the band continued on the circuit, making stops in Quebec and out east – "It's Alright," "Keep The Faith," and "Boobie Ruby." But the sheer size of the group made extended or long distance tours impractical, and members came and went. Andre King briefly replaced Smith on bass, but eventually got out of the business and became a professor at York University. Add to the bulky personnel issue the fact none of the singles cracked the top 40, and the band eventually called it quits in 1977.
Ricketts returned to Jamaica and for awhile continued as a solo performer before getting out of the business all together. Otway became a producer, as did Carl Harvey for awhile, including working with his brother Rupert's new group, Messenjah. Carl then formed Toots and the Maytals, who won a Grammy for Best Reggae Album in 2004 for TRUE LOVE. Daley and Jones meanwhile formed Version Records, who handled Messenjah, as well as several international reggae acts, including Glenn Ricketts.
Dwight Gabriel assembled a new version of the group in 1980, rounded out by vocalist James McGee, George Flint on guitars and bass, and drummer Gary Steed. The streamlined version did some dates over the next year with a hired cast of musicians to round out the sound, then hit Kensington Sound Studios in Toronto with producer Alex Alexander.
They landed a deal with WEA but with distribution only in the Netherlands, releasing HORIZONS later that year. The only single was "If You Want To Groove" b/w "Just Time For Lovin'," and was greeted with a lukewarm response. Other noteable tracks included "Dance Your Ass Off," the lead-off "How Many Times," and "Fresh Bananas" – all keeping the funk roots of the band's music in tact. But a lack of support from the label spelled their demise. WEA dropped them and they fell off the radar early the following year, with everyone breaking off to do their own projects again.
With notes from Mike Bedard, Dennis Herron


CRACK OF DAWN (1976)
Keep The Faith
Board Walking
Somebody's Watching You
The Key
Oh What A Feeling
It's Alright (This Feeling)
I Can't Move No Mountains
Boobie Ruby
Put Your Money Where Your Mouth Is
Stand Tall

HORIZONS (1981)
How Many Times
Just Time For Lovin'
If You Want To Groove
Give Me Your Love
Got To Be
Fresh Bananas
Have I Got Your Love
Certain Kind Of Woman
Wait Till After Dark
Dance Your Ass Off