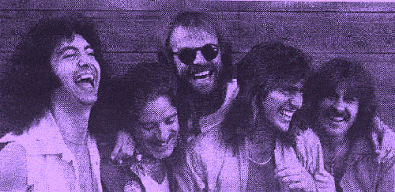 T
he roots of Crowcuss branch off as one of many groups to have sprouted from
The Guess Who
family tree. When Bill Wallace & Greg Leskiw
(also formerly with Wild Rice)
both left
Cummings
and folk in '74, the fellow Winnipegers formed
Mood Jga Jga
, releasing their self-titled debut later that year. After that project ran its course a little over a year later, they hooked up with keyboardist Herman Fruhm, and drummer/singer Mark LaFrance & keyboardist Larry Pink from Musical Odyssey.
The band was signed to Edmonton's Stony Plain Records early in '77 and released their self-titled debut shortly after. Produced by Keith Stein and overseen by label-boss Holger Peterson, the record had a raw stripped-down sound. But still seemed to follow up on what Leskiw and Wallace were up to a few years earlier with Mood Jga Jga. The 'prairie rock' sound was most evident in tracks like the lead-off "Running Start" penned by LaFrance – which would turn out to be their biggest hit, scoring number one in … of all places …. Guatemala. Nonetheless the exposure from the single earned the band spots on several TV shows and features in the print media. "Raining In My Heart"'s tenderness and the raucous Leskiw-penned "Down On My Knees" and Wallace's "Let Me Down Easy" showed an uncanny versatility for the times.
But after a cross-country tour was under way, Leskiw left in '78. They finished out the tour without him but needed a new guitarist if they were going to do a follow-up. Fruhm talked Bob Deutscher (ex of Witness) into joining the group and they returned to the studios. With more of a say in the final outcome this time, they co-produced with Peterson and Greg Riker. After only 2 weeks the finished product was ready. STARTING TO SHOW saw the light of day in early 1980. Tracks such as Deutcher's "Patience", Wallace's "Fat City" and "Long Time Coming", as well as Pink's "Lucifer's Angel" and the frolicky "Everyone Loves A Parade" demonstrated more of a 'group effort' this time around. It showed a dexterity and a certain maturity in the writing, highlighting the talents and influences of them individually while still developing a 'band sound'.
But distribution deals in both the US and Japan fell through. Unable to properly push the record, the subsequent problems with management caused the departure of Wallace. The rest of the band picked up and moved to Vancouver, but soon parted company. Wallace went on to forming another band with Greg Leskiw, Kilowatt. He resurfaced again in 2000 when he joined The Guess Who reunion. LaFrance still enjoys a successful studio-session career on the west coast and has also dabbled in television. Deutscher formed CheckOne2 and Pink joined the second reincarnation of One Horse Blue.
During their short run their live show was one of their strong points, earning spots on several North American tours, riding with some of the top Canadian groups of the day, including Prism, Burton Cummings, Goddo, Doucette, One Horse Blue and Streetheart. They also found themselves on others' bills as well – diverse as Long John Baldry and The Charlie Daniels Band.
With notes from Bob Deutscher

CROWCUSS (1977)
Running Start
Lady of Amsterdam
Networks
Do What You Want Mama
Down On My Knees
Fly My Spirit
Let Me Down Easy
Love School
Raining In My Heart

STARTING TO SHOW (1979)
Lucifer's Angel
Hard Luck Story
Patience
Do What You Want Mama
Starting To Show
Spinnin' Round
Fat City
Everyone Loves A Parade
Down On My Knees