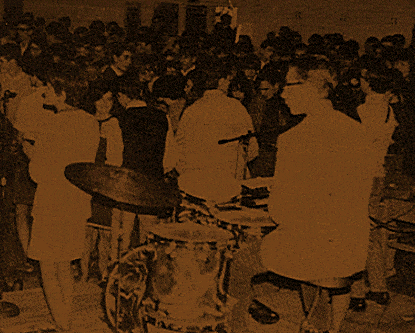 H
ailing from Edmonton, Daisy Hill Puppy Farm was formed in 1967 by bassist/singer Mo Boyer and keyboardist/singer
Mavis McCauley
, along with
Mary Saxton
on vocals, guitarist Dermond Murray, and drummer Bob Ego.
They toured the Alberta circuit for about six months, playing high school dances and night clubs before scoring a deal with Fountain Records, an independent local label. With producer Ray Schwartz, they recorded their only single, a cover of The Flower Pot Men's "Let's Go To San Fransisco" b/w McCauley's "Counting Cracks In The Sidwalk" at Edmonton's Park Lane Studio. The single was received fairly well by local radio and the band continued touring until late that fall.
But differences in opinion on where the band should be headed, along with outside interests creeping in, spelled the end of the group. Boyer and McCauley formed Southbound Freeway with Barry Allen, whose tenure was also barely a year. From there McCauley enjoyed a successful career for a couple of albums before joining One Horse Blue.
Saxton joined Rising Sun (which McCauley and Allen were also a part of), but then went solo, releasing a pair of albums and then joined Touche in '79. The disco trio of herself, Nancy Nash, and Rosalind Keene released their self-titled only album that year, spawning the moderate hit "Take A Look (But Don't Touch).
Ego joined Witness Inc, which morphed into Streetheart, then also spent time in Painter (which also featured Barry Allen), then 451 Degrees.
With notes from Bob Ego, Mavis McCauley