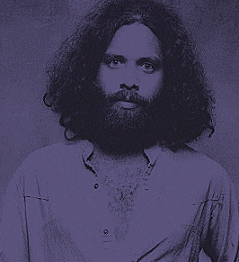 B
orn Daniel Grafton Hill IV in 1954, his parents had emigrated from California several years earlier to escape the intolerant American social climate because of their mixed race marriage.
While growing up in Toronto he idolized such vocal legends as Frank Sinatra, Ella Fitzgerald, Sarah Vaughan, and Count Basie, studied guitar while barely a teen, and began writing songs and playing local coffeehouses shortly thereafter. In 1972, he managed to sign a songwriting deal with RCA Records, where a chance meeting with label-mate Jose Feliciano during a party in Toronto led him to auditioning a raw track he'd written called "The Seed of Music." Although he expressed interest in that, and other songs, he didn't record anything because Hill was holding out, hoping for his own recording deal, and didn't give him his best ones. Jazz great Cleo Laine, however, did record her version of that song in '73 but never released it. Hill also held out sharing his talents with other artists at the time, including Harry Belafonte.
Barely a year later his talent was noticed by reps at Bernie Finklestein, who agreed to represent him. After getting him out of the 'not going too far' writing deal with RCA, he was signed to GRT Records shortly thereafter, and in 1975, at the age of 19, his self-titled debut album was released. Recorded at Manta Sound in Toronto and produced by Matthew McCauley and Fred Mollin, his first single, "You Make Me Want To Be" quickly made its mark, cracking the Top 40 at home. It was followed up by "You Say You're Free" and "Growing Up." Neither cracked the top 40 on the pop charts, but both made dents in the adult contemporary charts. Almost overnight he was also gaining the reputation for the ability to scribble honest emotions onto paper and turn them into hits.
He recruited McCauley and Mollin for his sophomore album, 1976's HOLD ON. He continued building on his penchant for taking sensitivity and reflection to a new level with his lyrics. Often armed with little more than an acoustic guitar and bare studio production that sometimes included piano and strings arrangements, the songs were predominantly written on the road while he toured North America. The liner notes even detail where each song was penned, making it almost seem like a diary put to music. The title track was soon followed by "Phone Call" as the second single, but he again failed to make much of an impression on the charts.
All that would change with 1977's LONGER FUSE album. With the same production team behind the project, he became a household name with the release of "Sometimes When We Touch," co-written by Barry Mann. The single topped Canada's pop chart for two months and made it to #3 in the fickle US market and #13 in the UK. The record sold over 300,000 units at home and over half a million worldwide while he cleaned up at the Junos that year, winning for Composer, Male Vocalist, and Single of the Year, as well as earning his first Grammy nomination. Along the way he also made several television appearances, including Merv Griffin and Mike Douglas' variety programs. "Sometimes" was also covered by Rod Stewart, Tina Turner, Tammy Wynette, Lynne Anderson, Donny Osmond, Rodney Crowell, Roseanne Cash, Barry Manilow, Cleo Laine, and Olivia Newton-John (among others, including in other languages) in later years. Hill's father was a social scientist, so "McCarthy's Day" was one of his few obvious political statements – a poignant true tale of his parents fleeing the US during the height of the blacklisting of groups of citizens for their political beliefs, one of the reasons they moved north to Canada.
Expectations were high with the release of FROZEN IN THE NIGHT a year later. With the same production team for the fourth straight album in as many years, the first single "All I See Is Your Face," another typical tender and personal ballad, was in the shadow of what would end up being his biggest selling single, and stalled at #36 at home and failed to make the top 40 in the US. "Let The Song Last Forever" managed to make the top 20 list on both sides of the border, but it was the next two singles, "Dark Side of Atlanta," and "Why'd You Have To Go and Pick On Me" that showed some of his strongest political and social commentary to that point. Unlike its predecessors, which were almost entirely self-written, the record also featured Hill collaberating with Mann on many of the tracks.
While THE BEST OF DAN HILL was being released, his deal with GRT was over, and he switched to Epic Records for IF DREAMS HAD WINGS, released in the summer of 1980. The only single "I Still Reach For You" peaked at #9 on the charts Stateside, but tanked at home, only reaching #83. This resulted in him taking a step back and reflecting on his career and the direction
he wanted to go with it.
Eighteen months of writing and recording culminated in his next project, PARTIAL SURRENDER. Believing a new producer would breathe fresh air into his career, he called upon John Boylan for the task. "Don't Give Up On Love" and "I'm Just A Man" were released as singles, but again his penchant for wearing his emotions on his sleeve failed to capture the magic of earlier efforts, though "I'm Just A Man" did crack the US Top 20, and he retreated out of the limelight to concentrate on his songwriting for other artists.
He penned the song "It's a Long Road", which he recorded for the 1982 Sylvester Stallone movie – "Rambo – First Blood." LOVE IN THE SHADOWS was released in 1984, featuring the title track which peaked at #45 at home and #24 south of the border. More of the same brutally honest sentimentality he'd become known for, reaction from critics was mixed, criticizing the flashbacks of lost loves, reminiscing about the innocence of youth, and the overt struggle with middle age. Still, other noteable cuts included the second single "Helpless" (which failed to chart), "You Pulled Me Through" and "Old Lady Song," as well as an extended instrumental version of the title track.
Other than appearing on the Northern Lights' African relief single "Tears Are Not Enough" in '85, he again disappeared from the limelight, concentrating on his family life and writing for others, including "In Your Eyes" with composer Michael Masser for George Benson and Jeffrey Osborne, exposing Hill's work to the Adult Contemporary and the R & B charts. Benson's version even charted higher in some territories than the original "Sometimes When We Touch."
Now with CBS, his next album was the self-titled effort in the fall of 1987, and could only be considered a "comeback album," crossing over from the pop charts to the AC charts on both sides of the border. More of the "I love you – the sky is blue" style he'd made his millions on with the duet with Vonda Sheppard "Can't We Try" (his first Top 20 hit in almost a decade – and co-written by his lawyer wife Beverly Chapin-Hill), "Carmelia" which peaked at #6, and "Never Thought That I Could Love," it also contained the social commentary of "USA/USSR."
His duet with Celine Dion "Wishful Thinking," "Can This Be Real Love" (another collaberation with his wife), and "Unborn Heart," which made it to #3 on the American AC charts, highlighted REAL LOVE, released in the spring of '89, shortly before the label issued the compilation THE DAN HILL COLLECTION. That same year, he also collaberated with Dion for her first #1 single in English Canada, "I Can't Live Without You."
1991 saw him switch to Quality Records in time for DANCE OF LOVE. The duet with Rique Franks on "Hold Me Now" was released as a single, as was "I Fall All Over Again," which peaked at #3 on the American AC charts, even though it didn't chart at all at home. "Flirting With A Heartache" became the album's third single when it was released the following spring.
While he again dropped out of the spotlight, LET ME SHOW YOU – GREATEST HITS AND MORE was released in '93, which not only featured a compilation of his biggest chart crackers, but also four new tracks and a remixed version of "Sometimes When We
Touch" with Franks. A road trip to a Hill concert was the subject of the 1994 Canadian comedy film, "South of Wawa."
He kept himself busy by continuing to write for other performers, including Dion's Grammy winner "Seduces Me" and Billy Newton-Davis until picking up where he'd left off when he returned with I'M DOING FINE, released on his new label Spontaneous Records in '96, which featured the only single, the lead-off "Wrapped Around Your Finger." Other titles such as "I Wanna Make Love to You," "I Wanna Be With You," "She Is My Lady," and "I Love You Now" summed up the theme of the record.
Diagnosed with diabetes in the mid 90's, he again retreated out of the limelight to concentrate on health, family, and penning hits for other artists, including Sammy Kershaw, Kathy Mattea, Mark Wills, Lorrie Morgan, Britney Spears, Jully Black, Tina Turner, Rod Stewart, Michael Bolton, 98 Degrees, and The Backstreet Boys. Meanwhile, Sony released another greatest hits compilation, LOVE OF MY LIFE – THE BEST OF DAN HILL in '99. Along with a selection of his most popular works, it included his previously unreleased version of "Seduces Me," the mega-million seller he'd written for Celine Dion a decade earlier, and the new songs "Once Upon A Time," "My Love For You" and "Daddy's Song," and several duet remixes.
In 2007 he toured with the CBC Radio program "The Vinyl Cafe," and a year later released his autobiography, "I Am My Father's Son," a personal, interspective look at one of Canada's most prolific songwriters and performers. The book detailed his life growing up in Toronto, his father's 2003 death, the life he and his mother fled from in the US, and his son's gang involvement, which was also the focus of several magazine and television features that year. The next spring, he released his twelveth studio album, the appropriately entitled INTIMATE, another fine collection of personal reflections of love, personal tragedy and experiences, and middle aged wisdom, including a remix of his biggest single, "Sometimes When We Touch."
A lifelong friend of writer Paul Quarrington, the two occasionally performed together as a folk music duo over the years, under the billing of Quarrington/Hill. Their final collaboration, a song about death called "Are You Ready", was completed just ten days before Quarrington's death in early 2010, and was scheduled to be featured in a television documentary, "Paul Quarrington: Life in Music."