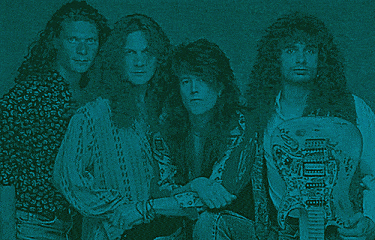 A
fter
Orphan
ran its course in the mid 1980s, following a transformation from
The Pumps
, Winnipeg native Chris Burke-Gaffney tried a couple of other projects to end the decade, then hooked up with former Pumps drummer Terry Norman Taylor to form Dead Beat Honeymooners.
While writing some material, they auditioned some players and rounded out the group with Toronto guitarist Barry G Player and Blair Depape on bass, who was working at a music store at the time and gigging part time with Talk of the Block. They began playing the clubs throughout mid-western Canada in '91, then caught the attention of reps at Anthem Records and were signed to a deal.
Wasting no time, they brought in producer Tom Treumuth (Darkroom, Honeymoon Suite, Spoons, Helix) to work with Burke-Gaffney and Taylor. They began recording at Winnipeg's Channels Studio. The result was a melodic metal self-titled only album in the spring of '92.
"Dial LOVE" was released as a single, and an accompanying video also got good initial reception on MuchMusic. At first, the song got good airplay in pockets across the country, but stalled before cracking the top 40. Other tracks included the lead-off "Hard To Be Humble," "Foreign Legion," and the acoustically-driven power ballad "Can't Live With – Can't Live Without."
After playing some smaller dates, they hitched a ride on a cross-country music festival that summer with Bryan Adams, Sass Jordan, Steve Miller, and Extreme. Tour dates also included opening for Kim Mitchell and Robin Trower on their Canadian tours, as well as for Guns n Roses in front of a packed hometown crowd at the Winnipeg Arena.
But by early '93, with a new album rumoured to be in the works, Player left the group, and rather than carry on, Burke-Gaffney folded the tent and became a producer and manager, handling artists that included McMaster & James and Chantal Kreviazuk. Everyone else also went on to other projects. Player became a highly sought-after studio musician, while also dabbling in his own bands from time to time. Depape did the same for awhile, until getting out of the business all together. Taylor and Burke-Gaffney reformed a Pumps/Orphan fusion in the mid '00s.