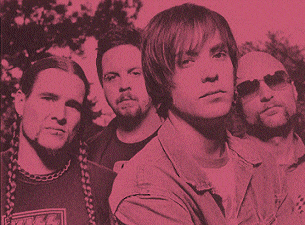 O
riginally formed in Vancouver in the late 90's, the band started out when singer Dallas Smith and guitarist Jeremy Hora teamed up with Dave Benedict on bass and drummer Danny Craig. They burst through the glass ceiling practically overnight after
Nickelback
's frontman Chad Kroeger 'discovered' them while playing in a Vancouver bar.
Their debut disc THE FALLOUT was produced by Kroeger and all but owned the charts in 2001, selling over a million copies in Canada and the US. "Wasting My Time" instantly put them on the map, spending what seemed like an eternity in the Top 40. Their grinding rhythms and heavy backbeat captured audiences during their 400+ dates touring and promoting the album across the globe. The later singles like "Deny", "Sick and Tired" and "Live A Lie" secured them a 2002 Juno Award for Best New Rock Group, as well as earning them a nomination for Billboard's awards. Other highlights followed, including an appearance with Jay Leno on The Tonight Show.
While back in the studios, the song "Deny" was used for EA Sports' NHL 2003 game. To ease the impatience of the fans, they released a limited edition version of their debut in '02, featuring acoustic, live and video versions of their hits. They released ELOCATION a year later, with three of the industry's top men today behind the controls. Rick Parasher (Pearl Jam, Alice In Chains) did the majority of the production, but the album also featured Butch Walker, who's worked with Sevendust and Kroeger. "Having three different producers was cool, it puts a different twist on the album. Each one has a different way of getting sounds and recording songs. I think the result was a better album because of it," Benedict explained.
The album delved deeply into the band's two years of growth away from home, but still maintained highlights of their knack of uniting trademark harmony and thought provoking lyrics to its uncompromising old school musicianship."Taking My Life Away" was released as the album's first single, gaining extensive airplay on both sides of the border on radio as well as television, followed by "Throw It All Away,"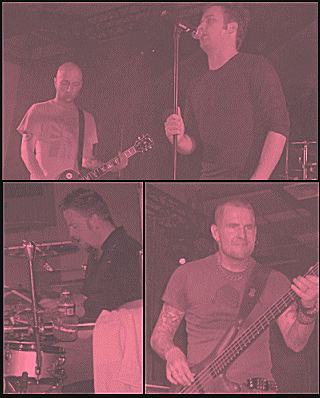 and then the melodic "All She Wrote." Other tracks like the lead-off "Who Followed Who?" and the Jeff Buckley cover "Cruel" and "Made To Lie" showed an uncanny sense of seasoning for a young band, a very rare commodity.
Benedict noted it's the mixing of the new flavours they'd learned while on the road with what they already had all but mastered that made the album special. "We all have different tastes and styles. That brings a lot of chemistry into the studios, and makes for a more interesting album, I think." Their bone-crunching on-stage attitude is the perfect match for their sensibility in the studio, and they took to the road for the better part of the next two years, combining combining hard guitar riffs with a real passion for making music with substance.
ONE THING REMAINS hit the store shelves in '06, and the band's writing process really hadn't changed much. "One guy will bring a riff in, and then we'll all just kind of tear it apart and go from there, and bring our own elements into it," he said. "It's always about improving yourself, I don't think we'll ever really be satisfied. I know I won't," Benedict said. First up on the singles list was "The Memory Will Never Die," which was also borrowed by the WWE as one of their theme songs for Wrestlemania 23.
Benedict commented that the key to the band's success has always been about striking a balance between being commercially viable, and being true to themselves musically. "It's kind of a tough balance. Once you start making a little bit of money at it, you want to continue. You want to pay your bills. It's something that's always consciously being thought of when you're writing," he commented. "But at the end of the day, I also want to lay my head down on my pillow and say I'm really proud of what we've done. That's really important."
With notes from Dave Benedict


THE FALLOUT (2001)
Sick and Tired
Deny
Wasting My Time
Slow Me Down
One Late Night
Seize The Day
Somewhere
Live A Lie
By Your Side
Faded
Let You Down

THE FALLOUT (limited edition – 2003)
Sick and Tired
Deny
Wasting My Time
Slow Me Down
One Late Night
Seize The Day
Somewhere
Live A Lie
By Your Side
Faded
Blind
Wasting My Time (acoustic)
Deny (acoustic)
Wasting My Time (video)
Deny (video)
Deny (live)
documentary

ELOCATION (2003)
Who Followed Who?
(Taking My) Life Away
Movin' On
Throw It All Away
Cruel
Made to Lie
Crossing the Line
Without You
Break Down Doors
Enough
All She Wrote
Alone
Let You Down (acoustic)

ONE THING REMAINS (2006)
All Is Forgiven
I Can't Win
It Only Hurts
The Way We Were
Count on Me
Hiding from the Sun
Beautiful Flower
One Thing Remains
The Memory Will Never Die
Get Out of This Alive
Found My Way Out