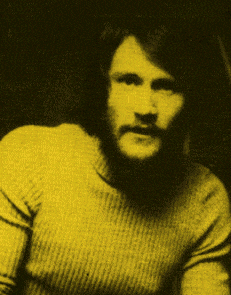 B
orn in Drummondville, Quebec in 1948, Denis Forcier moved to Saint Hyacinthe with his family as a child, when he first picked up the guitar. He joined The Dots as a teen, which morphed into
Les Sultans
a band who'd already gone through a couple of incarnations on their way to being one of the province's hottest young groups.
Through to their disbanding in 1967, they released a pair of albums (and several more compilations later) that produced the biggest French hits of the day, including their cover of The Beatles' "I Saw Her Standing There," and originals like "Le Bohmme D'Hiver, "Pour Qui Pourquoi," and "Tu Es Impossible."
He joined The Heart of A Generation at the turn of the decade, releasing a pair of albums, then went solo in '73. Hooking up with producer and PGP Records label owner Garry Plamondon. He released his self-titled debut album that fall, which didn't generate any singles, and mostly contained Les Sultans covers. The album was given a new jacket a year later, and re-released as LE TITES D'OR.
Forcier then began a lengthy career as one of Quebec's top session players, working with the likes of Patsy Gallant, Toulouse, and Yves LaPierre, among over a dozen other artists. He also worked on a number of TV and radio ads over the years.

DENIS FORCIER (1973)
C'est Ton Ami Mon Frere
Ton Silence
J'ai Pour Toi
Combien De Temps
Jazz En Folie
Depuis Longtemps, Les Vieux
A Jamais
Nancy
Les Enfants Du Soleil
L'amour Nous Sourit Fugue


LE TITRES D'OR (1974)
C'est Ton Ami Mon Frere
Ton Silence
J'ai Pour Toi
Combien De Temps
Jazz En Folie
Depuis Longtemps, Les Vieux
A Jamais
Nancy
Les Enfants Du Soleil
L'amour Nous Sourit Fugue