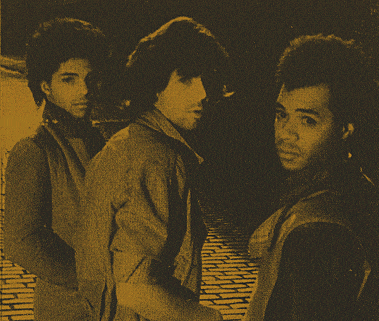 T
he roots of The Dice first sprouted in 1982 as a four-piece group out of Toronto called Pretty Boys. But when Errol Starr Francis left, it left singer/guitarist Gary Lima, bassist Trevor Russell, and drummer Hayden Vialva looking for a new project.
They toured relentlessly throughout Ontario, and eventually gathered up enough material and money to record some demos with Daniel Lanoi and Stacy Hayden to shop to the labels, eventually settling on releasing a self-titled four-track EP on the independent Nardem Records in '83.
They continued working the circuit, including a stint as the opening act on the same bill as The Spoons and Nash The Slash. They got the attention of Polygram's reps, who signed them to a deal. They worked with producer Chris Kimsey and salvaged two tracks from the indie EP – "Ain't Gonna Lose" and "Typical Lies." But it was the lead-off "Chayla" that got the airplay and was made into a video. With heavy rotation on both MuchMusic and MTV, "Calling In The Rain" followed, and with other tracks like "Cry To Me" (which featured Peter Frampton on guitars) and "When I Want (When I Need)," the album gained favourable reviews but failed to make the top 40.
They found themselves on the opening bill for the Canadian legs of tours for Billy Idol, Stevie Ray Vaughan, and John Cougar Mellencamp. But despite gaining some momentum, the band was dropped from Polygram's lineup in mid '85. Disillusioned, they stayed working for the better part of a year, but eventually called it quits. Lima and Vialva landed jobs touring with Teenage Head at one point, but eventually left to go on to outside projects.
In 1993, Lima and Vialva reformed the band for a brief period, and the line-up swelled to five members, with new bassist JJ McGregor, guitarist Dennis Decarli, and Joey Varone on keyboards. With producer Kim Kelly, they released the independent album MISBEHAVE later that year, which also featured Michael Fonfara from Downchild Blues Band on piano.
After a year of being unable to land a new major recording deal, the band again dissolved and the members went their separate ways.
With notes from Gary Lima, Hayden Vialva


THE DICE (1983)
Holding On To The Night
Tony
Ain`t Gonna Lose
Typical Lies

THE DICE (1984)
Chayla
Calling in the Rain
Cry To Me
Ain't Gonna Lose
With Or Without
When I Want
Last Call
Kings & Queens
Typical Lies
Lose Your Soul

MISBEHAVE (1993)
Misbehave
This Train I Ride
Just A Boy