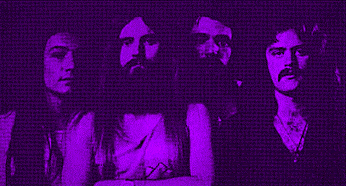 N
ot to be confused with several other groups with the same name (including a Vancouver area group around the same time), Dillinger was formed by the Harrison brothers – Jacques (vocals, flute, sax, organ) and Robert (drums) in 1973. Although they were originally from Montreal, they'd moved to Toronto to try and access a bigger rock and roll audience, and along with guitarist Paul Cockburn and Terry Bramhall on bass and accordian, they worked the circuit and Cliff Hunt agreed to manage them.
They were spotted playing one night by Frank Davies, president of Daffodil Records. He signed them to a deal and produced their self-titled debut album in 1974. The music was highly progressive with psychadelic undertones, heavy on organ and guitars. But with only four tracks, including the 17-minute epic "Live and Return," only their cover of Spirit's "Nature's Way" was short enough for radio airplay. It didn't get it, and no singles were released. Although the lead-off "People" however did wind up on a Daffodil compilation album later that year, the album came and went without a whimper.
After another year of constant touring around the central Canada region, they returned with DON'T LIE TO THE BAND in '76. With Davies again at the helm, this time it featured Terry Brown (Klaatu, Rush, and a million others) and John Woloschuk helping in the studio. Recording had been over four months in the process, and the music was shifting toward a more accessible sound. Like its predecessor, the bulk of the material was written by either Cockburn or Jacques Harrison, but also featured a cover of The Beatles' "Taxman" and Spooky Tooth's "Two Time Love." The tender ballad "Coming Home" also showed a new side of the band. The songs were shorter, were generally moving towards a heavier and simpler sound, and were more radio friendly, but no singles were released.
A series of short tours ensued, but the band couldn't land slots on any major runs. Still, the album made a bit of headway in Europe, tho the band didn't tour there. Robert Harrison ended up leaving the group, returned to Montreal, and eventually joined Offenbach. Bramhall soon followed out the door and got out of the business all together. While the band was working on some new material, Paul Kersey (ex of Max Webster) and former Bullrush bassist Brian Gagnon joined, followed soon by multi-instrumentalist Gerry Mosby, formerly of Bond.
But before recording was complete, Hunt re-christened the group as The Hunt, and they continued for another three albums.
Unidisc re-released both albums individually in 1998, although no bonus material was included with either one.