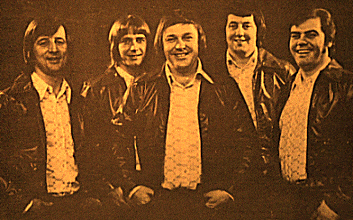 M
oving to Toronto in the early '60s to seek out his fame and fortune, Rosaireville, New Brunswick native Johnny Burke (born Jean Paul Bourque) formed Johnny & The Bees, and then The Blue Valley Boys, before landing a steady gig at the Horseshoe Tavern.
For four years while honing his skills, he backed up the likes of Conway Twitty, Glen Campbell, Lefty Frizzell, Loretta Lynn, Tex Ritter, Red Foley, Dottie West, and Waylong Jennings, among others. When Carl Smith was offered his own country music variety show on CTV at the turn of the decade, Burke on bass and fellow former Blue Valley Boys steel guitarist Bob Lucier (and already a vinyl veteran) accepted the invitation to be in his backing band on the show.
In 1967, Burke was offered a program of his own, and along with Lucier, formed The Caribou Showband to play regularly one Burke's show called "At The Caribou." The show lasted seven years, during which lineup changes prompted the band's name to change to Eastwind in '72. Following the show's run, they played the local venues for a year, but again the tv screen came calling, and they were now the houseband on CTV's "Funny Farm" with Blake Emmons.
Following two seasons there, Burke and band in tow headed off on their own again. With Lucier, guitarist Mel Aucoin, drummer Roddy Lee, and Brian Barron on violin, they soon re-established themselves as one of the premier country groups on the Ontario circuit. One night after performing at Maple Leaf Gardens, Charley Pride was convinced to go to the Horseshoe Tavern, and was so impressed with Eastwind that he took them on the road during his next cross-Canada tour.
Future dates took them out east and west, as well as into the US, and after sending out some demo tapes, they signed with Marathon Records in 1975. Doug Taylor and Bill Seddon oversaw the sessions taped at Toronto's Thunder Sound Studios, and the band's self-titled debut was in the stores later that year. Radio reception was generally positive towards the clean country sound, which featured Burke, Lee, and Aucion all taking turns on lead vocals, and headlined by the lead-off "This Lovin' Feeling," "Take Good Care of Her," and "I Used To Love Her Madly," as well as a pair of uptempo instrumental jigs.
By the time they were ready to record their sophomore album, Marathon Records was bankrupt and they were picked up by another local indie label, Boot Records. EASTWIND 2 was produced by Fred McKenna, and covered more country ground than their debut, spanning everything from their first single "High Heel Sneakers," to covers of Faron Young's "Going Steady," Hank Sr's "Hey Good Looking" (the second single), and the Cajun standard "Diggy Liggy Lo."
Again, radio was kind to them, affording them more record time on the road, which saw them do several cross-Canada trips, make stops into the lower 48, and also made a couple of trips to Hawaii over the next year and a half. After a well-deserved break in the spring of '77, they went back to the studios, only to find themselves without a label again.
They were picked up by Quality, who in turn passed distribution off to Grand Slam Records. They recruited Dallas Harms for production, hired Bobby Munro for his piano skills, and by this point Joe Howe had taken over from Lucier on guitars and Al Brisco (ex Ronnie Hawkins bandleader) had replaced Aucoin on steel guitar. They released EASTWIND 3 that fall, which featured the originals "Frisbee" and "Not Really Reel," three tracks written by Harms, and a cover of Waylon Jennings' "Good Hearted Woman."
Execs at Quality urged Burke to go solo, but keep Eastwind as his backing band. Results were almost instantaneous, when he picked up a Big Country Award for Top Single for "Wild Honey." It was the second time he and his band had received the honour, winning in '75 for Top Country Group.
They would pick up two more in later years for Top Instrumental Group, and would find top 40 success in '78 with "Love Don't Grow On Trees," b/w "Scotia Sunshine" from the WILD HONEY album. More moderate hits would come over the years, including "Just One More Spin," "Still Feels Good," "Gold In His Mind," and "Everybody's Going Crazy."
Burke himself was inducted into the New Brunswick Country Music Hall of Fame in 2005, while releasing nearly a dozen more albums, sometimes solo and sometimes as a duet, and often with a lending hand from his old Eastwind bandmates. He's also performed numerous times at the Grand Ol' Opry, as well as making countless appearances on some of the top country shows on television, including "Wrap Around Nashville," "Opry North," "Nashville Now," and "Nashville Network."
In 1979, Al Brisco founded the Steel Guitar Club of Canada, and quit the road in '81, concentrating instead on developing the steel guitar club and selling the instrument, tho he till performs regularly at various shows and does seminars throughout North America and Europe. In 1994, he was inducted into the Ottawa Valley Country Music Hall of Fame, around the same time he released his first solo record, PICKIN' UP THE DUST. Ten years later, he was awarded the 2004 Career Musician Award at the Ontario Country Performer and Fan Association banquet. In '07 he released his second solo album, PICKIN' YOUR PICKS, and has also published numerous instructional booklets and videos.
With notes from Al Brisco, Johnny Burke, Dallas Harms, Fred McKenna, Charley Pride


EASTWIND (1975)
This Lovin' Feeling
Only You
Matchbox
Walk Through This World With Me
The Sizzler
Take Good Care of Her
You Always Come Back To Hurting Me
I Used To Love Her Madly
The Key's In The Mailbox
Happy Little Indian

EASTWIND 2 (1976)
High Heel Sneakers
Something Nice
My Hang Up Is You
Big John McNeil
Hey Good Lookin'
Eastwind
Going Steady
Black Mountain Rag
She's All I Got
Diggy Diggy Lo

EASTWIND 3 (1977)
A Milsap Medley
Frisbee
Please Release Me
Not Really Reel
Don't Judge A Book By Its Cover
Cowboy's Don't Get Lucky All The Time
Paper Rosie
Sugarfoot Rag
Soft Lights & Hard Country Music
Good Hearted Woman
Fiddle Medley

WILD HONEY (1978)
Wild Honey
Your Memories are Genuine
Your Love Is Like Sugar To Me
I't's My Face
A Hundred Pounds of Clay
Scotia Sunshine
Tonight I'm Feeling You All Over Again
The Love I Want To Waste
Love Don't Grow On Trees
Loving You Again