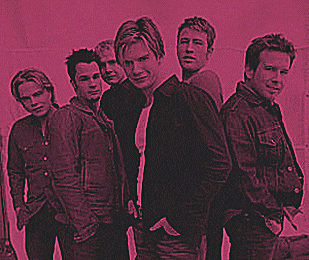 I
n early 1995, Grand Prairie, Alberta native vocalist Brad Mates assembled a band after winning a local 'battle of the bands' contest, singing Garth Brooks' "Friends In Low Places." With fellow St Joseph Catholic High School students – keyboardist Chris Hartman and fiddle player Pat Allingham (who'd entered that same contest in a different band), guitarists Dan Binns and David Switzer, Jeff Loberg on bass, and drummer Remi Barre, 12 Gauge was born.
They entered some more talent contests, and won one with studio time and a disc as the grand prize. The fruits of the labour resulted in their debut EP, OPEN SEASON in '96. Attingham's father Lionel became their manager, and the songs got some good airplay across the region, although nothing charted nationally. Still, the lead-off "He Hopes She Knows," their anthemic "Peace Country Boys," and "Redneck Highway" were a strong country sound for a foundation. They managed to play throughout Alberta and into BC on a fairly regular basis, until breaking out across Canada. They also managed some dates in the US, all the while writing material for a follow-up album.
UNTIL YOU WALK THE TRACKS was released in the summer of 1997. They reached #36 with "Some Trains Never Come," while "Blind Faith" made it to the top 50. The first of many personnel changes happened shortly after the album's release. New guitarist Dan Bauman replaced Binns, Switzer left in the middle of the following tour, and by the time a hectic tour schedule was over a year and a half later, Barre was gone and Derrick Kuzemchuk was the new drummer. Videos for the singles received a good push from CMT, and they were nominated at the 1998 RPM Big Country Awards for top new group or duo, but lost to Montana Sky.
Kuzemchuk's stay was short, and looking to take things to the next step, the rest of the group moved to Nashville in 1999 and changed their name to Emerson Drive due to a rap group already laying claim to the name '12 Gauge.' This was also the same time the Columbine shootings happened, and it was decided their image of wearing trench coats and toting guns wasn't appropriate. Their new name stemmed from The Emerson Trail, which crosses western Canada and hooks up with the Alaska Highway. They hired new manager Garry Leiske, who recommended Montreal native guitarist Danick Dupelle. Dupelle had been working with another group Leiske managed, Farmer's Daughter, and with new drummer Mike Melancon, they signed with DreamWorks Records in 2000.
They began working on their first album for their new label, and released their first single under their new monikor in late 2001. "I Should Be Sleeping" went on to peak at #3 on Billboard's country chart and cracked the top 40 on its Hot 100 list, and also topped the country chart at home.
Although the album was in the can, it was delayed from its original early 2002 release when label execs insisted the band record a pair of new songs they'd been given, and brought in Richard Marx to produce the sessions. It eventually hit the store shelves that May, debuting at #13 on the US country chart. "Fall Into Me," one of the songs Marx had produced, was released as the second single later that year, peaking at #2 in both Canada and the US. A cross-over hit, it also made it to the top 40 Stateside on Billboard's Hot 100.
But by that summer, in the middle of a hectic tour schedule that saw them criss-cross throughout North America, the band started going through more personnel changes, when Loberg was replaced on bass by Patrick Bourque. Hartman left shortly after that and was replaced by Dale Wallace, followed by Allingham's exit, with David Pichette taking over the fiddle duties.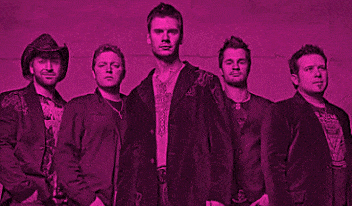 As they began working on their next album, they found themselves on the opening bill of Shania Twain's North American tour. Once the tour bus came to a stop, they brought Marx back to the studios to produce the album, and the first single, "Waitin' On Me," was released in Canada only. A second single, "Last One Standing," was released on both sides of the border and in both cases, made the top 10.
WHAT IF? finally hit the shelves in June, 2004, debuting at #12 in the US and #7 in Canada. But despite relatively good response in the US, DreamWorks dropped them, and suffering financial problems, Universal closed DreamWorks' doors in '05.
They weren't without a label for long, however, and signed with upstart Midas Records in Nashville. Released in the fall of '06, COUNTRIFIED was produced by Alabama's Teddy Gentry and Josh Leo, whose credits to that point included the likes of Lynyrd Skynyrd, Kenny Chesney, Juice Newton, and Nitty Gritty Dirt Band, among dozens of others.
The first single, "A Good Man" made it to #17 in the US and cracked the top 10 in Canada. But it was its follow-up, "Moments," that became their first song to top the country charts in the US, making Emerson Drive the first Canadian band to reach that milestone. Two more singles followed – "Testify" (released only in Canada) and their cover of Johnny Reid's "You Still Own Me," which hovered around the top 20 in the US and made that mark in Canada.
Tragedy struck the band when bassist Patrick Bourque left the band in the summer of '07 while in the middle of a tour, only citing 'personal reasons' for his departure. A month later, on September 26, he was found dead in his Montreal home. It was later confirmed he'd committed suicide.
Their stay with Midas was short-lived, as the label closed its country division in the summer of '08. It left the band to sign with Valory Music, but because of legalities, Midas retained ownership of the new album, 2008's BELIEVE, while Valory was left in charge of promotion and distribution. The lead single, "Belongs To You," peaked at #32 in the US and in the top 20 north of the border. But the relationship between the two labels was anything but smooth, and the album was initially available only in Canada. Three more singles followed over the course of the next year, each making the Canadian top 10 – the title track, "I Love This Road," and "The Extra Mile."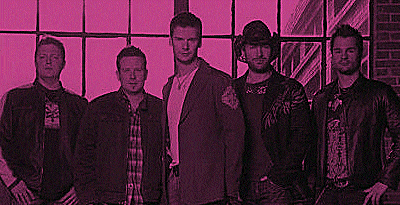 They signed a new deal with Open Road Recordings, releasing "That Kind of Beautiful" in the summer of 2010. The compilation album, DECADE OF DRIVE was next up, released in 2011, a couple of months after the new single, "When I See You Again," written in memory of Patrick Bourque.
After some sporadic touring the rest of the year, an American deal was struck with Quarterback Records in early '11. A deluxe edition of their greatest hits package, complete with acoustic recordings and other previously unheard tracks was also expected to be released at a later date, but never materialized.
Intermittent touring continued while a new album was being written and recorded. It came to fruition in October, 2012 with ROLL, four months after the first single, "She's My Kind Of Crazy." It worked its way into the top 10 in Canada, as did its predecessor, "Let It Roll," which also featured Doc Walker. In the middle of one of several tours that saw them play throughout North America, "With You" was released in March, 2013.
With notes from Chris Donaghy, Richard Green