John Chenier memorial

Unquestionably the heaviest export from Ottawa at that time, Ron Chenier's first band was Those Naughty Boys, a bunch of local kids who released a pair of sappy tunes in '65 called "Somebody Told My Girl" and "Tell Me Why." But within a year of its release the band had run its course of shows around town and everyone drifted off to do other projects, or left music all together after high school.

After bouncing around in a few bands for the next decade or so, Chenier resurfaced in the late 70s with Fist. With him handling guitars and vocals, the original lineup was rounded out by Ed Eagan on keyboards, Bob Moffatt on bass and drummer Mike Wetmore. They began honing their chops doing small clubs in and around the Ottawa and Toronto circuits, and eventually graduated to the 'B circuit' while touring the eastern-Canadian/US areas.

They took their heavy approach into the studios and cut the independent ROUND ONE in the spring of '79. Raucous and raunchy, the band's sound was dominated by raw guitars with little studio-tampering. Produced by Chenier's brother Normand and done on the proverbial shoestring budget, the record failed to to gain the attention of radio execs. Held together by a tight drums/bass marriage, Eagan's keyboards rounded out what had become known live as one of Canada's most promising talents just the same. But with only a total of seven tracks, nothing from ROUND ONE was short enough to even be considered suitable for radio-play. Still, numbers like the lead-off "Too Late", The erie "Madness" and "Who Did You Love" showed the band's penchant for writing hard-driving, simple yet complex songs. Still, the album went unnoticed by the critics.

Fist returned to the road and toured practically every corner of the eastern half of the continent for the next year. The band was signed to a deal with A & M in the summer of 1980 and quickly returned to the studios. With Chenier's brother John the new drummer and Jeff Nystrom the new bass player, they emerged from Toronto's Amber Studios that fall and released HOT SPIKES. The band hired George Semkiw to produce the album, and a refined, yet still heavy sound that grabbed you by the balls was the result. The only difference between HOT SPIKES and its predecessor was the new album caressed them gently as well. Backed by songs like the anthemic cover of David Bowie's "Rock n Roll Suicide" and lead-off track "Money", a song about the hussle and bussle of society's drive for materialism, HOT SPIKES showed a maturity, harnessed by Semkiw's experience working with such acts as Streetheart, Queen City Kids, Rough Trade and Harlequin. Other noteable cuts included "Lord I Miss You" and "Teenage Love Affair". Chenier & Nystrom's shared vocal duties gave the sound some dimension, and was a critical fave. Semkiw's work was recognized with two Juno nominations that year for production work.

The tours continued, with FIST seeing practically every province and state over the next year. However personnel problems caused the departure of Eagan shortly after tour's end, while John Chenier called it quits to pursue other interests. The band regrouped, and with new keyboardist Ivan Tessier and new drummer Bob Patterson, they released FLEET STREET in '81. Recorded in Toronto's Master's Workshop with the new studio team of Steve Vaughn and Paul Massey, the album was written by Chenier and Nystrom and the basic tracks recorded in barely a month. This period is also when the band's problems with A&M began. The album was released as THUNDER IN ROCK in the US and in the UK with a different cover. And because there was already a new band from rural England making waves named Fist, Chenier and company were re-named Myofist overseas. All this would cause no end of confusion in later years, and endless red tape when it came to re-releases.

Still, the group hit paydirt with not one … but two FM staples that summer. "Double Or Nothing" again showcased Chenier's talent for writing slick, driving guitar riffs, while "Thunder In Rock" was easily the year's best tune on the airwaves. Other killer cuts included "It's Late," "Open The Gates", the title track (complete with Sherlock Holmes excerpt) and "Evil Cold". Backed by the album's success, the group took the show on the road again for the better part of the next two years, backing up Rush, Triumph, Girlschool, Toronto, Harlequin, Kim Mitchell, The Police and Heart. The very first 'Monsters of Rock' tour also featured Fist with Motorhead, Molly Hatchet and Krokus.

In 1983, John Chenier passed away from a brain-related illness which hemhorraged. Around this time, Ron Chenier was approached with a project that would've redefined the term 'duet', coupling his vocal prowess with that of another Canadian upstart, The Headpins' Darby Mills. "A&M asked if I would be interested in doing a couple of songs with Darby, because at that time A&M said that we were Canada's heaviest male and female rock voices, and they were interested enough to explore that avenue. But I don't know if they ever asked Darby or Darby's manager at that time or not. Would've been interesting, tho," Chenier said.

Featuring newcomer Dave MacDonald on guitars and keyboards, IN THE RED hit the shelves in February of '83. Giving the band a more diverse sound, MacDonald also shared vocal duties. Produced by world renowned studio-guru Nick Blagona (Deep Purple, Rush) The single, "If I'm Not Loved", along with the roaring lead-off "When I'm Bad I'm Better," "It Ain't Good" and "Street Fighting Heroes" all pushed the band on another series of major tours with Molly Hatchet again and ZZ Top. But unhappy with the label's 'big wigs', Fist left A&M the next year.

"Part of the problem was they didn't know how to handle us, and kept us in the dark a lot," Chenier reflected. "We didn't even know we had a following in Europe. They said they'd drop the 'Myo' from our name in Europe, but never did."

Chenier took time off From Fist for his side project TKO, but by '85 resurfaced with Fist for DANGER ZONE on Cobra Records. With new keyboardist Laurie Curry (ex of Slammer), Chenier produced the album, whose title track, "Muscle Gun" and "Voices" were all released as singles, which prompted another North American tour with Motorhead, and Johnny Winter. An independant label which specialized in the metal genre, Cobra's signing Fist seemed a marriage made in heaven, but outside interests saw Chenier fold up Fist's tent again a year later and the label folded soon after.

The band got back together in '91 for a series of dates on the Ontario circuit, which led to a full reunion cross-Canada tour. Following the tour, they ended up in the studios, and shopped the tapes around to some independent metal labels. REIGN OF TERROR, which contained the raucus "God Damn," a remixed version of "Muscle Gun" and the powerful "I Will Remember," was released in '93 on MaGaDa Records in the UK, US and Japan.

Chenier came back to MaGaDa in '95 for LOUD LOUD LOUD, which contained various studio-cuts from the band's career, including tracks featuring the late John Chenier, whose pounding backbeats were heard for the first time in over a decade. "The Loud album had some new songs and rehashed older songs I thought should be given a second chance," Ron Chenier said. "Sometimes you get talked out of recording a song, for whatever reason. Years later, you come across old tapes in the basement, and you decide to give them some fresh air."

Chenier spent the better part of the decade playing the occasional show with various incarnations of Fist with Nystrom while dabbling in outside projects, including producing a few country talents and Disciples of Power. He formed Ronch Music after relocating to Edmonton, and assembled a new road lineup of Laurie Curry (ex of Slammer) on keyboards, drummer Edward Adolph, and Darcy Packard on bass. After some shows across western Canada, some time in the studio with some old tracks that never made the earlier cuts resulted in IN YOUR FACE in '98. With former bassist Jeff Nystrom co-writing all the tracks except the McCartney/Lennon "Seen A Face," the album was shopped around but there were no takers.

Chenier drifted on to other projects again, including helping out with Adolph's new venture dubbed The Phoenix Project. Although a demo disc containing two originals, "Nothin From Nothin" and "The Ruin" was shopped around, no one picked it up.

Fist resurfaced around the turn of the millennium with a new lineup of Chenier and Curry, Jeff Stephen on drums and Jason MacDonald on bass. They hit the road in support of the resurgence in the 'classic rock' genres, as well as to support the repackaging of FLEET STREET, entitled FLEET STREET REVISITED. But because of all the legal hassles with A&M over the distribution and the rights to the masters, Chenier re-recorded the classic 1981 album.

He returned in the spring of 2006 with BOLTED DOOR. Along with Curry returning on keyboards, and drummer Kevin Radomsky and Nor Reinche on bass, the album brought back flashbacks of when rock and roll stood on its own merits. With Chenier behind the controls, the album was heavy with their trademark frantic fretwork and searing keyboard solos. Notable tracks included the anthemic lead-off "Pressure," "Time Is Running Out," "Right In It," and "Out Here On The Desert," a recounting of a friend's experiences in Kuwait during the Gulf War.

Chenier once again slipped out of sight for a time, but resurfaced with THUNDER IN ROCK LIVE – a DVD filmed in 2008 at Greenfield's Pub in Ottawa to a private audience of 350 people. The show was also used to raise money for the Children Hospital Eastern Ontario. The DVD featured six of the band's biggest hits and several members past and present taking the stage.

In 2009 Chenier formed the White/Chenier Project, a collaboration with singer Constance White.

With notes from Edward Adolph, Ron Chenier, Paul Hann & Eric McIhinney
---
BOLTED DOOR

CD Review: by Dan Brisebois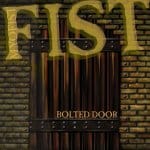 If you were starting to lose faith in new bands' ability to sustain a hard-driving rhythm for more than a song or two, good news … one of the grandfathers of Canadian metal, Fist, are back to claim their throne.
Ron Chenier formed Fist in the late 70's, and tore up the charts in the 80's with a pounding backbeat that served as catalyst for anthems like "Hot Spikes," "Double or Nothing," and "Thunder In Rock." They've toured with Molly Hatchet, Heart, Rush, Triumph and Motorhead, and are back with the independent BOLTED DOOR.
This is nothing short of 12 gems where the first thing you think is that Chenier hasn't missed a step. With the lead-off "Pressure," the drum intro instantly brings back flashes of anthemic all-out head bangers, followed by simply one of the best rockers in EONS, "Right In It," then the driving force of "It Ain't Easy."
The whole album is carefully riddled with Fist's trademark guitar solos traded off with heavy keyboard rhythms. "Out Here On The Desert" is easily the most personal of the tracks, penned by a friend of Chenier who served in the Gulf War, and the hazards war inevitably brings.
Filled out with a heavy backbeat and slick production, "Nothing To Say," "Behind The Bolted Door," "Calm Before The Storm" and "Down The Drain," the album is testament that Fist was one of the heaviest, and haven't lost a step.