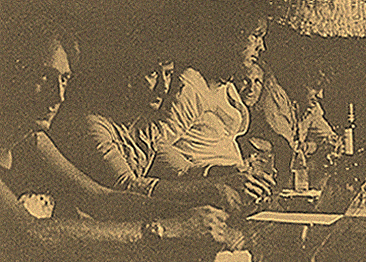 F
osterchild's roots stem back to the early 1970s, when Vern Wills and
Jim Foster
(originally from Victoria, then Edmonton) grew up in Calgary, playing in a number of bands, sometimes together, and honing their chops on the circuit. But when Wills headed to New York in '74 to join The Walkers, Foster continued playing in Calgary, becoming a staple at the Scotch and Sirloin with a quartet named Fosterchild.
They went to Sundown Recorders in Edmonton and did a demo of Foster's song "Let Me Down Easy," with Gaye Delorme producing. They were signed to CBS Records, but the label basically fired the entire band except Foster. Bassist Dwight Thompson and Jorn Anderson on drums were brought in to finish the sessions.
Backed by "Hero Of The West," the song was released as a single, and Foster found himself in the awkward position of having a single, but no band. By this point in '76 Wills' visa had expired and returned to Canada. "So I called Vern who was living in Edmonton. He said he'd just heard me on the radio. I said " You wanna join forces?" and that was it. He'd always been one of my faves. Then we had to find more players and get an album together," Foster explained.
They started writing material for their new band, and within a few months the group was rounded out by Gordon Marr on guitars, bassist Barry Boothman, Peter Sweetzir on keyboards, and drummer Gerry Wand. Wand had done his time on the road, but was new to the studio game, so producer Bob Gallo brought in session drummer Larrie Londin, who'd previously worked with the likes of Jerry Reed and Elvis, among countless others. Recorded at Vancouver's Little Mountain Studios in a week, their self-titled debut album came out in the summer of '77.
The first single, "Until We Meet Again" hit the airwaves and the band was on the road shortly after doing mostly Western Canadian dates. They quickly became staples of the 'b' circuit, and on the backs of the other singles "Magic Is In The Air" and "I Need Somebody Tonight," the album showed the band's penchant for writing solid rock tunes with a country base.
Their sophomore effort came the next year in the form of TROUBLED CHILD. Like its predecessor, Gallo oversaw production with Jim Gaines, recording at Vancouver's Little Mountain Studios. It followed the same path of mellow, unoffensive country/pop, showing definite growth in the music, and high hopes were put on the record. "Cuts Like A Razor" came out as the first single, backed by the title track. With the single showing a respectable Top 50 placing, "It's Too Late Now" became the second single. The band added Doug Johnson on keyboards following its release, but waning interest from the label saw the band's cross-Canada tour cut short, and they were released from CBS before year's end.
It would be only a year later that they would get picked up by Vera Cruz Records out of Edmonton. Recorded once again at Sundown Recorders, by which time Johnson had already left, staying on the west coast and joining Loverboy.
ON THE PROWL came out the summer of 1980, the result of off-time writing in between deals. With Boothman's exit as well, Wills switched over to bass, and for the first time, the band had a real say in how things were done, producing the album themselves. It showed a distinct change in direction – with more emphasis on a pop sound, something Gallo and CBS had tried to discourage. Showcasing Wills' & Foster's ability to combine clever pop hooks with a country influences that were a little more subtle than before, it featured the lead-off "Hideaway", the title track, and "Don't Play The Black Queen". It also featured Sweetzir on lead vocals for the first time with "Lonely Tonight," and a cameo by Mavis McCauley on "Is That Girl Still In Town," and a broader sound, with saxophone in "Amelia."
Shortly after its release, the band hit the road, touring with labelmates One Horse Blue, but problems with the new label again cut the tour short. Once they were back home Johnson went home to Vancouver and joined Loverboy in time for their debut album that year. Unsure as to whether or not to continue, Fosterchild ended up touring sporadically the next couple of years with the occasional replacement in the line-up, eventually calling it quits in '81.
Foster would go on to join One Horse Blue shortly after, and then released his debut solo album in 1986, POWERLINES. Relocating to Vancouver, he also went on to become a highly sought-after writer, penning hits for the likes of Doug and The Slugs, One Horse Blue, Patricia Conroy, and Murray McLachlan. He then released a second solo album in 2009 called LONE BIRD.
Wills also became a studio player, and along with writing for Loverboy, and Paul Dean. has become a regular fixture on the Calgary club scene. Following his departure, Sweetzir moved to Vancouver, working with the likes of Long John Baldry, Gaye Delorme, and Aaron Pritchett, among others.
With notes from Jim Foster, Bruce Larochelle, The Murf, Gerry Wand


FOSTERCHILD (1977)
Magic in the Air
I Need Somebody Tonight
Christine
Until We Meet Again
Dreams of You
Are You Ready to Fly
Baby I Love You
Let Me Down Easy
Hero of the West
Think It All Over Again

TROUBLED CHILD (1978)
Behind the Fight Ball
Here Comes That Heartache
It's Too Late Now
Troubled Child
Cut Like a Razor
Wish For a Miracle
Reckless Driver
By The Fire
Hot Days Hot Nights
All Time Dreamer

ON THE PROWL (1980)
Hideaway
Is That Girl Still In Town
Lonely Tonight
Don't Play The Black Queen
Wake Up Soon
On The Prowl
Amelia
Helpless
I'm Ready
Lover Boy