Frank Wilks
CD review: FREEDOM EXPRESS
By: Dan Brisebois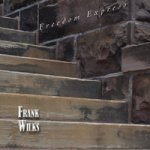 Over the course of countless road trips and nine albums since the late '80s, Frank Wilks has gained a reputation as one of the purest, most honest voices in the Canadian music business, and one of the hardest working musicians on the circuit.
Either as a solo act or the lead singer of The Buffalo Springfield Revisited, Big Medicine, and currently fronting the Neil Young tribute, The White Buffalo Band, rave reviews for his live shows and studio efforts have become commonplace. He's shared the stage with the likes of The Band, John Sebastian (Loving Spoonfull), Skunk Baxter of Doobie Brothers, and Spencer Davis Band, and has even had an international TV audience while performing during the Jerry Lewis Telethon in Las Vegas. He's also co-written and produced, "I Am Not Neil Young, The Musical," which toured the Fringe Festivals throughout Ontario.
His latest venture is the 2012 solo album, FREEDOM EXPRESS, a collection of original songs that transcend the roots and pop genres. From the lead-off "Fences" to the title track that ends this nearly 40-minute joyride, the album is full of gems.
"I'm Free" isn't your typical song about life on the road, but rather encopasses the personal freedom felt when doing what he does best, performing in front of audiences. With a slick hook, it's a perfect prelude to "Person of the World," another personal story of an artist who's found his identity and needs to share it with the entire world.
The musicianship on the album is superb and meticulously crafted. Latin-styled guitar riffs and congas often show up on the album, adding to its diversity and broad appeal. Producer Alan Duffy is one of several noteable studio hired guns for the project, and along with Frank's brother John, Stan Endersby, Angel Mar, Sascha Tukatsch, and Scott Lombardi, the album is clean without flaw.
Oher tracks like "Alien Face," "Into The Next Life," and "Sinking In Love" help round out this collection of songs from the heart and soul. In "Take Care of Each Other" and "Love Is Here," you can hear the Neil Young influences, with guitar riffs that would've seemed just as right in a Buffalo Springfield tune.
Nothing's overly heavy, and with the exception of the piano and saxophone-driven "Picture You," nothing falls in the category of a ballad. But the song's honesty, with lyrics that are relateable to anyone with any sort of life experience, are what make the song such a standout. Everything is smooth with a constant flow, possibly the best trait of an overall very good album.