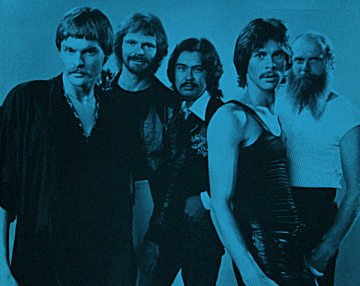 A
lthough he took singing and piano lessons while growing up in Toronto, Garfield French's first real foray into music was when he formed The Garfield Band with a bunch of University buddies. They played the college dorms and university pubs (and were particularly huge at the University of Waterloo) and also carved a niche in the smaller clubs in southern Ontario.
By 1975 were known for their live energy with elaborate stage shows complete with at-times excessive gear. They packed so much on to the stage that it actually occasionally hampered the ability to do shows in smaller venues. The band lineup was solidified with French's brother Dennis on drums, guitarists Walter Lawrence and Paul O'Donnell, bassist Maris Tora, and Chip Yarwood and keyboards. Their show traditionally ended with a song they never eventually recorded called "Sundown" – a 30 minute opus that featured just about every member and a raw solo.
They opened for 10CC at the National Arts Centre in Ottawa in late '75. That show helped lead to a deal with Mercury's Capricorn label, who suggested the shortening of the band's name to simply Garfield. They were shipped off with producer Elliott Mazer (Linda Ronstadt, Janis Joplin, Juice Newton, David Soul), and some raw demos were reworked. The result was STRANGE STREETS the following summer. Three singles followed – "Ride The Waves," "Old Time Movies" (the first single's b-side a few months earlier), and "Give My Love To Anne."
Most critics weren't sure what to make sure of the songs, and program directors deemed them on the whole to be too quirky for a mainstream audience. With the exception of an edited version of "Old Time Movies" cracking the top 40, only minimal airplay was achieved. Still, the band's live show was more than just a saving grace, and they found themselves on the opening card of The Doobie Brothers' Canadian tour, along with several dates throughout the country on their own.
The band set off to the studios for their follow-up album, OUT THERE TONIGHT in the summer of '77. Garfield himself wrote all the songs again, and much in the same vein as its predecessor, the record was a venture into an artistic blend of avant-garde and progressive rock that some critics again dismissed as unaccessible to the masses. The first single out of the gate was the ballad, "All Alone Again" b/w "It's Not That Bad (At All)," and was followed up that fall by "Mississippi Jimmie," oddly with the first single as the b-side.
But issues with the label and closely guarded wallets kept the band from breaking out, and Garfield found himself trying to get out of his deal. He got his wish with a new distribution deal through Polydor in time for 1979's, REASON TO BE. Dixon Van Winkle (Terry Crawford, Men Without Hats, Van Morrison, Paul McCartney) was the new producer, and with imaginative arrangements in "Play It Again Boys" and the tale of being caught in the act "Private Affair," Garfield was still exploring his artistic side. Only one single saw the light of day – "Buffalo To Boston" b/w "Over A Dry Martini," which didn't light the charts on fire. Still, some dates around central Canada and into the US ensued.
FLIGHTS OF FANTASY was released in the fall of 1981, featuring French producing for the first time, with Dan Donovan. The predictable ballad "Like I Love You" was released twice), and was followed by "Got More Than You Want." Although relished by the die-hard fans, enough critics passed it off as yet another pretentious effort with little marketability. But by now it mattered little. Capricorn was facing financial problems, and the band found itself without a record deal that same year.
They released one last single on Irving-Amo Records in late '81. "Ride The Thunderbolt" was originally recorded for the REASON TO BE lp b/w the new song "Things I See," but again failed to make a dent on the charts. By this point they'd played with Muddy Waters, Rick Derringer, Edgar Winter, Max Webster, The Beach Boys. Opening for Rush in Montreal in '82 was their final show. The band dissolved and everyone went on to other projects, or got out of the business all together.
After several years of trying, Garfield finally got the rights back to his songs, and the first two albums were repackaged on one CD in '07.
With notes from Ken Marshall, Duncan McKinnon, Tom Tzirmay, Jaimie Vernon, Darrell Vickers, Elaine Yarwood