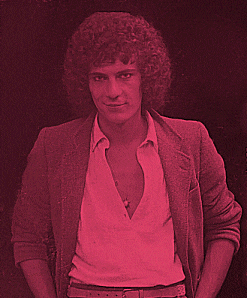 B
orn and raised in Toronto, Garnett Ford formed his first band, Pinball, during the mid '70s. They played the local area circuit, venturing occasionally out west and into the US, when Frederick Starchuck took an interest. He signed Ford to a management deal, and within a year a contract with Warner Brothers. They wanted him as a solo act, so Pinball folded and Ford went into Phase One Studios with
Ian Thomas
and Gary Muth.
UNDER THE INFLUENCE was released in February, 1978. A slick blend of pop and adult rock, it was all originals, mostly written by Ford with Doug Templeton, sent in for the job by Starchuck. Session players used for the album included ex-Pinball guitarist Dave Cooper, and drummer Bucky Berger (Rough Trade, Raffi, among others) and "Mama Two-Step" was the first single out of the gate.
But it stalled before ever charting, when "Takin' The Easy Way" b/w "Robbery" followed. It too failed to make a dent in the charts, and some sporadic touring throughout central and eastern Canada halted.
For the follow-up album, he was now on Toronto based Maze Records (Saga, Hawkwind), with distribution from A&M, and returned to Phase One. He enlisted Paul Gross and Jack Richardson (Guess Who, Harlequin, Aerosmith, and a million others). He also again raided the area's session players to back up the album, including Shawn Jackson, Kim Mitchell, Bernie LaBarge, BB Gabor, and Jon Anderson (Klaatu).
POSTCARD was on the store shelves in the summer of '82, with "Stay The Way You Are" b/w "Something In Her Eyes" as the lead-off single. The album was again a mix of melodic, safe pop, but this time several tracks were written by outside hands. The first single cracked the Canadian charts, but then stalled before reaching the top 40. "Time Won't Let Me" was released shortly thereafter, but only got moderate airplay around the GTA, and failed to chart.
Other noteable tracks included "Looking For You," the orchestrated ballad "You and I," and "Live It Up," an apparent attempt to capitalize on the re-invigorated Rick Springfield wave that was sweeping the airwaves. But poor sales spelled the end of his tenure with Maze, and after awhile he went on to become a session player, but for the most part dropped out of the business all together.
In '95, German based label Long Island Records reissued POSTCARD, but no extra material was included. In the early '00s, he began collaborating with Bob Kellerman and they formed 2ndFloorView, a production company that that does TV, commercials, and movie soundtrack work. They've also released an ensemble of singles, but no actual album.
With notes from Dave Cooper


UNDER THE INFLUENCE (1979)
Out In The Streets
Takin' The Easy Way
Confusion
In Your Dreams
Leading You On
New Sensations
Hustler
Mama Two-Step
Robbery

POSTCARD (1982)
Stay The Way You Are
Time Won't Let Me
Can't Do Without It
Second Chances
Lookin' For You
Live It Up
When I'm Beside You
Can't Slow Down
You & I
Something In Her Eyes

POSTCARD (1995)
Stay The Way You Are
Time Won't Let Me
Can't Do Without It
Second Chances
Lookin' For You
Live It Up
When I'm Beside You
Can't Slow Down
You & I
Something In Her Eyes