T
he quitessential country/roots troubador, Gary Fjellgaard was born in 1937 in Rose Valley, Saskatchewan. Raised on a farm, he grew up listening to the frontier country sounds that were prevalent on the rural prairies at the time. He joined the local Lutheran Church choir as a child, and moved with his family to Prince George, BC when he was 15.
But shortly after moving, his father suffered an untimely death and he was forced to take over the family store. Within a couple of years, the store was sold and he was earning a living at age 17 as a logger by day, but fuelling his music passion playing in the local area bars at night. But after beginning to suffer severe back problems following a work-related accident about a year later, he concentrated on music. He was hired as part of Valdy's Hometown Band in the early '70s, recording a pair of albums with him and was part of the touring entourage for a couple of years until riding out on his own in 1976.
A deal with Royalty Records in '76 launched his solo career with ME & MARTIN, recorded at Edmonton's Sundown Recorders. His penchant for taking his western roots and blending gentle vocals with acoustic guitar and minimal studio production parlayed into three top 40 country singles – "Ride Away To The Country," "How Much of Me," and "Old Fashioned Cowboy Song," which peaked at #24. His follow-up was three years later in the form of BALLADS & BEER, which produced the title track and "Caribou To Nashville," his first top 20 single.
When Royalty Records went bankrupt, he moved over to Savannah Records for his third release, 1983's TIME & INNOCENCE. It featured the first time Fjellgaard had worked with Howie Vickers (Collectors, Chilliwack), and for the album he utilized an array of guest musicians, including Jim Vallance, Doug Edwards, and Bob Buckley and David Sinclair of Body Electric and Straight Lines. Four singles spent time in the top 40 over the next year and a half. The autobiographically reflective "Ten Years Old and Barefoot" peaked the highest at #17 and also won the 1982 British Columbia Country Music Award for Song Of The Year. "Finest Dancer," "Alone Again on Sunday," and "Runnin' Back to Your Heart" all helped establish Fjellgaard as one of the country's top live country/folk draws, playing to sold out crowds across the country and making several dates south of the border, as well.
Critically and commercially regarded as his most successful album came in 1985 with NO TIME TO LOSE, which saw Vickers return as producer. Seven singles spent time in the charts over the next three and a half years, including his first top 10 country hit, "Walk In The Rain Tonight," "Tears On Mainstreet," "Dancing In The Ring," "Once Upon A Time," and the title track twice. A re-recording of "Riding On The Wind" from the previous album was named Single of the Year in '85 by the Canadian Country Music Association. The only single not to crack the top 40 was "As Rivers Run Saskatchewan," which peaked at #41. By the end of it all, NO TIME TO LOSE peaked in the top 10 country albums chart on its way to being certified platinum (100,000 units), as well as becoming his most successful export to the American market.
In 1986 The Mercey Brothers covered his song "Heroes" and took it to the top 10, earning Fjellgaard a SOCAN Award for Song of the Year in '87. Extended tours, some time off to concentrate on his personal life, and the fact his previous album was so successful kept him out of the studios until 1989, when HEART OF A DREAM hit the store shelves. Once again there were seven singles over three years to fuel the listener's mind, invoking images of a simpler time and stronger core values in life – with a pair of top 10 duets with Linda Kidder leading the way – "The Moon Is Out To Get Me" and "In My Heart." "Cowboy In Your Heart" became his biggest selling single at the time when it reached #7, but was matched only a few months later by "Somewhere On The Island," where his environmental conscience was thrust
front and centre as he warned about the dangers of polluting BC's coast. He was awarded the 1989 CCMA for Male Artist of the Year, and also picked up his first of three awards he'd eventually receive for his work with Kidder.
He found time in between legs of his tours to make his acting debut In 1988, co-starring with Stella Stevens in the movie "The Ranch," filmed on location outside Calgary where he played a rancher trying to keep in touch with the times. In 1989, he received the award for Best International Country Artist from the Dutch Country Music Association after making his first tour in the Netherlands a success. A year later, he received the prestigious TMI Fender Humanitarian Award, presented by the CCMA for his outstanding contributions to environmental awareness.
Tales of the lone plainsman took hold again when WINDS OF OCTOBER was released in 1991. Along with the title track, four other singles spent time on the charts and in the audience's hearts – including another duet with Linda Kidder called "Fire and Lace" that again won them a CCMA Award the next year, the top 20 hit "Drifting Cowboy," "The Last Hurrah," and "Never Say Goodbye." On the heels of another gold album, and after several years of being nominated in several categories, Fjellgaard finally won his first Juno Award in 1993 for Best Country Male Vocalist, a year after he'd received his second Entertainer of the Year award from the BC Country Music Association.
His first 'best of' compilation came in 1993, as well. HEROES AND OTHER HITS featured not only a collection of his best hits, but also the new single "Shaganippi Hick." That same year, he hooked up with longtime friend Valdy for their duet album CONTENDERS, which contained some of the most critically-acclaimed works either had produced, including "Tried and True," the title track, and a cover of Roger Miller's "King of the Road."
The top 10 title track was one of five singles off his BELIEVE IN FOREVER album in '94, which also featured the duet with Anita Perras "Trace Back To You," "Train of Dreams," "Islanders" (which he did with Valdy a year earlier) and "What About Love." Produced by Bill Buckingham, the album was certified platinum and sparked another series of tours that extended over the next two years.
UNDER WESTERN SKIES was released in the summer of 1996, and featured the #16 single "Rhythm of Your Wings," as well as a remake of "Heroes," the title track, and "One More Pony Ride." THE BEST OF GARY FJELLGAARD followed a year later, his last album for Savannah Records.
He marked the new century by launching his own record label, Silver Creek Music in '01. And with it came the new record GRANDE OLDE RIDE, what critics considered to be one of the finest cowboy themed albums of all time. Production was minimal, and his penchant of telling tales of dusty trails and forelorn emotions was highlighted by the Kamlooops Cattle Drive-inspired "Dancing In The Grass," the title track, the lead-off "Zane Grey," "Eyes of A Cowboy," and "Song of the Wagon."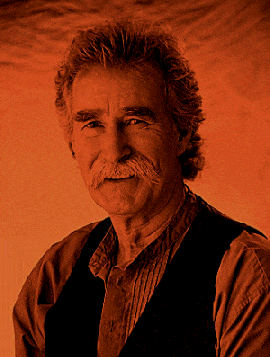 Throughout his career, Gary Fjellgaard has played on some of the biggest stages in North America and overseas with some of the biggest names, including Johnny Cash, Valdy, Ronnie Prophet, and even Red Skelton. He'd also made numerous appearances on several TV variety shows and played on The Nashville Network on multiple occasions, but by this point he'd reserved himself for the most part to touring smaller venues across the Canadian prairies, getting back in touch with his roots.
In 2004 he did his second duet with Valdy, entitled CONTENDERS TWO, where they both contributed tried and true classics from their individual catalogues. A year later he was inducted into the Canadian Country Music Hall of Fame. He continued his penchant for telling tales of long ago train rides and the farm life. CARAGANA WIND featured "Steel Horse Lullaby" and "The Long Haul," and were augmented by the title track about the family homestead in rural Saskatchewan he grew up in, "Pop Campbell's Farm," "If The Cowboy Goes Away" and "Lonely Desperado."
After releasing SECRET SANTA in '07, he returned with ALL IN THE JOURNEY two years later, which included "Back When Billy Robbed Trains," "An Old Western Story," "One More Pony Ride," "Horses In Heaven," "Share The Range." But the album also covered some of his poignant and socially conscious songs, with "Run Little Guy" about his dog Jake that had died, and "I Apologize" about First Nations victims and survivors of the cultural genocide that occured in Canada for over a century.
He repackaged some of his favourite cowboy songs from over the years in THE COLLECTION: SOLO ACOUSTIC in 2011. With only his warm, gentle voice and his trademark unplugged guitar as the backdrop to his colorful stories and tales of a forgotten time, the record featured "Falcon and the Cowboy," "Ten Years and Barefoot," "Drifting Cowboy," "Sweet Nellie," and "Caragana Wind," as well as one of his personal childhood classics, "Streets of Laredo."
With notes from Gary Fjellgaard