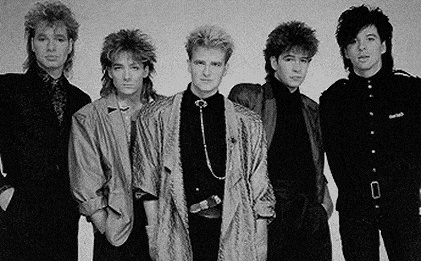 S
ome of Canada's most endearing music emerged during the 1980s and were also some of our biggest exports. Leading that hit parade was Glass Tiger, whose roots are seeded in Newmarket, Ont. With the demise of their previous band, Onyx, Scottish-born
Alan Frew
and hometown keyboardist Sam Reid formed Tokyo with guitarist Al Connelly, Wayne Parker on bass and drummer Michael Hanson.
"We had a pretty good following with Onyx, but eventually we went broke and we went our separate ways. Tokyo was sort of the best of the different groups around town," Frew reminisced. The hard edged new age sound was a hit live and the band became staples around the Toronto and outlying circuit over the next few years while they honed their writing and recorded demos when they could. They caught the attention of Derek Sutton Styx's then-manager. Impressed, he took the demos to Manhattan Records, a new label with Capitol Records ties. When Capitol's Canadian office heard about the label's interest, they rushed to take a look themselves, and a deal with world distribution was signed.
With an image alteration and a name change, they brought Jim Vallance into the LA studios and released THIN RED LINE in the spring of 1986. Frew recalled it was Vallance that first introduced the band to Bryan Adams, who cameo'd on the first single "Don't Forget Me When I'm Gone."
"Bryan and I had talked on the phone a couple of times, went to a baseball game and had a couple of beers a few times. He was at the studio one day while we were working on our first album, and Jim said we should sing together and see what it sounds like. Bryan and I were really just having some fun messing around in the studio. It's the media that likes to make a bigger story out of it, but really, Don't Forget Me would've been a hit song with or without Bryan," Frew commented.
After "Someday" became the band's second straight top 10 single in Canada, the title track's anti-war undertones were the first hints at Frew's political conscience seeping into his lyrics was released, and acknowledged that being born and raised in Scotland gives him a different perspective on certain issues. "I suppose so, but I've always felt a need to speak out. I have a voice," he said.
The new year picked up where '86 left off, with "You're What I Look For" and "I Will Be There" following the trail to the top 10 list and all showed a slickly polished sound – heavy on the keyboards at times with smooth guitar and backbeat rhythms. Frew said that looking back it was still a pretty good capture of what the band was trying to sound like at that time. "Some of those songs on that album – You're What I Look For, Ecstacy, and Thin Red Line were all actually written when we were still Tokyo. We had our heavier moments back then and they all went over well with the crowds," Frew said.
By the time that live magnetism had taken them around the globe and back again for nearly two years with the likes of Tina Turner, Journey, and The Moody Blues, 2 million copies of THIN RED LINE had been sold in Canada, and another two elsewhere around the globe. They all but owned the awards podiums for two years, including five Juno Awards, and a Grammy nomination in the US for Best New Group.
Hooking up with Vallance again culminated in their second straight multi-platinum seller, 1988's DIAMOND SUN. Dismayed at the image the band was getting, it was a tougher sounding album, and yet was still packed with clever hooks and slick production. "I'm Still Searching" took them back to number one in Canada, and highlighted their growth in songwriting. The material was more socially conscious, with "This Island Earth" etching out the fragile state of the planet, and "Watching Worlds Crumble" looking at the falling of the Berlin Wall.
Due to scheduling conflictswhile on the road in '89, the band had to decline the prestigious invitation to play at Wayne Gretzky's wedding that summer.
(trivia question for 50 points – who'd Wayne get as replacements?)
Some time off after another world tour saw Hanson leave the fold, who would resurface years later with Earthboy. The band headed back to A&M Studios and came out with 1990's SIMPLE MISSION – basically two separate mini albums. Vallance returned for some of the tracks, and with Tom Werman (Poison, Motley Crue, Cheap Trick, Stryper) on others. Frew noted that in hindsight, it wasn't necessarily the direction he wanted the album to go, but looking back said he's still fond of because it opened the band up to a whole new audience, albeit a "disjointed" album. "There was always a heavy aspect to what we did. We all grew up on the Def Leppards and Scorpions and the Rushes, but you've got to remember – we were still a POP band, and it was kind of divided on that album. People forget POP stands for popular music, and what happened was people tended to bubblegum it up. Some songs had a pop sound to them, some didn't," he said.
Keyboard-driven pop sensibility had given way on half the result to raw guitar licks and a more aggressive sound. "Animal Heart" reached number one at home and top 20 in the US, followed by "Rhythm Of Your Love," earning Glass Tiger its third straight platinum seller. The third single, "My Town", featured a cameo by The Chieftans, and Rod Stewart in the video. But again Frew was quick to dismiss it as anything more than just a couple of guys having some fun in the studio. "I'd known Rod for awhile and we'd kicked a ball around a few times. It's a song about Scotland – we're both Scottish and thought it might be fun to do it. He'd heard the demo, asked why I hadn't asked him if he'd sing on it. I said if he wasn't shitting me we'd love to have him. But these are things that just happened through providence, really," Frew said.
Another single from the other side of the record, "Rescued By the Arms of Love" was rounded out with "Blinded," "Spanish Slumber" and "She Said Love Me Like A Man." The band hit the road with new drummer Randall Coryell, but despite a the singles, a change in the music business was becoming aware of by the group. A stripped down, raw and far less sophisticated grunge movement was happening, and the band called it quits in '93 to do outside projects. That same year Capitol released AIR TIME, a best of package featuring the new tracks "Touch of Your Hand" which reached the top 40 on both sides of the
border and "After The Dance."
Over nearly the next decade, along with starring in a tv program called Road Stories With Alan Frew where he interviewed different musicians about them and the industry, Frew released a pair of solo albums, HOLD ON and WONDERLAND. Connolly formed the short lived Norge Union and also did session work for others, as did Reid, who also frequently wrote magazine articles and worked for Sanctuary Sounds – a company specializing in New Ages styled easy listening CDs featuring the sounds of nature.
After a double best of called THE PREMIUM COLLECTION was released two years earlier, Frew, Connelly, Reid and Parker reformed the band for a series of shows in 2003. Ecstatic reviews said there was again an audience ready for their brand of well-written pop songs with clever hooks and packaged in slick production, and released a pair of live albums, NO TURNING BACK and GLASS TIGER LIVE barely a year apart starting in the spring of '95.
Back to back live DVDs, EXTENDED VERSIONS LIVE and LIVE IN CONCERT hit the market a year or so later. Frew noted that the biggest difference in playing today is they're still having fun – on stage and when they're rehearsing back at Reid's studio in Newmarket. He laughed and said as long as people are willing to come out, and want to come out, everyone's happy. "I guess Glass Tiger left a small mark on history. We like to be the band that you can come see after growing up with them and remember when there was good music out there and life was simpler."
In 2008, Frew released a self motivational dvd called 'The Action Sandwich' and launched a series of promotional appearances, where he said the key to personal success is being true to yourselves and having control – two aspects he said Glass Tiger exemplified, and is glad the music has stood thetest of time. "I guess you could say Glass Tiger's left a little bit of a legacy in a particular genre in Canadian music, I suppose, and it makes me feel pretty good when I see the look in someone's eyes when we're on stage and you know they remember when there was good music out there."
He said they were honoured the following March when they were asked to play for the Canadian troops in Afghanistan on a tour with NHL alumni. "That was an incredible experience. A lot of what they do, they don't get recognized for their efforts."
With notes from Alan Frew