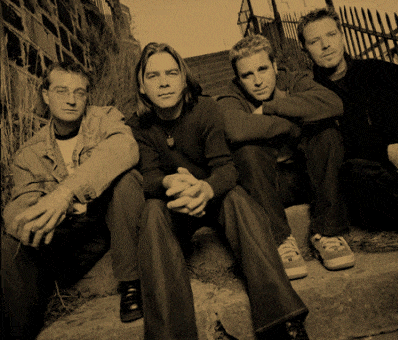 U
nquestionably the biggest selling group to call Newfoundland/Labrador 'home,' Great Big Sea was formed from the ashes of Rankin Street, who'd released one independent cassette in the late '80s. Bassist Darrell Power and multi-instrumentalists Sean McCann and Bob Hallett had grown weary of the lack of progress they were making with their group, and in 1991 they approached Alan Doyle about setting up a new group, one that played original music, as well as put fresh spins on traditional folk tunes.
They played a couple of gigs under the new name NRA (Newfoundland Republican Army), then chose the name Great Big Sea, and played the east coast relentlessly for the next couple of years, making their way into mainland Canada and along the eastern US seaboard. They released their self-titled, self-produced independent debut album in 1993, featuring mostly renditions of traditional fishing songs with a fresh spin on them, along with three original tracks – "Someday Soon" and "What Are Ya' At?" by Doyle, and McCann's "The Fisherman's Lament."
Reps at Warner Brothers liked the demos they'd received, and signed the band and re-released the album later that year. They picked up their first of what would be numerous East Coast Music Awards the following year, for Entertainer of the Year.
Their second album, UP, was in the stores in September 1995, and on the back of the first single and its accompanying video, a cover of Slade's "Run Runaway," and its follow-ups, ""Fast as I Can" "Goin' Up," and "Mari-Mac," they were an overnight sensation, hitting the platinum sales mark (100,000 copies) within months, eventually doubling that number.
By the time they were in the middle of a world tour in support of their third album, PLAY, it was certified platinum three months after it was released in the spring of '97. The two singles "When I'm Up (I Can't Get Down)" and the top 10 Canadian hit "Ordinary Man" were augmented by covers of Colin Hay's (Men At Work) "Haven't Seen You In A Long Time" and REM's "End of the World." Less than a year after its release, it had sold over 200,000 copies and was eventually certified triple platinum. The band picked up five more East Coast Music Awards the next year, as well as a pair of Juno nominations.
The band's introduction to the US market came in the form of Warner's compilation, RANT & ROAR in 1998, which took a few tracks from each of the first three albums. With new producer Steve Berlin, TURN was released a year later, featuring the singles and videos for "Consequence Free," "Can't Stop Falling," and "Demasduit Dream" – about one of the last of the Beothuk, the native people of Newfoundland. "Consequence Free" was also used later as the theme for "The Least I Could Do," an animated series which never got off the ground.
By this point, constant touring was taking its toll, as the band had played as much as 300 shows per year since their inception. So following the subsequent tour, they took a year off to recharge their batteries. Their first live album, ROAD RAGE, was released in the spring of 2000 and featured a culmination of their hits and onstage banter with the crowd. That same year, controversy occurred when Stockwell Day, leader of the Canadian Alliance Party, used the band's single "Ordinary Day" at a federal election rally without their permission. This was in clear violation of copyright, and they ordered that Day cease using the song without their permission.
More headlines for all the wrong reasons ensued a year later, when Great Big Sea learned they were up for some more honours from that year's East Coast Music Awards. Some thought the band was snubbing the awards when they withdrew their name from the Entertainer of the Year category, stating that they'd won five straight years, and it was time someone else was given the award.
They returned with SEA OF NO CARES in '02, produced by Peter Prilesnik and featuring several tracks co-written with group friend Chris Trapper. The singles and adjacent videos for the title track, "Clearest Indication" (about Newfoundland's confederation with Canada), and "Stumbling In" helped mark their fourth straight platinum album. Other noteable tracks included "French Perfume," about a smuggler who was driven into exile by the Mounties, and is said to haunt the island. Five more ECMAs for Album, Group, Entertainer, Video, and Pop Artist of the Year followed a year later.
Once their tour schedule was over, Power left the band to spend more time with his ever-growing family and to pursue outside projects. Picking up the slack from there on in in the studio and on stage were multi-instrumentalist Kris MacFarlane and Murray Foster (ex of Moxy Fruvous) on bass. Next up on deck were a pair of projects in 2004, starting with GREAT BIG DVD. Along with the accompanying CD, the DVD featured a performance from Ottawa, featuring all of the band's hits, as well as some backstage footage.
SOMETHING BEAUTIFUL followed that October, marking the fifth consecutive time the band's new studio album debuted in the Canadian Top 10. It included the ECMA SIngle and Video of the Year "When I Am King," their spin on a pair of traditional sea shanties – "Chafe's Ceilidh" and "John Barbour," and a cover of the Scottish Gaelic band Runrig's "Pride of the Summer," retitled as "Beat the Drum."
THE HARD AND THE EASY in 2005 saw the band record without an outside producer for the first time since their debut album , and also the first time they didn't write any of the material themselves. A collection of traditional Newfoundland party songs that included "Come and I Will Sing You (The Twelve Apostles)" (a song whose roots can be traced to medieval Europe), "Captain Kidd" (about the infamous 17th century Scottish pirate William Kidd), "The Mermaid" (actually written by Shel Silverstein and adopted as a Newfie homegrown favourite in the '60s), and "Cod Liver Oil," the album was nominated for a Juno Award the following year for Roots & Traditional Album of the Year.
Getting with the times, 2005 also marked a new beginning for the band, when they released the first of what would become several podcasts, showing clips of them bantering back and forth in the studio, along with impromptu performances and rehearsals.
While on tour in February 2006, the band's tour bus tipped on an icy highway near Abbotsford, BC. Other than their driver suffering minor head injuries, everyone was ok, and the band managed to not miss a beat, playing the show at the Centre for Performing Arts in Vancouver only hours later.
After releasing their third live album, COURAGE AND PATIENCE AND GRIT in '06, they took some time off from recording again, but continued to tour, although less relentlessly. While finishing up work on a new album, they started 2008's schedule off by joining Barenaked Ladies on the "Ships & Dip Tour," hosting a cruise to the Carribbean, their first of several jaunts across the oceans.
FORTUNE'S FAVOUR was in the stores in June of 2008. Featuring Hawksley Workman as producer and co-writer of many of the songs, it debuted at #5 on the Canadian chart, and also included a DVD featuring interview and behind the scenes footage. The first single was "Walk on the Moon," which stalled at #86 and was actually on the airwaves prior to the album being in the stores.
Although the subsequent singles, "Love Me Tonight" and "Here and Now" also failed to make a dent, the album itself still was certified gold, and included "Company of Fools," co-written by actor Russell Crowe. "Oh Yeah" became an underground hit, and wound up being the theme song for the CBC series, "Republic of Doyle," which happened to feature a guest appearance in one episode by Crowe.
The band started out the new decade with McCann releasing his debut solo album, LULLABIES FOR BLOODSHOT EYES in February, which was met with good critical praise. The band's new album SAFE UPON THE SHORE followed in July, which marked the return of producer Steve Berlin and featured the singles "Nothing But a Song" and "Good People." Although neither single made the top 40 list in Canada, the album was certified gold and peaked at #2 on the Canadian chart. Also included were "Dear Hometown," co-written by Doyle with Randy Bachman, covers of The Kinks' "Have A Cuppa Tea" and Led Zepplein's "Gallow's Pole," and "Hit the Ground & Run," which Doyle wrote with Russell Crowe.
Their streak of nominations at the Junos continued in 2011, when they were up for Group of the Year, the fourth time their name was in that hat. That made it their eleventh overall nomination, but again, they walked home empty handed.
In 2012, Doyle released his first solo album, BOY ON BRIDGE.
CD Review: ROAD RAGE
By: Rachel Jagt

When it was announced that Great Big Sea would finally be releasing a live record, I cheered. At last, a record I could play for unenlightened friends who had never seen the band live – to show them why I always come home smiling and exhausted. The generous 19 tracks on "Road Rage" don't disappoint – they are a remarkably accurate representation of what it is like to be in the audience at a Great Big Sea show. I've been to four Great Big Sea shows in the past year and have loved every one. So I couldn't wait to hear all the little things I'd missed while I was jumping around and singing along to songs that have become so familiar since these four musical Newfoundlanders burst onto the pop scene a few short years ago. Since that time, they've been blazing a trail across Canada (and the United States, touring with bands like Guster and Pushstars), entertaining their hearts out for legions of adoring fans.
For this record, they chose to stick to the Canadian shows, which, according to Sean McCann (vocals, guitar, bodhran), had a different vibe than shows in other parts of the world – one that was captured on tape. What comes across more than anything on this record is that the band is having as much fun with entertaining as the fans are with being entertained. Every show I've been to, and every one represented on this recording, had an atmosphere of joy that I've experienced with very few other bands. There are, of course, the songs. Well-chosen traditional favourites like 'General Taylor', in which McCann uses the full power of his voice, which is considerable; 'Jack Hinks', an upbeat tale from 1999's "Turn"; 'Mari Mac', a fan anthem that seems to get crazier with every passing performance; and the tender ballad 'Captain Wedderburn', which features folk singer/songwriter Sarah Harmer in a duet with McCann, are performed with such abandon that they are reborn. Four-part harmony that soars and talented playing by frontman Alan Doyle (guitar), McCann, multi-instrumentalist Bob Hallett, and bassist Darrell Power bring the songs alive. I was especially impressed to hear Hallett's deep voice quite clearly on a number of tracks.
Original material that runs the gamut from the responsibility-shirking happiness of 'Consequence Free' (I'm convinced that Doyle wrote the line 'wouldn't it be great if the band just never ended' solely for the applause – and the fans are more than happy to oblige) to the tender pain of 'Boston and St.John's' and the kitchen party togetherness of 'Goin' Up' shows considerable range in emotional content during any given show. The fans don't miss a beat, following along word for word and erupting in congratulatory applause after every track.
I was happy to hear that the band chose to include some of the witty banter for which especially Doyle and McCann have become known; anyone who's been to a show has heard Doyle say, "Thank you very much! We are Great Big Sea from the tropical island of Newfoundland!" There are a number of points where you can hear Doyle laugh, probably at the stage antics of his bandmates. Those things are small, perhaps, but in the case of Great Big Sea, they just make this a more realistic showcase of their live performance. If you've been to a Great Big Sea show, you should get this CD because it will bring back happy memories of your experience. And if you've never seen the band live, you should get this CD to show yourself what you've been missing. "Road Rage" will be a staple in my CD player for a long time to come.