Greg Wood
CD review: GREG WOOD
By: Dan Brisebois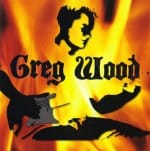 A surprisingly wide range of emotions are translated well into a mix of sounds and styles in Greg Wood's 2008 self titled debut album.
The Bonnyville, Alberta native is now based out of Edmonton, and was surrounded by everything from roots country to more rock than a geologist growing up. He's an artist not afraid to dip into the experiment jar – and the pay-off is huge, with a debut album that's polished, well-written and produced.
The lead off track "Ride On" has balls, with a compelling groove, pounding rhythms and great guitar riff. With "Bedroom Eyes," "Empty Shell" and "Old Dusty Road," Greg's not trying to hide behind shifty studio hocus pocus. The songs are clean and crisp, and a testament to old school metal riffs, the music is real and full of highlights.
Attention to detail and strong guitar work are the backbone of an overall solid first effort. Even with the acoustically driven "Broken Hearted Girl" and "Hold On," there are glimpses of Page and Clapton, two of his biggest influences. Along with the other ballads, "Drift Away, "Born To Be Alone," and the Stevie Ray styled "Wake Up," strong lyrics paint the pictures and tell the stories.
"I Want A Girl" is a cross between a modernized Sex Pistols and Weezer, kind of reminiscent of Pursuit of Hapiness – pumped with attitude. The song is straight forward and fun, which in turn is part of Greg's appeal.
Greg Wood
CD review: SET YOU FREE
By: Dan Brisebois
G rowing up in the heart of Alberta's Lakeland, Greg Wood knew the guitar was his calling early in life, from the age of two when he first heard his grandfather play, and in fact, there was always a guitar laying around the house to pick up and play.
He credits everyone from Metallica and Van Halen to Hendrix and Stevie Ray as his early influences, but soon expanded that list to The Man In Black and Kris Kristofferson, to Led Zeppelin and Eric Clapton – and everyone in between.
His stage debut was on a grand piano at age six, and has since either won or was a finalist in numerous talent shows across the province. He's also gained rave reviews for his calm demeanor that erupts into confident, dynamic and exciting on-stage performances. After graduating at aged 17, he left home to pursue his passion. Now 22 and living in Edmonton, he put out his sophomore album, SET YOU FREE in 2009.
The self-written, four-track EP is a personal acoustic journey into a young man's life – often somber, always intriguing and never disappointing. Many of the inspirations for the material came while traveling coast to coast on both sides of the border, from the first single, "Broken Hearted Girl," to the raucous "About You," the album is full of excitement and emotion, as is the case with both the title track and "Pass Me By."
Greg Wood
CD review: GREG WOOD III
By: Ray Ladd
Growth as an artist has led to Greg Wood's third album, and his best effort to date. Simply entitled, GREG WOOD III, it's a darker, yet sensual journey through the talent of this young musician.
The lyrics and music have a heavy hitting, kick you in the balls sound. Empowering vocals with crisp, clear, hot as hell guitar are rounded out by hard pounding drums that keep you entwined within the attitude that is this new distinctive sound. That's what puts Greg aside from alot of other independent artists today. It clearly reflects his past and present musical influences, from Metallica to Eddie Vedder, and emphasizes his continuous evolution as a musical artist.
Most of the songs on this album are about relationships, love and sex, to which most of us can, to varying degrees, understand and relate to. Greg has stated that 'love' is universal, and his experiences of success and sorrow played a big part in creating this album. GREG WOOD III has been billed as a bigger production than anything he has attempted so far.
He's continuously improving his skills as a song writer and musician by working in the best studios and performing to the best of his abilities not only in the studio, but also the multitude of live shows he performs at. His largest live show to date has been Boonstock, an outdoor festival, held just outside of Gibbons, Alberta. Greg performed alongside many other musicians in front of hundreds of fans that, regardless of the rain, partied to great music all weekend long.
Despite his success, he hasn't forgotten his roots, performing a live show in his hometown of Bonnyville, Alberta, in June 2011, Greg made the time to autograph several posters and one lucky young fan's guitar, which happened to be the first one that he has been asked to sign. When asked how he felt about it, he replied, "It's great, that's the first time I've been asked to autograph a guitar! It's nice to know that I can have such a good impact on a young artist."
With an artist as diverse as Greg Wood, it's easy to find favourites on the record. It simply depends on which of his vast array of influences you share. His use of the slide guitar on " You Wouldnt Understand" shows the maturity of his musicianship, while the lyrics in "Little While" are written from experience and a unique insight. Those are just two of the standout tracks on the album in my opinion. But you might adopt others as your favourites, as there's really not a bad track on the album.
Five of Greg's songs are featured on the extreme snowmobiling film "Thunderstruck 10," released in August 2011 by USA based Thunderstruck Films. Two of those songs, "Razorblades" and "Little While," are from this latest album. What's next for Greg Wood? In his own words, "an unplugged album, co-writing in Nashville, writing the next rock album, building a new studio and a summer 2012 tour."
The slide part on " You Wouldn't Understand" is pretty good and the way that the lyrics in "Little While" are pretty self explanatory.