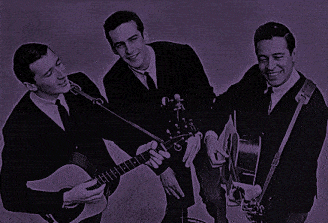 O
riginally called The Colonials, The Halifax Three centred around highschool friends and guitarists
Denny Doherty
and Richard Byrne and drummer Pat LaCroix.
By 1962 they'd established themselves as one of the most proficient and musically talented folk trios on the east coast, spinning traditional tunes with a Maritime flavour. They scored a record deal with Epic, and travelled to New York to work with producer Bob Morgan. They released the single "All the Good Times" the following spring, and although it didn't chart, the generally positive reviews instilled enough confidence in them by the label execs that they sent them back to the studio.
The result was their self-titled debut album in the spring of '63, full of the band's arrangments on traditional folk standards. Led off by the first single, "Bull Train," it was followed by "Come Down The Mountain Katie Daly." They continued to tour up and down both borders along the eastern coast, occasionally venturing inland to play the Yorkville circuit and Greenwhich Village.
It was their trip to California that inspired their next album, SAN FRANCISCO BAY BLUES, again produced by Morgan. The record had a more gospel flavour than before with "I'm Gonna Tell God" and "Sing Hallelujah," but still held true to the fundamental folk roots with the title track, "San Miguel," and "He Call Me Boy."
The band added a fourth member for a brief period, Zal Yanovsky, for their upcoming US tour with The Journeymen, which included a date at Carnegie Hall. Although he'd been asked to join the group full time, Yanovsky declined, and by the end of the year, the band realized the burgeoning folk market was dwindling so they packed it in.
Byrne resurrected the band a couple of years later with new members Scott McCulloch and Michael Stanbury from CBC TV's "Singalong Jubileee" fame, calling themselves New Halifax III. That project only lasted a few months. Byrne then got out of the business all together, as had LaCroix, who'd become an award-winning Toronto photographer while moonlighting as a jazz vocalist around the city.
Doherty meanwhile moved to New York, where his path would cross with Yanovsky's again, and they formed The Mugwumps for a one-album run. Following that stint, he then joined fellow Mugwump Cass Elliot in The New Journeymen – which morphed into The Mamas & The Papas. They dominated the charts for the remainder of the 1960s with hits like "Monday Monday," "Creeque Alley," "Go Where You Wanna Go," and "California Dreamin'." Following their demise, Doherty then released a pair of solo albums, then produced and hosted a children's show and wrote an off-Broadway musical and autobiography about his time with The Mamas & The Papas. He died in 2007 from kidney failure following surgery on an abdominal aneurysm.
In 2002, Columbia released the self-explanatory THE COMPLETE HALIFAX THREE, containing both albums in their entirety, as well as the single "All The Good Times."

HALIFAX THREE (1963)
Bull Train
All My Trials
Hush Little Baby
Come On By
Fare-Thee-Well
Far Side Of The Hill
Oh Mary Don't You Weep
I Passed By A Stream
Headin' On Home Again
When I First Came To This Land
Something Old – Something New
Come Down The Mountain Katie Daly

SAN FRANCISCO BAY BLUES (1964)
San Francisco Bay Blues
Rocks and Gravel
Little Sparrow
San Miguel
Sing Hallelujah
East Virginia
I'm Gonna Tell God
Rubin Had a Train
A Satisfied Mind
The Man Who Wouldn't Sing Along With Mitch
The Great Silky
He Call Me Boy

THE COMPLETE HALIFAX THREE (2002)
Bull Train
I Passed By A Stream
Something Old-Something New
Hush Little Baby
All My Trials
Come On By
Come Down the Mountain Katie Daly
Far Side of the Hill
When I First Came to This Land
Fare-Thee-Well
Headin' on Home Again
Oh Mary Don't You Weep
San Francisco Bay Blues
Rocks and Gravel
Little Sparrow
San Miguel
Sing Hallelujah
East Virginia
I'm Gonna Tell God
Rubin Had a Train
A Satisfied Mind
The Man Who Wouldn't Sing Along With Mitch
The Great Silky
He Call Me Boy
All the Good Times