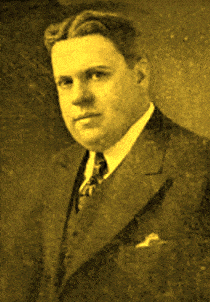 C
ontended by many to have been Canada's first great musical export, Henry Burr was born Henry Haley McClaskey in St Stephen, New Brunswick in 1882 – the son of a store owner and the youngest of four children. By the age of five, he was performing in public, and got bigger stages when the family moved to Saint John, growing up singing with the Saint John Bicycle and Athletic Club, of which he was the mascot. At 13 he was performing onstage as a boy tenor with the Artillery Band of Saint John.
He studied business at Mt Allison Academy in Sackville, NB, later working for his father. Although he still performed in front of audiences now and again, he appeared set on a career in his father's footsteps in the hardware business.
His fortunes turned in the spring of 1901 when he appeared at the opera house in Saint John, performing his first noteable concert with Jessie MacLachlan, a Scottish soprano deemed as among the best in the world. That led to another appearance that September, where he was seen by baritone Guiseppe Campanari from the Metropolitan Opera in New York.
On Campanari's urging, McClaskey moved to New York for formal musical training, which included singing with the Grace Methodist Episcopal Church choir. He eventually rose to tenor soloist, during which time he was schooled by the best, including Kate Stella Burr, a world-renowned performer. By the time he began recording for Columbia Records in 1902, it was in her honour that he borrowed her last name as his own stage name.
Landing on Columbia's doorstep when he did turned out to be perfect timing, as George J Gaskin, the company's star tenor, was reaching the end of his career, and Burr was assumed to be the company's heir apparent. But only two years later, he moved over to Edison Records and began recording under the name Irving Gillette. Although he was employed by Edison, it didn't stop him from moonlighting for other recording companies, and is reported to have produced or performed on more than 12,000 recordings during his career, either as a soloist or in duets, trios, and quartets, and recorded for Victor, IRC, Leeds Talk-O-Phone, and the American Record Company.
It was with Columbia that he joined the Columbia Male Quartet in 1906, which was later renamed the Peerless Quartet, featuring Albert Campbell, who'd turn into a lifelong collaborations partner. He eventually took over management of the group, and they continued recording and performing well into the late 1920s.
His business acumen hadn't been neglected during his early life. In 1915, he formed Paroquette Record Manufacturing Company with Fred Van Eps in New York. The Paroquette recording system used vertical cut records and featured his own recordings and those of several other performers. It was a novel introduction in a still developing, highly competitive market, the Paroquette recording technique was an early failure, and the company was out of business by 1917. Burr also tried music publishing, and he also shared ownership in a banjo factory with Van Eps in the late teens.
Burr was also among the elite radio performers while the broadcasting technology was still in its infancy. He made his first appearance in 1920 in Denver, Colorado using a microphone improvised from a wooden bowl with an inverted telephone transmitter. The broadcast was heard as far west as San Francisco, and he was intrigued with its potential. He's also credited with making the first transcontinental broadcast later that year, singing into the telephone in New York and being heard by diners wearing headphones at a Rotary dinner in California. His lucrative seven-year deal with Victor before the end of the year was also unprecedented.
By the time the 1920s were closing out, Burr's recording contract was all but over, as a new crop of crooners was making its way onto the scene. But the commercial potential of radio still intrigued him, and formed Henry Burr Inc in '28. He got in the programming side of the industry, and produced dozens of programs for commercial networks well into the '30s. He lost a good portion of his fortune during the Wall Street Crash of 1929, but rebounded by returning to radio performances after moving to Chicago, as a member of the WLS Chicago National Barn Dance troupe. Broadcast over NBC on Saturday nights, the gig lasted for five years.
After the show's cancellation, Burr continued to dabble in production work for the next few years,but was diagnosed with throat cancer. A long illness ended when he died in a Chicago hospital on April 6, 1941.
Although Burr is rarely heard today in mainstream musical culture, through the decades, songs like "There's A Little Spark of Love Still Burning," Irving Berlin's "You Forgot To Remember," and "After The Ball Waltz" also appeared on various movie soundtracks. In the '60s, ukelele novility act Tiny Tim often used Burr's songs onstage, as well as all three appearances on the Johnny Carson Show. He resurfaced again in the fall of 2012, when his 1922 rendition of "My Buddy" was used on the soundtrack of a third season of a Boardwalk Empire episode.