JFR Project
Artist Review
By: Dan Brisebois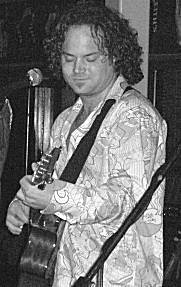 O
riginally from the Maritimes, Jean Francois Roy now calls Edmonton home, and the indie artist has already gained a steady loyal following over the last eight years. The JFR Project is the accumulation of hard work and perseverence on the road with various lineups. But Roy said it was simply time to step out on his own, and make his music his way.
"After having six years of failure in trying to get that rolling, I decided to make a solo project out of my originals. I wanted to add a bit of an edge to my sound … but I'm more of a folk kind of rooted musician," he conceded, noting the complexities of merging as many different influences as he has. He's looking at a September release date for his debut CD, over a year and a half in the works. "I wanted to add a little more edge to be a little more mainstream, and to be radio playable."
Roy commented that although he's handling production chores himself, the credits are a virtual who's who in the Canadian industry. Carson Cole, Rob Hughes (Edmonton engineer extraordinaire) and Alfie Zappacosta ("Dirty Dancing" soundtrack) have all lent a helping hand on the project, and he remarked that it's been nothing but one big learning curve, with more work than he ever imagined.
"With Carson it's three o'clock in the morning, all times of the day," he joked. "But I've learned a lot, for sure. You can't help but learn things. It was a great learning experience, he got me spring boarded into the industry." Until he finds people to surround himself with who share the same passion for his craft, Roy said he's content to wear more than one hat at a time.
"It seems to be the only way I can get the ball rolling properly. Everything I'm doing is so enriching, it's like fine tuning every aspect of my life. Finding myself as a singer, finding my sound, and learning how to communicate what I want to say. As a producer, as a manager, I'm learning every step of the way." He continued, "The last year or so has really been put into overdrive, and things are really starting to move, and it's a good feeling. I'm looking for perfection, I'm going after the big pie. It's kind of like a big chess game, and we're getting ready to check mate."