A
fter releasing a handful on vinyl in six years, The Florida Razors had become one of Hamilton's steadiest and most dependable acts. But unable to land a major deal, they'd run their course in '87. Dejected, frontman and guitarist Tom Wilson retreated from the business until early the next spring, when he formed a new band based around himself, and Hamilton friends Dan Achen on guitars, drummer Ray Farrugia, and Russ Wilson (no relation) on bass.
Before long they'd landed some gigs opening for Crash Vegas, as Wilson was friends with band member Colin Cripps, strong supporters of each others' works. As the band was squeezing in studio time putting together some demo tapes over the next few years, Cripps sat behind the console. They toiled on the Ontario scene, and in '91, they started selling a self-financed cassette of studio sessions at the shows, called HERE LIES HAPPINESS.
By this point, Wilson had already been signed to a publishing deal with Sony Music, and in the spring of '93 execs at Sony were confident enough in the material that they signed the band to a recording deal. They had the band go back to the studios and work with producers Malcolm Burn and Mike Roth. On the side, the band still kept busy on the road, opening for The Waltons and Soul Asylum on their Canadian tours while finishing up in the studio.
With Tom Wilson writing most of the material, STRAYS was released that September, and the first single, "Out Of My Head" was quickly heralded as a ballsy, guitar-driven anthem, and one of the best heavy offerings on the scene in several years. It cracked Canada's Top 40 and made it to Sony's compilation album 1994 – THEN & NOW. The video got heavy rotation on MuchMusic almost from the get-go and they were an instant household name. On the back of four more singles – "Gimme The Love," "Big Brown Turtle," "Oh Linda," the lead-off "Jesus Sings The Blues," and "Prayin' For Rain," the record soon went gold in Canada.
The band spent the better part of the next year converting the masses while returning to Toronto to put some of the tracks they were writing on the road onto tape. Burn returned as producer for BIRTHDAY BOY, released in the fall of '95. The record showcased a more rounded sound than the heavy in your face attitude of its predecessor. "Burned Out Car" featured a duet between Wilson and Sarah McLachlan, and the other two singles – "Brown Shoe," and "Father Gone" all helped make it the group's second straight gold record. They again took to the road, and spent the better part of a year throughout North America, when their cover of Crowbar's "Oh What A Feeling" was featured on the soundtrack to the TV show "Due South." Their ability to stick to the original while bringing a harder, modern edge to it made it a critic's delight.
Following some well-deserved time off, they all ventured off to do their own things. Tom Wilson kept busy playing with Blackie and the Rodeo Kings, while Russ Wilson decided to leave altogether. With new bassist Grant Marshall, they talked Cripps into plugging his guitar into their amps and join the band, following the demise of Crash Vegas earlier that year. The addition of second guitarist gave them a fuller sound for their next project. Recorded at Achen's Catherine North Studio in Hamilton, FUZZ was released in the spring of '97 to mixed reviews. Basically a Wilson/Cripps record, it had a poppier feel to it, compliments of Cripps' keyboards, and strayed away somewhat from the raw power blues chords the band had gained a reputation for. Still, "Pearly White" became their biggest hit at #17. But when "Shine" didn't move up the charts, and with little promotion from the label, members got sidetracked again with outside projects, and the band faded off within a year.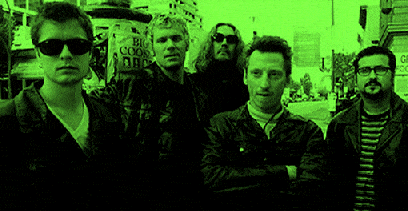 Sony released the 2-CD ROUNDERS – THE BEST OF JUNKHOUSE in 2002, which featured a compilation of their three studio albums, as well as "Oh What A Feeling" and several previously unreleased tracks, including an appearance from mentor and friend Daniel Lanois on the live version of "Praying For The Rain."
Wilson has released two solo albums, PLANET LOVE in 2001 and DOG DAYS in '06, and has kept busy resurrecting the band in one form or another for special occasions, including a Tsunami Relief Fund in Halmilton in 2005, and a 20th anniversary show in Toronto in '09. He's also popped up on stage with reincarnations of The Florida Razors and Blackie And The Rodeo Kings from time to time while recording another six albums with them. He also had a short lived project called Lee Harvey Osmond with members of The Skydiggers and Cowboy Junkies.
Achen continued production work at his Hamilton studio until he died from a heart attack while playing hockey on March 15, 2010. A special tribute to him was aired later that week during "Hockey Night In Canada." Cripps has mostly retreated to session and production work, working with the likes of Alexisonfire, Bryan Adams, Jim Cuddy, Sarah McLachlan, and wife Kathleen Edwards, as well as for the documentaries "Wrestling With Shadows" and "The Life and Death of Owen Hart," among others. Farrugia has stayed on the road and in the studios with several artists since Junkhouse's demise, as well as been a highly sought-after drum teacher around southern Ontario.