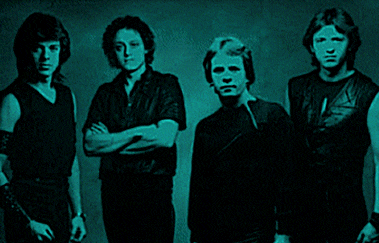 S
tarting in the mid 1970s, one of Vancouver's most prominent hard rock outfits was The Karroll Brothers, consisting of Paul on bass, Peter on guitars, and John on drums.
Originally from Calgary, the family moved to the Okanagan for a few years before settling in Vancouver. By this point they'd already opened for KISS on their first Canadian stops in Calgary and Edmonton, and soaking in the heavy vibes of the likes of Deep Purple, Uriah Heep, and Ten Years After, they were making their rounds in the bars when Steven Balison saw them playing live one night in '75, and soon joined on keyboards.
They slowly climbed the ladder while continued up and down the strip for the next few years, gaining a reputation for their high energy live performances from Vancouver to Winnipeg. By the time they'd formed their own label, KB Records in '79, Balison had been replaced by Frank Cooper, ex of Keeper.
They released their self-titled debut album later that year, with the Karrolls doing all of the writing. Three singles – "She Was Made For The Night," "Morning Light," and "Battlestar Dreams" made their way onto the playlists of FM stations across western Canada, doing particularly well on the west coast. Filled with heavy guitar solos and pounding backbeats and armed with an old wave of British metal influences, other noteable cuts included the last single's b-side "Taking Your Time" and the lead-off "Need Your Love." Their stock went up when live versions of "Need Your Love" and the new track "If I Can Fall In Love" were featured on CFOX's first compilation album in 1979 called VANCOUVER SEEDS.
After an exhaustive western Canada tour and after landing a deal with Rio Records, they returned in 1980 with BABY GET DOWN with new keyboardist Frank Cooper. Recorded at home at Pinewood Studio and mixed at Little Mountain, the album featured a more mainstream sound than before, with a cover of Uriah Heep's "Sweet Lorraine" b/w "Pushing So Hard" as the only single. Getting good results with the FM rock stations, the album also featured the lead-off "Won't You Be My Girl," the title track, and the studio version of "If I Can Fall In Love."
They returned to Pinewood and followed it up with a string of singles over the next couple of years. Although the brothers were responsible for the bulk of the writing, they went back to the Uriah Heep well again for the first single, releasing their cover of "The Wizard." The punk-influenced b-side "Goin' Down Town" was showing a maturity in their writing, and in how they were recording the material. "Magic Kingdom" b/w "White Line Fever" followed onto the charts, and again did well in several pockets across the country.
"Shakin'" was released as a single and became the band's first official video, which got decent airplay on music programs and channels across the country. It was followed by the third single, "My Kingdom," b/w "White Line Fever." Although still with a hard edge, the keyboards were missing and replaced with a twin guitar attack. Still with an assortment of sounds and influences, other noteable cuts included "Tea Party, "Up Through The Rockies," and "Guitar Man."
But by the time the tour bus was parked in '83, the brothers quitely disbanded for a few years. They regrouped as Warriors a few years later. They lost the keyboards all together, and adopted their heaviest gutar-oriented metal sound ever. They recorded some tracks at Little Mountain, and released the single "Easier Said Than Done." They continued making their rounds around the Vancouver circuit, and got some air time on local area TV music programs. But unable to land a major label deal, the brothers all went off to do their own thing again by 1990, regrouping now and again for the one-off show.
They returned with WILD ON in 1995 partially a compilation of the first two albums, and also containing five new tracks. Two of those – "Shakin'" and "Up Through The Rockies" became live hits after the band played them while being featured on several TV music programs throughout BC.
Peter got involved in management, his most prominent client being Bif Naked, then moved to Paris. His daughter, Brittin Karroll, was in the band LiveonRelease and has played guitar for and also written songs with Bif Naked. She changed her stage name to Britt Black and has released one album. John's son, Johnny, meanwhile became the guitarist in The Flu, who've released their first single, and contributed some material for an upcoming Karroll Brothers reunion album.
With notes from Bruce Atkinson, John Karroll, Stickboy


KARROLL BROTHERS (1978)
Need Your Love
Battlestar Dream
Morning Light
This Life Is For Love
Space Fighter
She Was Made For The Night
Taking Your Time
Can You Feel It
Lovin' You

BABY GET DOWN (1980)
Won't You Be My Girl
Sweet Lorraine
Gotta Love Tonight
If I Can Fall In Love
Janice
Stay Here For The Night
Baby Get Down
Baby Baby-Girl Girl
Pushing So Hard
Hell & Back

WILD ON (1995)
Morning Light
Need Your Love
She Was Made For The Night
Can You Feel It
Gotta Love Tonight
Comin' Home
Shakin'
Up Through The Rockies
Stay Here For The Night
Good Girls