T
he native of New Brunswick began singing before she was even in school, performing at local fairs and the like. One of 10 kids, it was only natural Patsy would end up working with family. Along with two of her siblings, the Gallant Sisters were soon capitalizing on their exposure, landing several appearances on local radio and TV shows. At the age of 10, her family moved to Montreal, where the sisters continued performing until Patsy decided to go solo in 1967. CBS Canada took a chance on her and in '71 released her first French record, TOI L'ENFANT (YOUR CHILD). A relative commercial success in French Canada, it led to Patsy getting her own weekly variety show on CBC French that year. Ill-fated, it was cancelled in the middle of it's first season.
A year later a chance meeting with songwriter Yves Lapierre led to her doing jingles for such clients as Air Canada, McDonald's, Ford, and Coca-Cola. She hooked up with Ian Robertson the next year, who would become her manager and co-producer. He soon got her working on the soundtracks for two small movies, 'L'Initiation' and 'Ya Pas E Trou A Pere'. In an attempt to gain cross-over success, she convinced Columbia Records to release UPON MY OWN – her first English record – in the summer of '72. The dance-flavoured pop record produced one single "Get That Ball". Her second French album was released later that year – TOUT VA TROP VITE (ALL GOES TOO QUICKLY).
Columbia liked what they heard in her first English record, so in an attempt to gain more American interest they brought her to Nashville for the follow-up, POWER – released in 1974. With more emphasis on a 'marketable sound' (more production), four cuts were released as singles – the first being the title-track. With a decent push by the label, the cover of the Motown hit "Save The Last Dance For Me", "Make My Living" and "Doctor's Orders" all helped the record crack Billboard's Top 100.
1976 saw the disco era take full flight, where Patsy reall saw her star shine. Now recording for Attic, ARE YOU READY FOR LOVE hit the stores in time for the summer rush. One of the slickest produced dance records to that point, the first single was "From New York To LA", followed by the title track, making her a fixture on the airwaves and in the discotheques around the country. Agreeing to handle her French career as well, Attic released BESOIN D'AMOUR (NEED FOR LOVE) shortly thereafter while ARE YOU READY FOR LOVE was still on the charts. They both actually had versions of her 2 biggest hits thus far, "From New York To LA" and "Sugar Daddy", the third single in English Canada. Her efforts were recognized when she walked out with that year's Juno for best female vocalist the following spring, an awarded she was passed up on the year previous. Already in the planning stages, her second shot at television came when CTV aired her weekly variety show. Though fairly well-received the first season, it was cancelled after a second.
After the second release of "Sugar Daddy", 1978 saw more disco success with the release of WILL YOU GIVE ME YOUR LOVE. The title-track, "O Michel" and "Stay Awhile With Me" were all relative hits. In tune with her 'norm', French and English greatest hits packages were released later that year, including Andre Vigneault's "Mon Pays", which was the origin for "From New York To LA". Sensing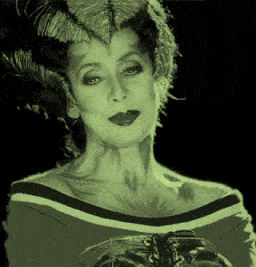 their time with Patsy should come to an end, her last French album for them came later that year, when ET STAR hit the stores. Under no obligation to promote it, it quickly faded into obscurity. 1980 saw her personal life on the upside, marrying guitarist Dwayne Ford, who'd previously worked with Ronnie Hawkins, Bearfoot & Rick Danko from The Band.
Now on the indie label Hot Vinyl, STRANGER IN THE MIRROR was out that same year, but unfortunately disco was on it's way out. …. WAY out. Caught without a fashionable audience, the dance album all but flopped, despite the release of two singles. Neither "How Many Lonely Nights" or "Don't Forget About Me" managed to dent the charts. Securing a French deal with TCM Music saw the release of AMOREUSE in the spring of '81. The first of three singles, "Sasha" showed Patsy still had a market in French Canada, notorious for it's refusal to give up dance music, regardless of which direction the rest of the world was turning.
She resurfaced with the very polished TAKE ANOTHER LOOK in the spring of '84. But the time out of the spotlight made radio all but forget her and she again drifted into the shadows. She pretty much dropped out of the music biz altogether after that, appearing sporadically in clubs around Montreal the next few years. She instead focused on her theatre career, featuring in several off-Broadway musicals, which she continues to do today, including roles in 'Cats', 'Nunsense' and 'Piaf, l'amour triomphe de tout', the biographical account of Edith Piaf – one of France's most renowned singers of the twentieth century. Currently living in Paris, she's starring in the five year-run of 'Starmania'.