Sparkling Apple
CD review: HARD CORE APPLE
By: Dan Brisebois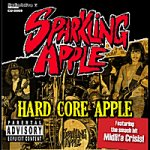 After spending a couple of decades on the independent circuit, Sparkling Apple has released the ultimate collection of their works, with 2012'S HARD CORE APPLE.
The band's roots date back to Vancouver's roughest bars and the hardest rock in the late '70s. There wasn't a high school, bar, or community hall they wouldn't play, and they made their way as far out east as Toronto. Along the way, they got frustrated with the business, and set up their own RadioActive Records. They enjoyed decent radio airplay with a string of singles, and a pair of EPS.
Members came and went, but burned out, they put the gear to rest in '93. They emerged from hibernation two decades later, with Art Kyllonen on guitars and vocals, Kevin Swain on bass, and drummer Colin Hartridge – the original core of the group, and they began touring once again, while also working on their first new material in nearly two decades.
As a whole, HARD CORE APPLE sums up the result of the band's no-nonsense approach to rock. Along with the singles "I'm Only Here For The Beer" and "It's Criminal," it includes the two EPS in their entirety (LITTLE BIT and IF YOU COULD SEE ME NOW), as well as several live tracks previously unreleased, recorded then and now.
The two new studio cuts, "Midlife Crisis" and "Crazy For Your Love" fit in perfectly with the regular ammuntion over the years, such as "Midnight Flight" (one of two songs the band had on CFOX FM's VANCOUVER SEEDS compilation albums). The fact they haven't changed from Point A to B in their journey is personified in the studio, where straight forward production with an absolute bare minimum of effects means less is more.
"Good Time Girl" and "If You Could See Me Now" have a swagger to them that's a throwback to an earlier sound, like a visit from a bunch of old friends. "Two Time Affair" and "" pull no punches in a southern rock styled assault, while "Get Off The Stove" and "Roll 'Em On Down" are boogie-rockers, and "Warm-up Band" and "Getaway" definitely borrow from AC/DC, Bon Scott era.
The music is high energy, there isn't a ballad to be found, and just flat out rocks. There's really not a bad cut on this album, and HARD CORE APPLE is just one of those discs you have to play loud!