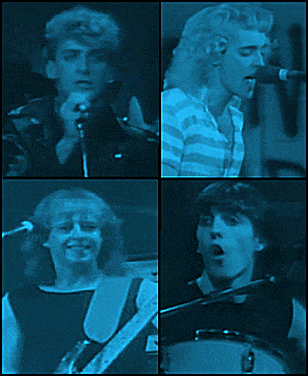 S
teve Blimkie & The Reason formed when its core members were all enrolled in the Music Industry Arts program at Fanshawe College in London, Ontario. Originally from Chalk River, Blimkie had spent the mid '70s singing in different groups before enrolling in college, where he met guitarist Angus Mackay, bassist Doug Ruston and drummer Dave Betts, who were all a year ahead of him.
Around the same time Mackay was also setting up his own label, Ready Records, with another Fanshawe student, Andy Crosbie, and were looking for acts to sign. "This was the late '70s, when the punk/new wave thing was first making waves, and Angus and Andy were very interested. Steve's style was very different from most of the other musicians at Fanshawe, which naturally caught their attention. So we recorded two songs as part of Andy's third year project," Ruston explained.
With guitarist Pierre Bruni, those songs were "I Got This Feeling" and "All I Want Is You Alone." Things went so well that Betts and Ruston were invited to form a group with Blimkie and Mackay, and Steve Blimkie and The Reason was born, one of the first groups to ink a deal with Ready. Before long they were in the studios putting some material they'd written onto tape. "Over the summer and into the fall of the next year we recorded the rest of the songs, whenever and wherever we could get cheap studio time," Ruston laughed. "And while recording we performed whenever we could, while at the same time I was back at school for my third year and Steve for his second."
"I Got This Feeling" became their first single, and decent reception warranted a second – "You Can't Hold Me Anymore," then a third – "Can't Say I'm Sorry." Produced by MacKay and Crosbie, their debut album, simply billed as BLIMKIE, was in the stores in the fall of 1980, but didn't feature "You Can't Hold Me Anymore" or its b-side, "Freaks on the Tube." Reception was good and things were looking up, and the band continued fitting gigs in between classes, which included backing XTC at Massey Hall in Toronto and the opening slot on Martha and The Muffins' cross-Canada jaunt that fall/winter.
The single "Break My Heart Tomorrow" got favourable reviews and some attention. but because of his commitments to Ready Records, Mackay backed out of the group, replaced by another Fanshawe student, Derry Grehan. "Derry and I had been playing on a lot of each others recordings at Fanshawe. We were all very familiar with his talents as a guitarist, singer and songwriter, and we were all good friends," Ruston said.
They immediately went to work on writing new material with producer Brian Christian, and their sophomore effort, 1981's CHASING PAPER TIGERS, yielded another pair of singles by that fall – "Riding Into The Night" and "Here Today, Gone Tomorrow," which was made into the band's first video. Videos were also produced for two other intended singles – "Foto Magic" and "Gimme A Taste." But money was tight and the budget for videos was a shoestring, so they were produced by students at Canadore College as class projects. They again set out on the road and the tour featured opening for The Ramones in Etobicoke at the Kingsway Bingo Hall, as well as a club tour that took them out west.
But with Ready Records having financial problems, the band was dropped from the roster by the end of the year. Along with musical differences and outside interests, that spelled the end of the group shortly after. Blimkie started a band called Viva la Beat, then eventually got out of the business all together and became a lawyer.
Ruston, Betts, and Grehan meanwhile formed the short-lived cover band Mars. "After not a lot of success in Mars, we worked the summer of '82 as Lisa Price's backup band," Betts commented. "It was a great experience but it faded out in the fall as she was recording. Derry had a couple of his songs on her album but when she stopped working because of health issues that year, he ended up joining Honeymoon Suite in the fall of '82."
Betts followed Grehan to HMS a year later, while Ruston became a session player around the Toronto area. MacKay passed away in February 2010 of cancer.
With notes from Dave Betts, Derry Grehan, Doug Ruston


BLIMKIE (1980)
Break My Heart Tomorrow
It Only Happened Once
All I Want Is You Alone
Can't Say I'm Sorry
Now That You Say You Love Me
On The Edge
Subway
As I Am
I Got This Feeling
Just Like Me

CHASING PAPER TIGERS (1981)
Ridin' InTo The Night
Foto Magic
Never Been A Winner
Magazine Boys
You're Boring
Gimme A Taste
Here Today, Gone Tomorrow
Memories On Fire
I Don't Wanna Know
Breakdown