B
orn in Montreal in 1968, Terri Lynn Sauson grew up in a musical household. Both her parents played guitar and her mother was particularly centred in the local folk scene. As well, her grandparents, Ray and Betty Gauthier, were both well-known on the Canadian country scene, having opened for artists like George Jones, Johnny Cash, and Merle Haggard on various occasions around the turn of the decade.
She moved with her family across the country when she was still a child, eventually settling in the south-eastern Alberta town of Medicine Hat. But her parents divorced while she was still young, and she adopted her step-father's last name of Clark. She played at local fairs and around the area while growing up, and moved to Nashville in 1987 after graduating from high school. She became a regular fixture at a honky tonk bar called Tootsie's Orchid Lounge. While there, contacts led her to Keith Stegall, a local up and coming producer and songwriter. When he got an office job at Polygram/Merucry Records, he signed Clark to a record deal in '95.
It was only a few months later that she released her first single, "Better Things To Do," which climbed to the top 10 in both Canada and the US. Her self-titled debut album followed that August, only days after her 27th birthday. Produced by Keith Stegall and Chris Waters, the bulk of the album was co-written with Waters and his usual songwriting partner, Tom Shapiro, and Terry Clayton. On its way to being certified triple platinum in Canada (3 million copies) and platinum in the US (1 million), the album saw three more singles follow up the country charts over the next year – "When Boy Meets Girl," If I Were You" (#1 in Canada), and "Suddenly Single." She'd also picked up Single of the Year for "Better Things to Do" and Album of the Year by the Canadian Country Music Association (CCMA).
More platinum on both sides of the border awaited her follow-up album, 1996's JUST THE SAME. The production team of Stegall and Waters helped deliver another top 5 album. Her cover of Warren Zevon's "Poor Poor Pitiful Me" (which Linda Ronstadt had also taken for a top 40 ride in the '80s) was first up, and made the top 5 in Canada. The title track followed the next spring to #10 (#16 in the US), and "Emotional Girl" peaked around the top 40. The fourth single, "Something In The Water," barely made the top 40 at home, but didn't chart in the US. Still, other tracks like the cover of Carl Jackson's bluegrass standard "Hold Your Horses" showcased Clark's versatility, earning her a pair of Juno Award nominations in '97. Although she failed to win Country Female Vocalist of the Year, she did win the award for Best New Solo Artist, as well as the CCMA Fan Choice Award.
By the time HOW I FEEL was in the record stores in 1998, Terri Clark was one of the hottest tickets in town from coast to coast throughout North America, having spent the better part of the last three years on the road. Stegall again returned as producer, but Waters and Shapiro still contributed to several of the songs, and the album in fact marked a significant reduction in Clark's own writing. "Now That I Found You," "You're Easy On The Eyes" (#1 in Canada and the US), "Everytime I Cry," and "Unsung Hero" all spent time on the charts. It became her third straight platinum album, and also featured other tracks like "I'm Alright," which like "Unsung Hero," had been released by other artists a year earlier.
Her show in Calgary in March of '98 was also filmed for her first television special, CBC's "Terri Clark: Coming Home," which featured cameos by Paul Brandt and George Fox. Other dates saw her open for Reba McEntire and Brooks & Dunn on their own Canadian tour legs, keeping Clark on tour for the next year and a half.
Somwwhat of a departure in approach, the follow-up, FEARLESS was primarily produced by Steuart Smith with more of an acoustic tone, which critics said may have in part led to a decline in sales and success. Released in 2000, it was still certified gold in Canada (50,000 copies), and produced three singles – but unlike the lead-off "A Little Gasoline" (which label execs insisted on being a last minute addition), "No Fear" (co-written by Mary Chapin Carpenter) and "Getting There" failed to crack the top 20. At home, the first two made the mark. Clark also insisted on her cover of Jann Arden's "Good Mother" being on the record, a song label execs initially balked at including.
She ended a five-year Juno drought in 2001 with a win for Top Female Country Artist. But for the rest of the year, she found herself in the headlines for all the wrong reasons. In between tour legs, she was pulled over in Nashville for speeding, and when she refused to consent to a breathalizer, she was charged with a DUI. She ended up pleading guilty to reckless driving and was fined $350 plus court costs, placed on six months' probation, and ordered to take an alcohol education course.
That same year, she also picked up her second CCMA Fan Choice Award, the first of six consecutive years). She returned in 2003 with PAIN TO KILL, which saw several songwriters utilized. Stegall was also brought back to finish up the project when Byron Gallimore was unable to. The album brought Clark back to the top 5 on the Canadian charts with the single "I Just Wanna Be Mad," a month prior to the album being available. "Three Mississippi" followed into the top 40, and "I Wanna Do It All" reached as high as #3 in the US. Other noteable tracks included "Not a Bad Thing," recorded a few years later by Trisha Yearwood.
She won the '04 CCMA for Female Artist of the Year, and after a greatest hits compilation produced "Girls Lie Too" (which topped the charts on both sides of the border), and the non-album track, "The World Needs A Drink" followed. That same year, Playboy Magazine approached her to do a spread for, and although Clark placed second to only Shania Twain in a magazine poll, she politely declined the offer. 2004 also saw Terri Clark become the first Canadian female performer to be inducted into the Grand Ole Opry.
She released her last album for Mercury in 2005, LIFE GOES ON. Gallimore was brought back as producer, along with James Stroud, and the album featured a diverse assortment of writers, including Lisa Brokop, who co-wrote "Travelin' Soul." But big expectations from label reps were snuffed out when the lead-off single "She Didn't Have Time" only managed to reach #25 in the US, although it did peak in the top 20 in Canada. But neither "Damn Right" or "Slow News Day" made any headway when they followed. Still, the album peaked in the top 10 in Canada, and reached #4 in the US.
She signed a new deal with BNA Records, a Sony subsidiary, in '06. By the following spring, her first single for them, "Dirty Girl" had entered the Canadian top 20. She hit the road opening for Big & Rich on their cross-Canada tour, but by the time "In My Next Life" was released, problems with her new label began surfacing. The song was supposed to be the title track to the new album, but one delay after another with the executives kept the album unreleased. Add to that the fact she wanted to return to Canada (which she didn't do) and start her own label, so she left BNA by late 2008.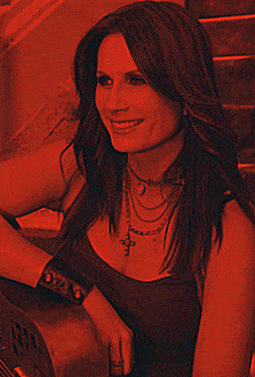 A year after Mercury issued THE DEFINITIVE COLLECTION, her first release for her newly formed BareTrack Records was TERRI CLARK LIVE: ROAD RAGE in 2009. A digital download only, it was recorded during stops along the way over the previous year, and featured the majority of her hits, as well as covers of Otis Redding's "Hard to Handle" and "Love Me Like a Man," taken to the charts by Bonnie Raitt.
With regular distribution through EMI, she returned later that year with THE LONG WAY HOME. She wrote or co-wrote every song on the album, and the first single was "Gypsy Boots," a song she initially intended for the unreleased album prior to leaving Mercury. As had been the case from Day One the first time a camera was put in front of her, the video got widespread play and the single shot up to the top 10 in Canada. But as a newly indepent artist, she was finding herself on the outside looking in south of the border.
"If You Want Fire", "A Million Ways To Run," and the somewhat introspective "You Tell Me" followed suit, sparking another series of tour dates that kept her on the road for the better part of a year. Critics praised the album's honesty and purity, claiming it contained some of Clark's most initimate writing to date, who had just ended her second marriage. It also included a re-worked version of "The One You Love," which was originally on the PAIN TO KILL album, but this time featured Vince Gill in a duet.
She took some time off after her mother passed away in the spring of 2010 after a long battle with cancer, returning with ROOTS AND WINGS a year later. On its way to winning the Juno Award for Country Album of the Year, it featured her ode to Canada, "Northern Girl" as the first single. It reached the top 40 at home, and her cover of Trooper's "We're Here For A Good Time" followed onto the charts that summer, then "The One" and "Wrecking Ball." Along with the rootsy "Flowers In The Snow," it also featured the classic feel of "Lonesome's Last Last Call" (a song she'd written nearly 20 years earlier with friend Jim Rushing), and "Smile" with Alison Krauss, which Clark wrote in memory of her mother. The album received the Juno Award for Country Album of the Year, her first time at the podium since 2001.
Clark paid tribute to some of the artists that helped influence her and shape her career in 2012, with the release of CLASSIC. The songs were not only covers of rock, folk, and country hits over the decades, but gave her the chance to do a duet with Reba McEntire on "How Blue," that she herself took to the charts in '84. Tanya Tucker also paid a visit for the duet of her classic "Delta Dawn." Along with Kitty Well's "It Wasn't God Who Made Honky Tonk Angels" and Neil Young's "Love Is A Rose," it also featured a duet with Dean Brody on Hank Snow's "I'm Movin' On."